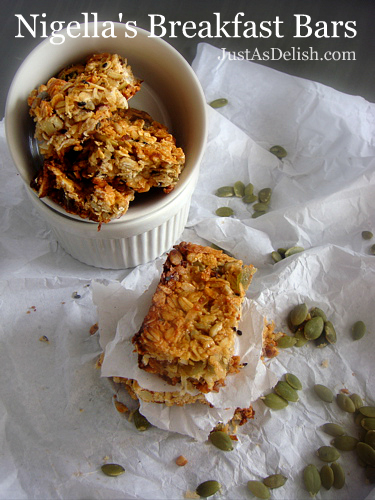 As promised in my previous post (Homemade Sweetened Condense Milk), here is the Breakfast Bars that Nigella Lawson is addicted to. I can't seem to get this recipe from Nigella's website out of my mind, would have tried this recipe long ago if not for the condensed milk ingredient (I just don't fancy using canned condensed milk). Of course, you can use either canned or make your own condensed milk here. 
Even though baking takes more than an hour, the preparation is quick to throw together. I made a batch over the weekend so I can have these bars ready when I had to grab my breakfast on the go. I'm not a morning person, so these breakfast bars make my life easier. I even stash some in my bag as a midday snack.
These oaty chewy bars are the best breakfast bars I have eaten! They are seriously addictive, they are just like a bar of milk and cereal. They seem to taste better after a few days, but you have to store them well in an airtight container or in a tin.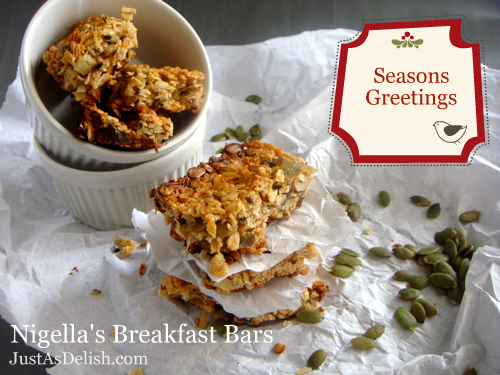 These are perfect as Christmas gifts as well, put them in a jar with a pretty ribbon. This Breakfast Bars post is to be submitted to Forever Nigella #10 "Christmas Presence" Blogging Event hosted this month by Sarah of Maison Cupcakes. The challenge is to prepare any Nigella recipe for Christmas and there is a fantastic prize – Slater Slim Digital Scales! Check out the prize here!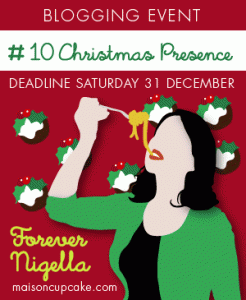 Author:
Adapted from Nigella Lawson
Recipe type:
Breakfast, Healthy Snack
Ingredients
400g sweetened condensed milk (or 1 can of 397g)
250g rolled oats
75g shredded coconut
100g dried cranberries (I ran out of cranberries and I used dried kiwis that gives the slight sourish taste like cranberries)
125g mixed seeds (pumpkin, sunflower, sesame)
125g raw peanuts (I used mix of peanuts and almonds)
Instructions
Preheat the oven to 130°C or 260°F and grease a 23 x 33cm baking tray with oil.
Warm the condensed milk in a large pot over low heat (to melt it for easier mixing)

Add all the other ingredients to the warmed condensed milk and use a spatula to mix evenly, making sure everything is coated with the condensed milk. (The mixture became rather thick and heavy to mix, so I recommend to use a wooden spatula).

Pour the mixture into the tray and press down with the spatula or, your hands to even the surface.
Bake for 1 hour and remove from oven to cool. After about 15 minutes, cut into four across, and four down to make 16 chunky bars. Let the bars cool completely before storing into airtight containers or tins.