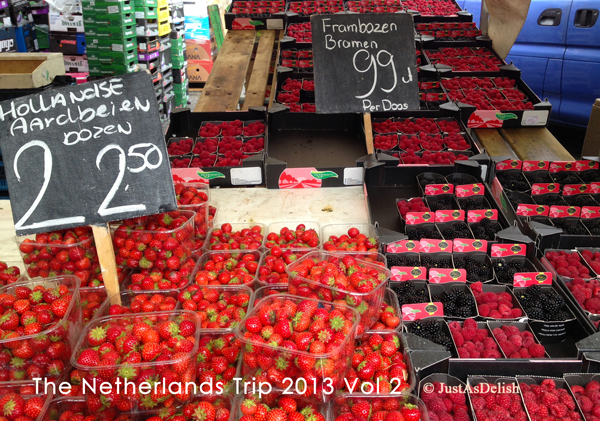 "Tell me what you eat, and I'll tell you who you are"
renowned gastronome Jean Anthelme Brillat-Savarin, 1825 
My exploration of how food shapes us and our culture took me to the Netherlands.
When I flew into the Netherlands, the view of the country is dotted with picturesque villages, old farms, impressive summer estates, and of course, windmills. It's not surprising as more than half of the country's land is used as farmland.
The Netherlands is the world's second largest exporter of agricultural products, after the USA. Going to a predominantly agriculture based country, I was searching for farm visits but to no avail. The agriculture sector have developed efficient and sustainable production systems and processes, resulting in a highly mechanised agricultural sector that produces 5 times more than any European countries. Traditionally operated farms are limited as most of them have been converted to highly efficient systems and greenhouses. No fret, I was lucky to visit 2 organic farms in UK after my Netherlands trip (to post soon).
One of my travelling must-do is to try the food that the local eats. It seems funny when I asked where to find their local food, the answers are along the line "please don't try Dutch food, I'm really sorry if you have to try our food". I was told their traditional food is mostly cooked vegetables "stomped" with gravy, there's nothing delicious about that and only the "old people" eat them. The Netherlands is not known for its cuisine, but hearty Dutch fare can be quite good if done well. With a fairly cold & rainy weather all year round, it makes sense about their hearty comfort food to keep them warm.
After insisting on trying, Norbert's colleague Marianne invited me to a very elaborate home cooked Dutch dinner. Tomato soup, hutspot (stomped vegetables), brussels sprouts, witlof salad, Sudderlapjes (red wine beef stew) and their national dessert apple pie served with ice cream and cream (yes, the Dutch loves their cream). I was bracing myself for the worst meal, and to my delight, the dishes were pretty good. For an Asian who is used to spices and bold flavours, I find their food to be under seasoned and bland, only lightly seasoned with salt and pepper. The meal is overall very hearty and brings a homey feeling, except I'm not used to the bitterness of the raw witlof (or known as endive).
The huge array of fresh autumn vegetables and fruits at the market almost got me buying everything I see. I just had to try out produce I've never seen before or they were just very expensive in Malaysia. I'm lucky to be staying in a house where I get to use the kitchen and experiment. Seeing berry bushes and apple or pear trees by the roadside or in someone's garden still makes me heart flutter.
The Dutch, however, are known for their specialties and delicious treats, there are typically Dutch" foodstuffs taste significantly different from other surrounding countries. A typical Dutch breakfast or lunch is a simple slice of bread or bread roll with butter and a slice of cheese or ham with a glass of milk or a Dutch coffee. Marianne and her husband were in for a surprised when I invited her for a typical 4 dish home-cooked Malaysian lunch.
Raw herring – a dutch specialty, which is cured in salt, is one thing I dared not try. It is interesting that traditional dishes from Dutch former colonies – Indonesia and Suriname – Nasi Goreng (Fried Rice), Bahmi (Fried Noodles) and Sate (Grilled Skewered Meat) have become part of the Dutch kitchen or even staple foods. Do not expect authentic Indonesian/Chinese cuisine though, the taste has been adapted for Dutch citizens.
I hope this short post  has given you a sneak peek into the food culture in the Netherlands, which I truly enjoyed. Read more about my Netherlands trip here and here.