A healthy treat that makes you wanna to lick them clean and leaves you feeling good!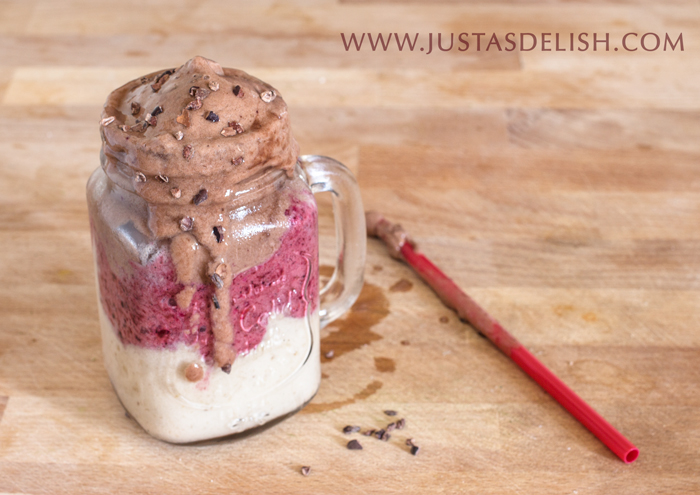 When I have excess bananas and they are ripening at a faster rate than I can finish them, I would normally make banana bread, or cut them into bite size pieces and freeze them. Those frozen bananas will come in handy for instant, soft serve 'one ingredient ice cream' on hot days. It is not exactly ice-cream per say, but they are a super creamy, delicious and healthy treat.. Hence, someone came up with the term 'nice' cream.
This neapolitan recipe was created by accident with one ingredient, the pear juice, which I believe brings the 'nice-cream' to the next level. This could be the ultimate healthy treat. On a hot day returning home from cycling to the organic community farm De Butyenhof, I whipped up these nice-creams. Accidentally adding a splash of pear juice from the farm adds a subtle depth of sweetness to these full bodied treat, that's unlike any other nice-cream I've tried before. Don't fret if you can't get hold of pear juice, apple juice or coconut water works just as great! The result is a one-of-a-kind treat, that may just become my new go-to treat, with chocolate flavour as a definite crowd favourite.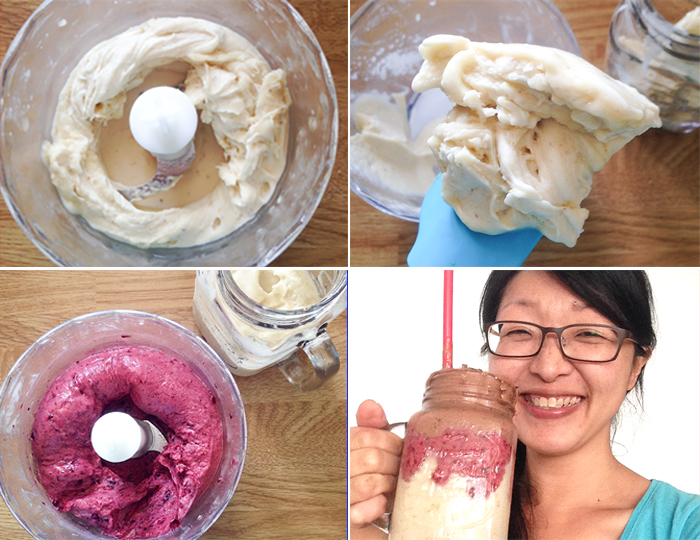 Everyone loves a treat that makes you feel good. It was especially gleeful watching my husband licked the glass clean. This is one easy healthy treat you just have to try.
P/S: Even though these nice-creams are without sweetener, ripe banana by itself is rather high in Glycemic Index. Those with have high blood sugar level, please take note. Just like everything else, enjoying with moderation is key.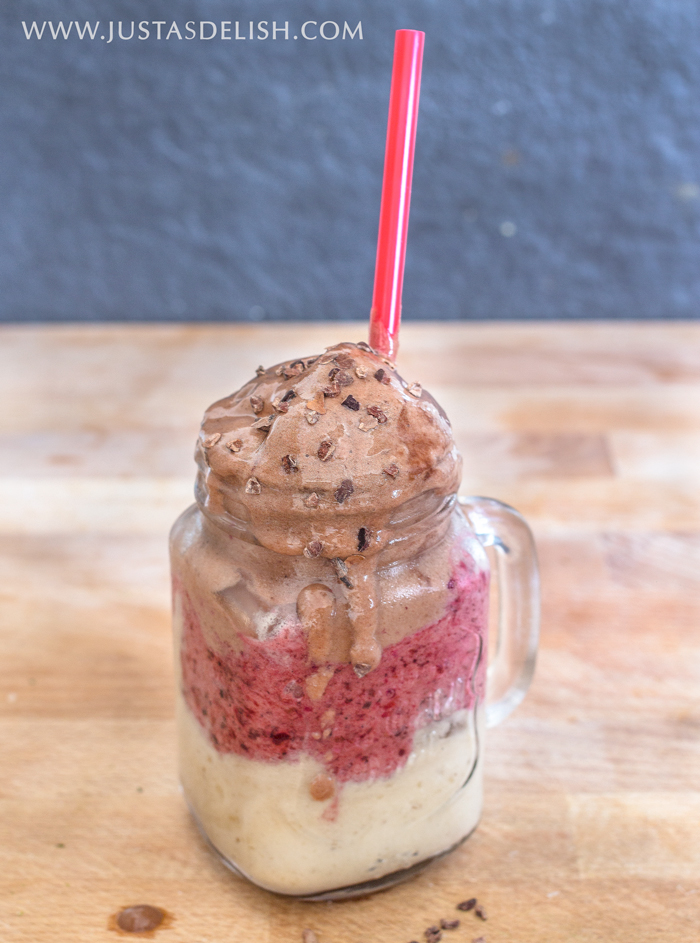 Cook's Tips:
* Choose the small bananas varieties like Lady Finger (Pisang Mas) if possible, they taste sweeter and better than big bananas.
* For this recipe, I prefer to use small bananas that are just-ripe, with a few brown spots on the peel. Over-ripe dark brown banana peel gives an overpowering banana taste.
* Peel the banana and cut into bite size pieces before freezing.

Neapolitan Nice-Cream
Instant Soft Serve Neapolitan Nice-Cream made with fresh fruits, a one-of-a-kind healthy treat that makes you want to lick the bowl clean and leaves you feeling good!
Author:
JustAsDelish's original recipe
Recipe type:
Dessert / Sweet Treat
Ingredients
Vanilla Nice-Cream
1 cup Frozen Bananas
1-2 tablespoon Pear Juice (or Apple Juice / Coconut water)
1 drop Vanilla Essence or a pinch Vanilla Paste
Berries Nice-Cream
½ cup Frozen Bananas
½ cup Frozen Blackberries (sweet Strawberries, or Raspberry would work too)
2 tablespoon Fruit Juice (Apple, Pear or Coconut works great)
Chocolate Nice-Cream
1 cup Frozen Bananas
¼ teaspoon Cacao Powder
1-2 tablespoon Fruit Juice (Apple, Pear or Coconut works great)
Optional Toppings
Cacao Nibs
Shredded Coconut
Fresh Fruits
Instructions
Use a food processor or high speed blender and blend each flavour separately, starting with vanilla, berries and lastly chocolate. Press pulse 2-3 times to get the mixture broken into small pieces, then continue blending until creamy. If it is a hot day, the nice cream melts really fast. So place the completed nice cream in the freezer while you blend the other flavours.
Add your favourite toppings and serve immediately, or it will turn into smoothie-like rather quickly on a hot day. If you have leftover, freeze it in small portions so it is easier to blend again to make it creamy before serving.