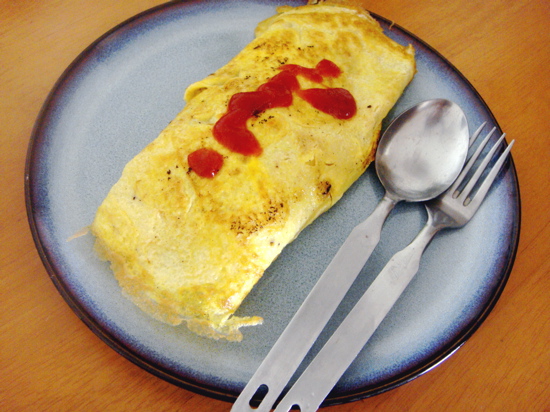 What is the difference between the normal fried rice and the Pattaya fried rice? Well, Pattaya Fried Rice or Nasi Goreng Pattaya in Malay, is made out of fried rice placed inside an omelette that is shaped like a pouch. Break open the omelette pouch and you will have the fried rice. I have no idea why it's called Pattaya Fried Rice because you will never find this dish in Pattaya, Thailand 😛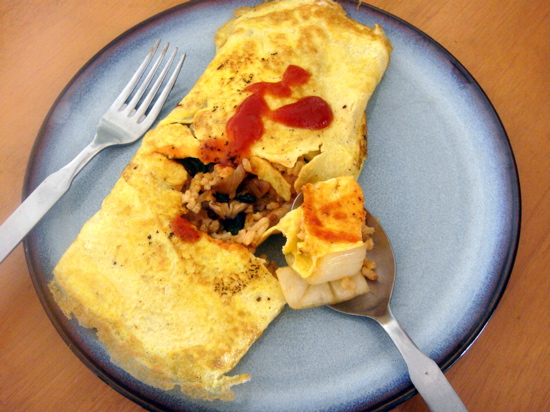 This dish will be my usual order when I eat at the Malay stalls and restaurants, it's very common in Malaysia. I love eating eggs, am just happy looking at the huge egg omelette wrap
Reading about Japanese Omurice on Christine's Recipes got me to cook Nasi Goreng Pattaya for the first time. Omurice is Japanese's version of Nasi Goreng Pattaya. Wonder who created this dish first..
Note: I cook this on adhoc and I made this a vegetarian version. I replaced chicken with Shitake Mushroom because I had not thawed the chicken. and I used Bok Choy instead of the suggested vegetables. Actually you can mix it with any green vegetables you like, I always use whatever greens I have in my fridge when cooking fried rice.
NASI GORENG PATTAYA (PATTAYA FRIED RICE) 
Serve: 2
2 cups of cooked rice (prefer cold overnight rice)
2 cups of green peas, carrots (cube) & capsicum (I used big Bok Choy)
1 piece of chicken breast – cut small (I used shitake mushroom)
2 shallots – finely slice
2 cloves garlic – finely chopped
2 tablespoon of tomato ketchup
1 teaspoon of fish sauce or soya sauce
salt and pepper to taste
Omelette:
3 eggs – beaten
Pinch of Salt & Pepper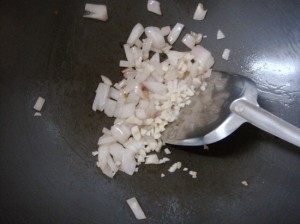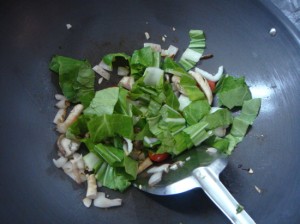 1)Heat up frying pan with a bit of oil. Add in shallots and garlic and stir fry until lightly brown and fragrant.
2) Add in chicken, carrot, pea, peppers and chillies and stir fry for 2 minutes. Make sure the vegetables is soft and the meat is cooked.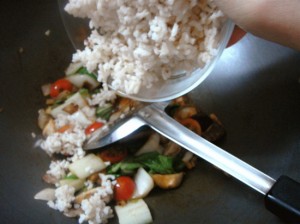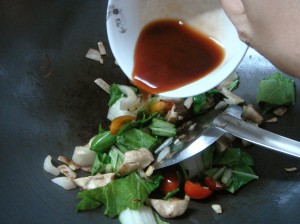 3. Add in ketchup, fish sauce, salt and pepper to taste.
4. At this point add in the rice. Continue to stir fry until all ingredients are thoroughly mix. Dish out and set it a side.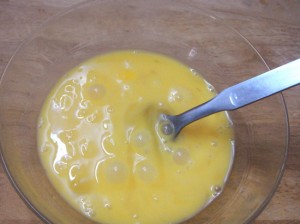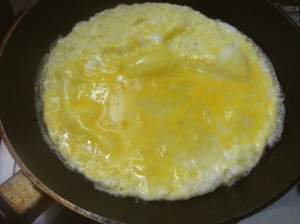 5. Beat 2 eggs in a bowl with salt and pepper.
6. Heat oil in a non-stick frying pan (skillet). Pour the egg mixture in pan, spread the egg and make a round omelet by moving the pan around. When the egg is 90% done, switch of the fire or remove from heat.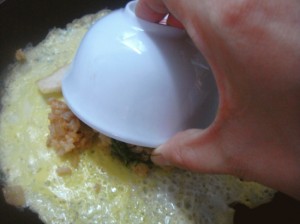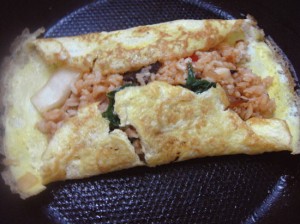 7. Put in a bowl of the fried rice at the center of the omelet and quickly fold up the 4 edges. (I have a small omelette because of my small pan, so I just fold the top & bottom sides of the omelette)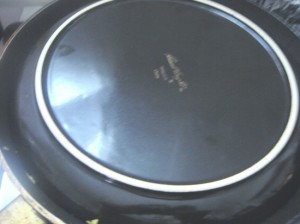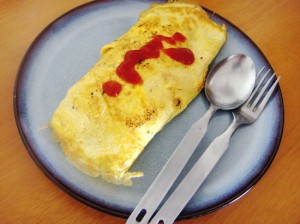 8. Put a flat plate over the pan and quickly turn it over a serving plate. Drizzle some ketchup on top of omurice before serving.