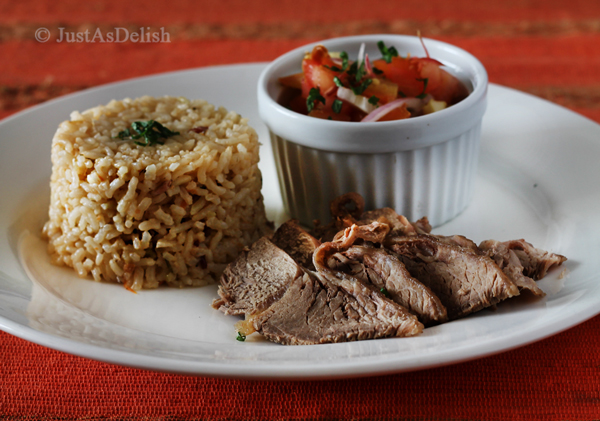 With Malaysian Food Fest blog event, I'm really enjoying the new knowledge about the cuisine from each different Malaysian state. I realised I didn't know anything about the food from Kedah & Perlis – the 2 north western states on Peninsular Malaysia. Even though Kedah is neighbouring state to my hometown Penang, I hardly travel to Kedah except going to Langkawi Island. I don't think I'm very good neighbour, huh?
Kedah and Perlis share an international boundary with the Songkhla and Yala provinces of Thailand. This explains the huge Thai influence in their dishes. Kedah is considered the land of Rice Bowl in Malaysia, accounting one third of Malaysia's rice production. Driving around Kedah, you will notice the land in Kedah is mostly flat, passing by paddy fields after paddy fields. As the temperature in Kedah is always higher than other states because of the flat land, my Kedahan friend said most people like to take an afternoon nap under the trees to escape the heat. Simple things in life is so good.
As the Land of Rice Bowl, Kedah is particularly famous for its numerous rice dishes and rice preparations. The minute I saw this Nasi Daging Kedah (Beef Rice) post in Wendy's blog, I bookmarked to cook it, I think by now you know I love beef 🙂
The dish is pretty simple and little attention is needed, but it has to be a day where you will be home for at least 3 hours. Just leave the beef & rice to cook by itself and you can have the time to prepare other food. No wonder this dish is mostly served at weddings or on occasions to entertain guests, it definitely save a lot of time and stress on the important day.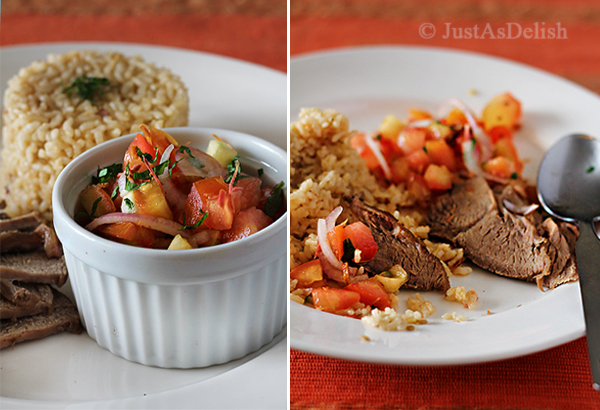 I had this urge to present the dish like in a nice restaurant, but in actual truth who would do that at home? Definitely not mine, the 2nd photo depicts more accurately how it's eaten. The dish is eaten with Air Asam Tomato, it's almost like tomato salsa. The bunga kantan (torch ginger bud) adds a refreshing flavour to the tomatoes. The combination of the meat with the tomato was perfect and the rice cooked in the spices and beef broth is lovely. I can eat the rice alone but the meat by itself is pretty bland for me. What to do with the balance of the beef broth? Keep as beef stock or have it as soup.
I am submitting this to MFF Kedah Perlis Month hosted by WendyinKK of Table for 2…… or More
Have you joined the cookbook giveaway on my previous post? Head over there now if you have not done so! Hurry!

Nasi Daging Kedah & Air Asam Tomato
Nasi Daging Kedah & Air Asam Tomato (Kedah Beef Rice with Tomato Sour Gravy) - An easy Kedah Malay dish that is usually served at Malay weddings
Author:
Wendyinkk.blogspot.com
Ingredients
Beef:
500gm Beef
1 inch Ginger - smashed
1 teaspoon White Peppercorns
½ tsp Fennel Seeds
½ tsp Cumin
3 Cardamons
2 inch Cinnamon
2 Star Anise
3 Cloves
2.5lit Water
Rice:
1 cup Brown Rice
1 tablespoon Butter
½ Onion - sliced
2 cloves Garlic - finely minced
2 Cardamoms
1 Cinnamon Stick
1 tablespoon Kurma mix (I use Baba's brand)
1 cup Beef Broth (from above)
1 teaspoon Salt
1 tablespoon Tomato Paste
½ cup Evaporated Milk (I use diluted coconut milk)
Air Asam Tomato (Tomato Sour Gravy):
1 Red Onion - sliced
1 Bird's Eye Chilli - finely sliced
Juice of 2 Calamansi Limes
1 tablespoon Sugar
½ teaspoon Salt
1 teaspoon finely minced Torch Ginger Bud
3 Tomatoes - diced
Chinese parsley for garnish
Instructions
Beef
Bring water to boil and add all the spices and beef. Simmer for over 3 hours or until the meat is fork tender. Take the beef out and let cool. Strain the beef broth. You'll need it for the rice.
Once the beef is cool enough to handle, cut into slices.
Extra soup can be seasoned and serve as soup. Keep the rest for future use.
Rice
Wash rice and drip dry in colander.
Heat saucepan on medium heat. Add butter and when it has melted add garlic , onion, cinnamon stick and cardamom. Saute till very fragrant. Add curry spice and stir. Add rice, salt and tomato paste and mix well.
Pour in beef broth and let the rice cook until bubbling subsides.
Pour cream evenly over the rice, lightly stir it and let it cook until done.
Let the rice sit for at least half an hour (best is 1 hour) after turning off the heat before serving.
Air Asam Tomato
Mix Onion, chilli, lime juice, sugar & salt together and let it sit for 30 minutes. Add in tomatoes & bunga kantan before serving. Garnish with parsley. Important to