I was fortunate to have Beng Chun, the manager of Zest Cafe & Restaurant said Yes. I asked if I could spend some time in their state of the art kitchen, to have some insights into how a commercial kitchen and restaurant is being run. 

This culinary adventure last month at one of my favourite eatery in KL has open my eyes about the food industry in more ways than I can imagine
Having been to Zest Cafe only twice, I was already loving their Mediterranean inspired menu. Among my favourites are their signature Rosemary Roast Chicken (one of their best seller), Zest Salad and Braised Seafood. The fragrant Rosemary Roast Chicken is so tender and succulent that it practically melts in my mouth, I just couldn't get enough of it. Zest Salad is light and refreshing. 

Besides their amazing open kitchen (which is like a foodie's dream), I'm impressed with their food philosophy of no artificial flavours (MSG), less salt, no deep frying and they only use olive oil. Lots of people were surprised to find that healthy eating does taste good!

Rosemary Roast Chicken, Pan Grilled Garoupa with Couscous, Pesto Spagettini
Photos from Zest Cafe (I did not manage to take any food photos)
80% of the kitchen staffs' time is on preparation: stock take, order produce and food preparation for the next lunch or dinner crowd. During lunch or dinner time, there's no more time for preparation and thinking, it's just automatic execution: cook cook cook and cook. If you are thinking about arguments and cursing that happens on the Cooking Shows, you won't find it at Zest. The staffs here are so helpful and friendly that I felt at home immediately.
Some useful tips and tricks I've picked up from their 3 helpful chefs:
◊ Cooking soup from scratch is important to use freshly made vegetable stock
◊ Good quality ingredients are vital to bring out the flavours of your dish. Zest Cafe uses herbs and vegetable stock to season most of their dishes.
◊ Shortcuts to food preparation and what to take note when cooking for large group of people.
◊ What I'm most impressed is finding out the cafe make fresh pasta daily. The secret of a good texture is in the flour mix. Beng Chun said only less than 5 restaurants in KL make their own pasta. It takes about 1 hour to make only 14 servings. It is indeed hardwork and my arms were slightly sore after 1 hour. But the hardwork pays off, the texture of freshly made pasta is more tangy. and the other benefit of building up my arms' muscles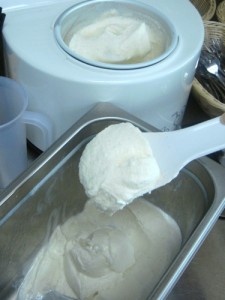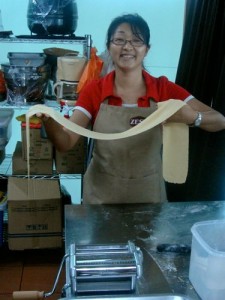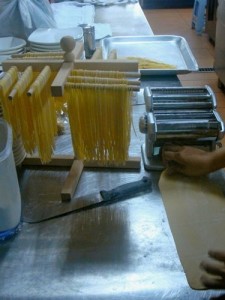 Making Vanilla Gelato with vanilla bean and making fresh Pasta
The time spent at Zest's kitchen is like my culinary dream come true. Would I further pursue into the culinary industry? That's food for thought. Even though it was a really fun experience, there' a lot of hardwork behind the scene that most people did not appreciate. 

This experience has definitely expanded my views about running an eatery and I have a brand new respect for the people in the kitchen. If you want to improve your cooking skills, try making friends with the owner of your favourite restaurant.
Check out
Zest Cafe & Restaurant,
Unit 1-2, 1st Floor, The Sphere,
1, Avenue 1, Bangsar South,
8, Jalan Kerinchi,
59200 Kuala Lumpur
Tel: 03 – 2242 0389
8.00 am to 10.00 pm (weekdays)
10:00 am to 10:00 pm (weekends)
For reservations, delivery or any package deals, please contact Beng Chung.