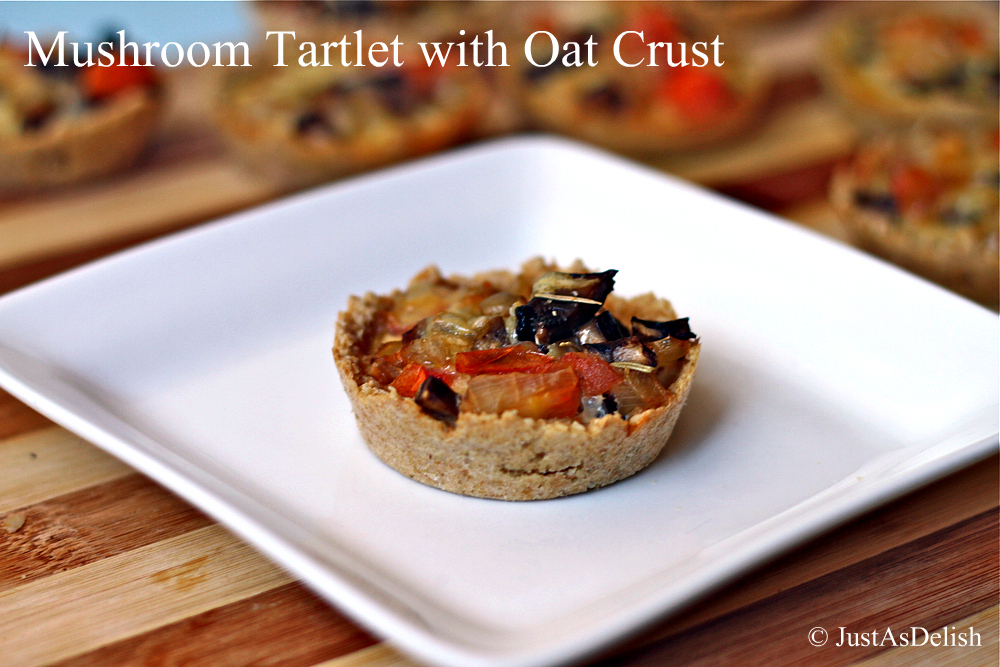 Experimenting with different types of gluten-free recipes for bread and crusts has been fun, which means I get to play in the kitchen a lot and trying out new ingredients. However I find the 6-8 ingredient gluten-free flour mix too complicated, I need to stock up all those flour mix ingredients and it's pricey here in Malaysia. After searching and trying a couple of 2-3 ingredient mix, I'm happy with rice flour mix, almond flour mix and my favourite is using oats for tart crust.
These Mushroom Tartlets with Oat Crust are great as appetizer, a light lunch or I even had these for breakfast! I prefer making tartlets than a big tart or pie, tartlets are cute and just one or two mouthful.
Oat crust recipe calls for oat flour or you can grind regular oatmeal (not instant oats) until it become fine flour, mix with oil and press them into the muffin tray. You can replace with any of your favourite filling and cheese. Oat Flour doesn't make a flaky crust, but it is very flavorful and healthy. It's best to serve them warm straight from the oven, the crust does become soft after a while, but I still love them! Or you can make bigger batches, freeze them and just pop them into the oven before eating.
Gluten free crusts and bread doughs do not have the same texture as regular doughs. So you can't roll them out or treat them the same way you treat regular dough. Keep in mind that gluten-free food won't taste the same as the gluten wheat based food, it's just a matter of getting used to the new texture and flavours.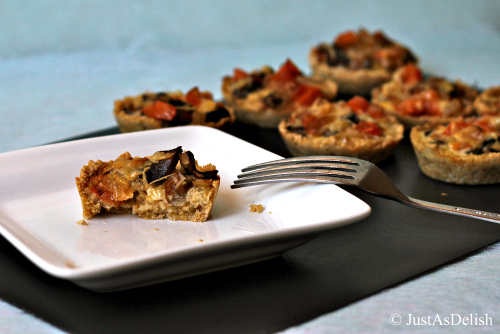 I am loving the flavour of gluten-free substitutes. I've made these oat crust tartlets with savoury filling a few times, they are easy and delish. Hmm.. it's about time to try with a sweet filling. What's your favourite tart or pie filling?
Mushroom Tartlet with Oat Crust (Gluten Free)
Recipe type:
Appetizer, Light Bite
Ingredients
Oat Crust
1 cup Oats
2½ teaspoon Olive Oil (or any other oil)
2 tablespoon Cold Water
½ teaspoon Salt, or to taste
Filling (it's more than what you need for the tart)
50g fresh Mushroom - diced
1 medium Tomato - diced
5 tablespoon of grated Mozarella Cheese, or cheese of choice
1 tablespoon Olive Oil
1 Egg - beaten
2 tablespoon Milk
Dried Basil
Salt and Pepper, to taste
Instructions
Oat Crust
Grind the oats in the food processor until it become fine flour. Add in olive oil, water and salt and mix well until the dough isn't dry anymore.
Take 2 teaspoons of dough in you hand and press them into the muffin tray with your fingers to fit to make a tartlet shell. Continue with the rest of the dough.
Bake for 10 minutes at 350F.

Filling
While the crust is baking, dice the mushrooms and tomato.
Heat up pan with olive oil on medium heat, saute mushrooms and tomato for 2 minutes. Add dried basil, salt and pepper to taste. Set aside.
Add milk to beaten egg, and whisk until well mixed.
When the crust is ready, take out the muffin tray. Fill the tarts with sauteed mushrooms, grated cheese and egg mixture.
Bake for another 10 minutes at 350F. Serve warm.