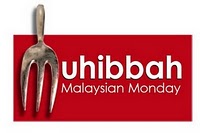 This is my first time hosting a blog event and I'm very honoured to be hosting Muhibbah Malaysian Monday (which holds a special place in my heart). I'm so amazed with the entries received, so get ready for a Malaysian feast!
The first email I received is also a new participant of MMM – Kimmy from Cooking Pleasure with 4 submissions! Welcome Kimmy! Why buy store-bought sauce when it's so easy to make your own Sweet Sour Chili Sauce? Makes me crave for sweet & sour chicken!

With her homemade Sweet & Sour Chili Sauce, Kimmy made Spicy Stir Fry Pineapple. This dish, almost like pickled vegetables 'acar', will definitely whet your appetite!
Easy egg drop soup – Sweet Leaf [Sayur Manis] Egg Soup is perfect for busy weeknight. The 'sweet leaf' vegetable known as  mani cai (马尼菜) in Chinese and cekur manis or sayur manis in Malay.  I learn a new name for this veggie which I love, but sometimes not easily available in my market. 
Charmaine Wan of From Our Home did a beautiful job with my favourite nyonya kueh – Pulut Tai Tai or Seri Kaya. I always ask for extra kaya when I buy this kueh.