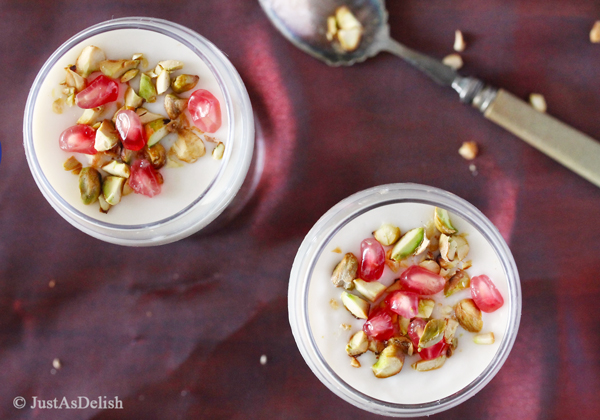 I have a sweet tooth, but I'm not much of a dessert person. I don't normally make desserts at home. If I do make them, like ice cream or cake, I'll be the only one eating them for a few days until I get sick of dessert. If I crave for something sweet, I will just grab some fruits or chocolates, or a traditional popsicle like ice cream potong. Natural sweetness of fruits is enough for me. Sweetie always joke that I'm a squirrel, always munching on nuts and fruits.
The milk pudding (muhallabieh or malabi) from the cookbook Jerusalem caught my eye because it's quite similar to soy pudding (tau fu fah) and mango pudding. I like that it's only takes a few minutes to make, and halved the recipe for my occasional dessert treat.  
"Jerusalem: A Cookbook" was written by Yotam Ottolenghi and Sami Tamimi, chefs who grew up on opposite sides of the divided city, Mr. Tamimi in the Arab East, Mr. Ottolenghi in the Jewish West. The book's recipes are traditional in Jerusalem, or loosely inspired by the city, gathering influences from the Christian, Muslim and Jewish cooks who live there. It's interesting to hear "Jerusalem" fever catching on in many cities with cooks throwing all-"Jerusalem" potlucks, cooking clubs, and even Google Hangout discussions on a cardamon rice recipe.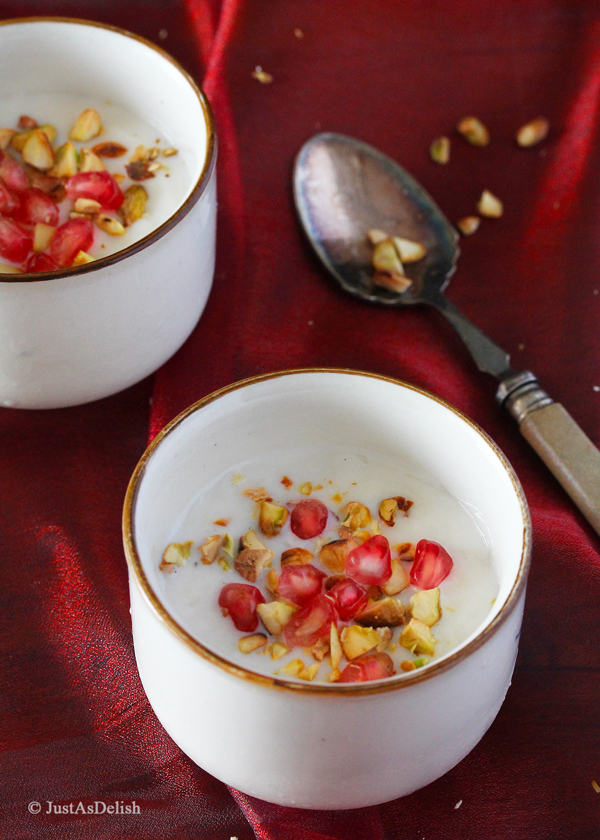 I understand the craze because it's the first time I can't put a cookbook down and I've tried a couple of recipes, they are are all so amazing including this milk pudding. What makes muhallabieh so special is the lightness and simplicity of the base pudding (which is the lean version of panna cotta), combined with the flavour from the toppings. In Israel, there's a variety of toppings on the milk pudding sold – different types of nuts, desiccated coconut, rose water or orange blossom water. I added pomegranate seeds as they are pretty cheap at this time of the year. The crunchy pistachio, the tart pomegranate and rose water goes well with the milk pudding. Just a tiny drop of rose water goes a long way, as it might be overpowering for some who is not used to it. In the cookbook, they replaced rose water with bay leaf syrup.
I am submitting this post to Asian Food Fest: West Asia hosted by Shannon from Just As Delish.

Muhallabieh (Middle Eastern Milk Pudding)
Author:
Adapted from Jerusalem by Yotam Ottolenghi and Sami Tamimi
Ingredients
500ml Milk
6 tablespoon (33g) Cornflour (or Tapioca Starch)
200ml Water
4 tablespoon Raw Honey (or light coloured sweetener of choice)
25g Pistachio - roast and chop, to garnish
Pomegranate Seeds - to garnish
a few drops of Rose Water
Optional: Desiccated coconut to garnish
Instructions
Whisk cornflour with half of the milk in a small pot to make a smooth paste. Pour the remaining milk, along with water and honey, and heat gently. Whisk the milk to fully dissolve the cornflour and and honey with the liquid. Continue whisking until the mixture boils and thickens so it resembles thick custard.
Remove from the heat and pour into 6 small individual bowls or wine glasses. Let it cool and chill in the fridge for at least 3 hours, or until it set.