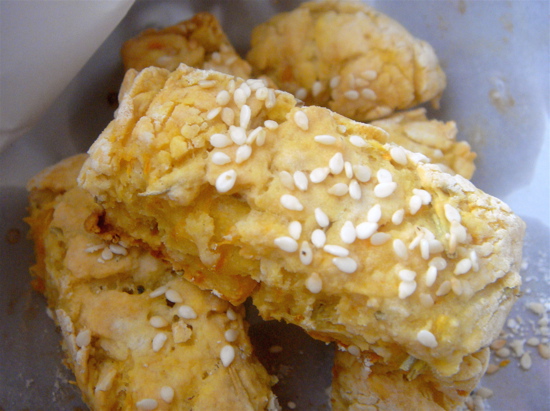 Last week, a friend asked if I would like to make some snacks for her gathering of 20 people, to help promote my blog. Without a blink of an eye, I said yes!
Ah, then familiar dilemmas start to arise — what to make, what to make? Something sweet, something savory? Something indulgent that will please everyone who doesn't know how much butter went into it, or something healthful so my friends will live longer with a healthy heart and glowing skin?
An old favorite that won't let me down but won't excite anyone either, or a new recipe that has great potential but involves a risk of failure?
Another consideration is the need for something that will require neither silverware nor last-minute prep and that will travel well in the containers during the 1 hour journey from KL to PJ.
And in the midst of confusion, came an idea that would work perfectly: pita chips with hummus dip and bite-size scones. Then came the dilemma of decision: Sweet or Savoury Scones. To eliminate the risk of a failed recipe, I tried out 2 small batches of Carrot Rosemary Scones and  Lemon Poppy Seed Scones, and brought them to my ladies mastermind group gathering.
I was pleasantly surprised with how easy it is to make scones and how good the scones taste despite not using butter and cream (as most traditional scones recipes). It takes only minutes to make them, and minutes to devour them as well.. It never cross my mind that Carrot & Rosemary makes such a wonderful combination in baking.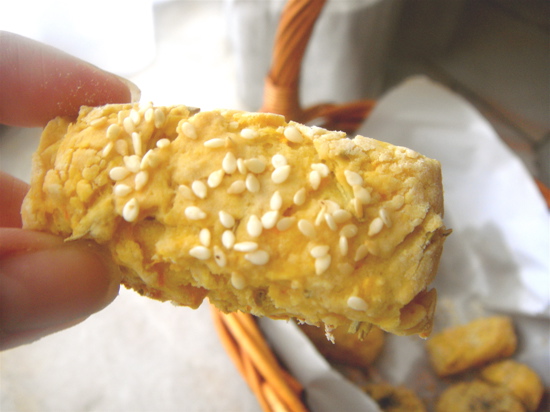 Everything went as planned: I did not burn the scones and I managed to fend off hungry fingers. Nicely placed in a basket, it transport well to my destination with a beautiful presentation..
Lemon Poppy Seed Scones & Pita Chips post will be coming right up..
Mini Carrot & Rosemary Scones (Recipe from Sunita's World)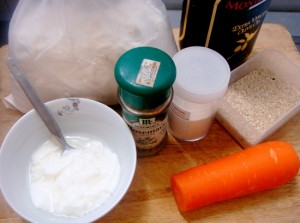 Makes: 10 bite sizes
1& 1/2 Cup whole wheat flour
2 teaspoon baking powder
3 tablespoon extra virgin olive oil
1 teaspoon salt
4 tablespoon grated carrot
2 tablespoon dried rosemary
7 tablespoon plain yogurt (I use my homemade yoghurt)
a little milk for brushing the tops
a little sesame seeds for sprinkling over the top
1. Preheat the oven at 220 deg C. Line a baking tray with parchment and dust with flour.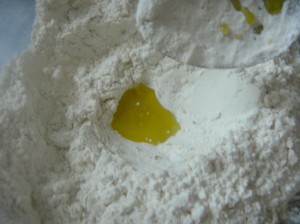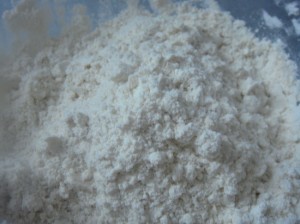 2. In a bowl, place the flours, baking powder, salt and olive oil and rub in with your fingertips till the mixture resembles fine crumbs.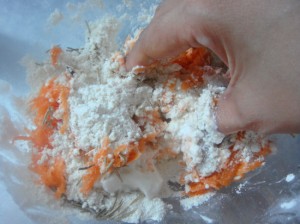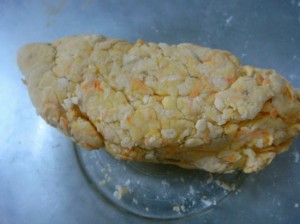 3. Add the rosemary, carrots and yogurt, and rub again with the fingertips. Very quickly, mix everything together into a ball. Never over handle the dough, or the scones will turn hard. The dry and liquid ingredients should just come together. So, do not worry if your dough looks too craggy.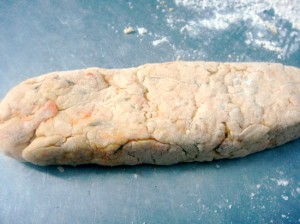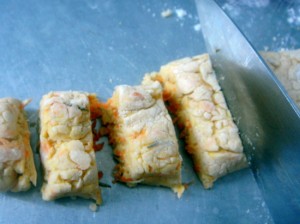 4. Transfer the  ball of dough to a floured board. With a floured rolling pin, roll out the dough to about 20cm by 4cm and 1cm thick. Cut into rectangle pieces and transfer to the prepared tray, leaving spaces between them.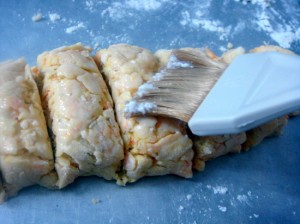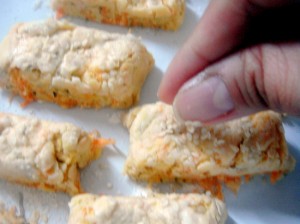 5. Brush the tops with a little milk and sprinkle the tops with sesame seeds.
6. Bake for about 20 minutes or till the scones are firm and golden.
Tip:
Best to serve warm. If saving for later, transfer the scones to a rack to cool completely before storing in air tight containers. Warm the scones a little before serving.