It's been a while since I had millets and I was missing their nutty flavour. Millet is commonly used as breakfast cereal / breakfast porridge in Himalayas and certain parts of China. Here I use millet to replace my Banana Oatmeal. Although oats have been widely publicized for their heart-protective properties, millet is a grain that should be included on your list of heart-healthy choices because it is highly nutritious and has a good source of minerals.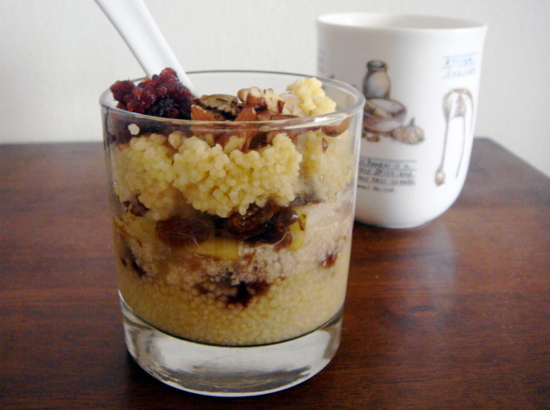 The millet was cooked with water in a pot, then add milk to create a creamy thick consistency. Layer / Top with: banana/cranberry jam/almonds/walnuts/raw buckwheat groats/honey roasted walnut butter / spiced chocolate almond butter
Other must try millet recipes: Millet Patties, Baked Eggplant with Yogurt Lemon Dressing and Spicy Stuffed Capsicum

Ingredients
1 cup Hulled Millet
1 cup Water
¼ cup Milk (or non-dairy milk)
1teaspoon Ground Cinnamon
1teaspoon Honey
Topping
Fresh & Dried Fruits (Banana/Mango/Raisins/Dates/Cranberries)
Jam/Preserve
Nut Butter
Nuts & Seeds
Raw Buckwheat Groats
Instructions
In a pot over medium heat, bring the water and millet to a boil, the quickly turn down the heat to low and cover. Simmer for about 15 minutes.
Add in milk and bring to a simmer for 5 minutes or until it starts to thicken. 

Scoop into a cup & layer with ingredients of choice.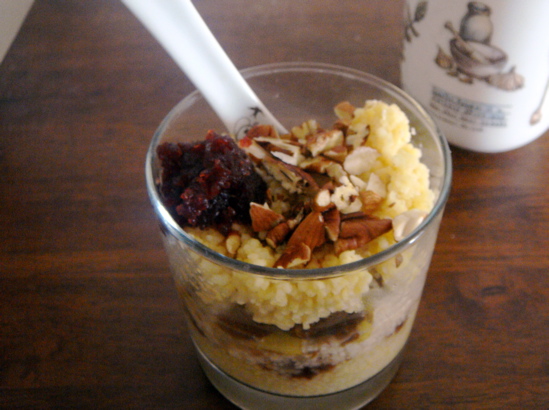 Love the crunchy nuts & buckwheat groats on top!  The 2 nut butters were DIVINE. I savored every little bite and breakfast was gobbled up in no time.