While I was on the Candida diet, there's many grains, gluten & dairy products have to be avoided. It was so difficult to find alternative for my  breakfast. Until I found my saviour – Millet, which I bought at the organic shop. Later I also found Mydin @ USJ sells unhulled millet, which I tried to hull with a food processor with not much success.. I read that a coffee grinder works best!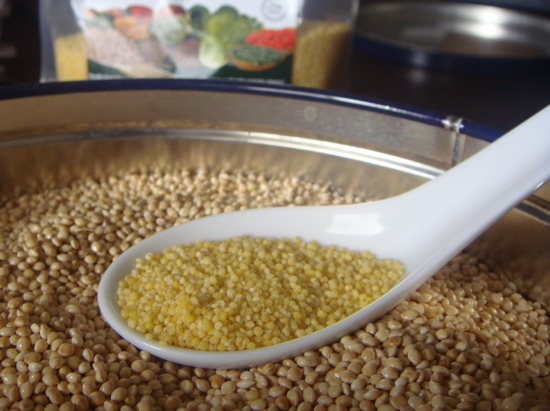 Unhulled Millet vs Hulled Millet
What is millet?? I was surprised to learn millet has been used in Africa, India and China as a staple food for thousands of years and still is a significant part of their diet until now.
The Hunzas, who live in a remote area of the Himalayan foothills and are known for their excellent health and longevity, use millet as a cereal, in soups, and for making a dense, whole grain bread called chapatti. In India flat thin cakes called roti are often made from millet flour. In Eastern Europe millet is used in porridge and in Africa it is used to make bread, as baby food. An Arab friend told me the farmers sell millet as bird feed and didn't know it could be eaten by humans!
Millet is highly nutritious, non-glutinous and one of the least allergenic and most digestible grains available. It is nearly 15% protein, contains high amounts of fibre, B-complex vitamins including niacin, thiamin, and riboflavin, the essential amino acid methionine, lecithin, and some vitamin E. It is also particularly high in the minerals iron, magnesium, phosphorous, and potassium. After cooking it once, I love this tasty, mildly sweet, nut-like flavor millet.
The 1st recipe I tried is Millet Patties for breakfast, easy to prepare and a great way to enjoy the mildly sweet and nutty flavour of millet.
Millet Patties
Ingredients
1 cup millet, uncooked
2 cups water
¾ cup tahini (sesame juice) or peanut butter
1 small onion, finely diced
2 inch carrot/celery, finely diced
2 teaspoon soy sauce (or to taste)
1 teaspoon sesame oil
Instructions
Bring the water and millet to a boil, the quickly turn down the heat to low and cover. Simmer for about 20 minutes or until the water is absorbed. Remove from heat, fluff, and let sit uncovered for a few minutes to cool down.

While waiting for the millet to be ready, dice onion & carrot. Add all the other ingredients and mix well.
Form into patties (easier to use hands) and brown on both sides over medium heat in a lightly oiled pan for a few minutes.

Serve as is. Sometimes the patties couldn't stay well together (as the photo above) and become scrambled, which tastes delish as well!
Alternatively, the millet may also be served when warm without frying.

Just as Delish, or even better!