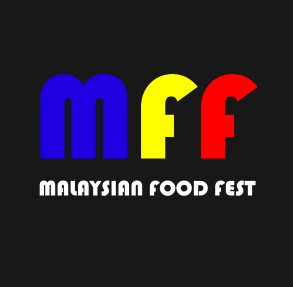 Welcome to Malaysia Food Fest – Kuala Lumpur & Selangor online event,  I am hosting this event for the whole month of July. Alan of Travelling Foodies hosted an amazing event in June for Penang (my hometown), please head over to Alan's blog to check out the round-up of scrumptious Penang food.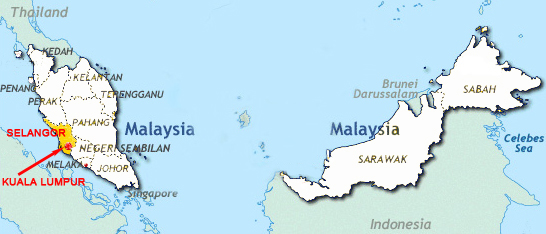 This month's MFF feature 2 places (Kuala Lumpur & Selangor) combined because of its history and both are almost inseparable with the nation's biggest conurbation – the Klang Valley or the latest term "Greater Kuala Lumpur".
Even though I've lived in Kuala Lumpur for 8 years, researching about food of Kuala Lumpur & Selangor is quite a daunting task. It's not a place with famous food where there's publication or online articles about the cuisine here. Most of my research is mostly done through asking friends whose family have settled in Klang Valley for a few generations. The history of each place influences the food and the culture, hence a tiny history lesson below.
Selangor is on the west coast of Peninsular Malaysia and is bordered by Perak, Pahang, Negeri Sembilan and the Strait of Malacca. It surrounds the federal territories of Kuala Lumpur and Putrajaya. Kuala Lumpur as the federal capital is the most populous city in Malaysia. Many migrants from other states settled in Klang Valley and they bring with them lifestyle and food, hence the food there has evolved from the amalgamation of influences from all over Malaysia.
The traditional Malay cuisine in Selangor has received influences from Johor, Bugis, Jawa and Minangkabau. Hence, the malay cuisine uses a lot of ingredients like tempeh, village vegetables, local fruits and freshwater fish.

Left: Lontong from Chef Mat Gebu @ Dapur Tanpa Sempadan. Right: Rojak Mamak from Sentuhan Norzie Hany
A famous dish in Kampung Baru, Kuala Lumpur and Klang, Selangor is Lontong. In Indonesia, Lontong is compressed rice cakes but the term lontong in Malaysia refers to a dish that consists of rice cakes (nasi himpit) in a coconut based soup such as sayur lodeh containing shrimp and vegetables like chopped cabbage, carrots and other condiments.
Rojak Klang is a popular Indian Muslim dish in Klang, Selangor. Also known as Rojak Mamak, the ingredients include contains fried dough fritters, bean curds and vegetables mixed with a sweet thick, spicy peanut sauce. This is almost similar to Penang Pasembur, but with different gravy/sauce.
Whenever the word satay is mentioned, it's satay Kajang that always comes to mind. The famous Haji Samuri satay in Kajang, Selangor, consist of big diced or sliced chicken, goat, mutton, beef, cow stomach. Satay kajang is different from other satay, whereby it is marinated with spices, the satay is twice the size of normal satay and hot chili sauce is served on the side for those who wish to add some spice to the peanut sauce.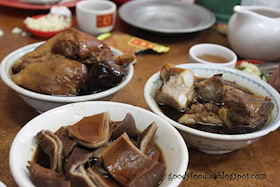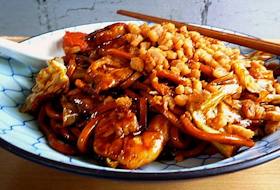 Left: Klang Bah Kut Teh (non halal) from goodyfoodies.com. Right: KL Hokkien Mee (non halal) from 3 hungry tummies
Another famous Klang dish is Bak Kut Teh, literally translates as "meat bone tea" in Chinese Hokkien dialect. Bak Kut Teh is essentially meat (usually pork ribs) simmered in a soup rich with a mixture of spices & Chinese herbs for hours. The Klang-styled Bak Kut Teh is darker in colour, from generous use of dark soya sauce and heavily flavoured with Chinese herbs.
Another popular chinese street food is KL Style Hokkien Mee (Fu Kin Meen). Not to be confused Penang Hokkien Mee, the KL version is famous for the dark, fragrant sauce that the thick yellow noodles are braised in. The secret to an authentic KL Hokkien Mee is the pork fat crackling.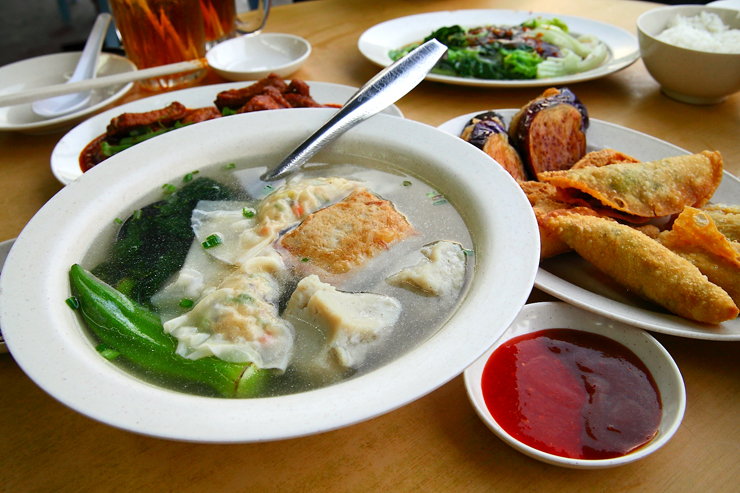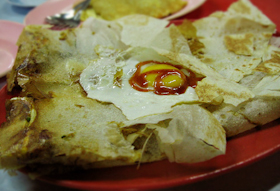 Left: Yong Tau Foo (Fish paste stuffed vegetables & tofu). Source: vkeong.com. Right: Roti Michael Jackson – roti tisu top with mata kerbau (sunny side up) from Gastronomic Diary
Ampang New Village is famous for its 'Yong Tao Foo', a Hakka Chinese dish consisting of large pieces of fish paste stuffed in  tofu and vegetables. Seri Kembangan New Village in Selangor filled predominantly by the Hakkas, is also another area famous for Yong Tao Foo.
Meanwhile in nearby Serdang, Selangor, the creative Roti menu at the mamak stalls keeps me amused. They has been given a new twist with all sorts of filling stuffed into the Roti Canai – from Roti Diana to Roti Titanic to Roti Jackie Chan. Roti Diana ayam is roti goreng and fried chicken pieces wrapped in omelette. Who would have thought that Roti Michael Jackson is roti tissue filled with chicken & vegetables, topped with fried egg?
So do join us for one whole month of delicious dishes from Kuala Lumpur & Selangor. The aim of this event is for you to cook any food from either Kuala Lumpur or Selangor.
Below is a list of recipe links for you to try this month.
Savoury Recipes
1. Sate/Satay ala Haji Samuri Kajang – skewered big diced or sliced meat marinated with spices served with spicy peanut sauce
2. Lontong – rice cakes (nasi himpit) in a coconut based soup with vegetables
3. Rojak Mamak – fried dough fritters, bean curds and vegetables mixed with thick spicy peanut sauce
4. Bah Kut Teh – pork simmered in a soup rich with a mixture of spices & Chinese herbs
5. Yong Tau Foo – Fish paste stuffed in tofu & vegetables
6. KL Hokkien Mee (Fu Kien Meen) – fried thick yellow noodles in dark soy sauce
7. Nasi Ambang – a communal dish made up of white rice, fried noodles and many condiments.
8. Fish Head Noodle (Yue Tow Mai Fun) –  fried fish head / fish fillet vermicelli in milky broth.
9. Chili Pan Mee –  dry flat noodle with anchovies, sayur manis, poached egg & dry chili mix.
10. Ulu Yam Lor Mee – braised egg noodles
Sweet Recipes
1. Cendol Bakar – ice shavings with milk, burnt brown sugar and green jelly
2. Getuk Ubi – Fried steamed tapioca & grated coconut
TO JOIN
1. Who can join? Anyone can join.
2. Prepare a dish (sweet or savoury) that is from Kuala Lumpur or Selangor, be it old time favourites, modern goodies or dishes that has been localized. Take a picture of the food or many pictures.
3. Provide recipe that is credited (from books, internet, friends or family or your own, be specific). Submissions without stating recipe sources will not be accepted for all forms of submission.
4. Submit your entry latest by 30 July 2013 except for Facebook submissions.
TO SUBMIT
1.Bloggers
a. Prepare a dish (sweet or savoury) that is from Kuala Lumpur or Selangor.
b. Blog about it from 1st July – 3oth July 2013
c. Include this caption below your blog post
" I am submitting this post to Malaysian Food Fest (Link to MFF Page) Kuala Lumpur Selangor Month hosted by Shannon of Just As Delish (Link to this Intro Post)"
Send the following information to this email address (shannon@justasdelish.com) with the email subject as "MFF Kuala Lumpur / Selangor"
Name/Nickname :
Blog name :
Name of dish :
Url of post :
Picture : ( URL or attachment that is lesser than 500k)
2. Facebook user
a. Like this FB page.
b. Prepare a dish ( sweet or savoury ) from Kuala Lumpur or Selangor
c. Take a picture and upload it into Facebook event page here.
d. Provide recipe with picture.
Bloggers can submit old recipes to Facebook. Anyone that has once cooked a KL or Selangor dish and have a picture and recipe can submit to Facebook. Not necessarily a recently done dish.
For a pictorial guide on how to submit via facebook, please click here
3. Non Facebook users and Non Bloggers
Email a picture of the dish together with the recipe to (shannon@justasdelish.com) latest by 30th July 2013 by 11.59pm ( Singapore & Malaysian time )
A Round Up will be has been done for all blog entries and emailed in entries on 1st August 2013. 
Facebook entries are not included in the round up.
For last month's MFF Penang, head over to the round-up here.