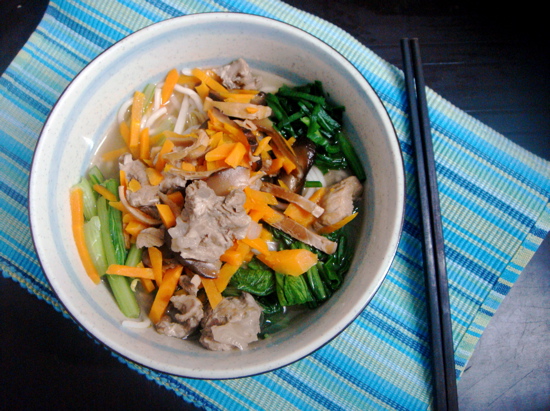 This post in memory of my Ah Ma (paternal grandma who passed away this May) and my Papa (passed away in year 2000). I miss both of them a lot.
Both my paternal grandparents are from LongYan, west of Fujian, China. Ah Kong (Grandpa) was a young policeman during the KuoMingTang (China Nationalist Party) ruling, and he had to flee when the Communist took over China. He left Ah Ma and my one-year old Papa in LongYan with relatives, to seek for survival & refuge in Malaya (now known as Malaysia). 8 years later, Ah Kong finally managed to apply for Ah Ma and my Papa to come to Malaya & reunite.
My grandparents have been returning to their homeland every few years but my Papa only made his first visit in year 2000, just 6 months before he passed away. I'm glad I made the trip to my Papa's homeland, to get to know where my roots begin.. Read more about my trip in 2003 to trace back my roots here
LongYan Noodle Soup is my favourite LongYan dishes, my Ah Ma used to always cook this noodle. I'm not sure the exact name of this noodle, our family just called it LongYan Noodle Soup. We usually make a gigantic pot of broth on lazy Sundays and the leftover broth will be fuller in flavour the next day. The soup/broth is a long simmering of pork bones, pork ribs with soft bones, shiitake mushroom, dried cuttlefish and carrots. The soup is served with noodles of choice, blanched vegetables and a special condiment of mint garlic sauce. It's this special condiment that makes gives the noodles an extra kick!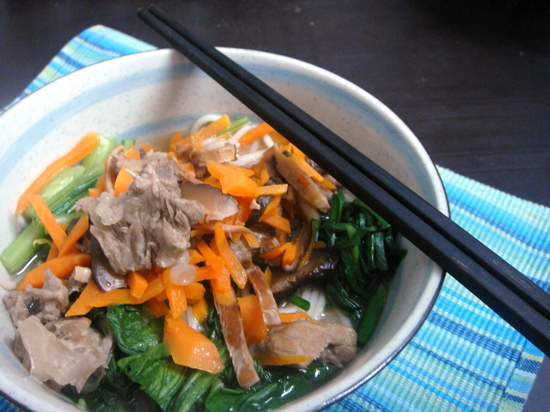 Noodles served with simmered broth of pork ribs, shiitake mushroom and cuttlefish and special mint garlic sauce.
Ingredients
Broth *
1kg Pork Bone or Pork Ribs with soft bone
1 Dried Cuttlefish - soaked in water & cut into strips
20 Dried Shitake Mushroom - soaked in water & cut into strips
2 big Carrots - cut into strips / chiffonaded
Salt to taste
Garlic Mint Sauce **
1 cup fresh Mint Leaves
10 cloves Garlic
2-3 Lime
Noodle Soup
Broth *
Noodles of choice - Yellow Noodle (Mee) / Vermicelli (Meehoon) - soaked in water / Flat Rice Noodle (Kuey Teow)
100g Chives
100g BeanSprout (Taugeh)
200g Choy Sum
Garlic Mint Sauce **
Instructions
Broth
Soak cuttlefish & mushroom in water and cut into thin strips.
Bring water to boil in a large pot. Pour some hot boiled water over the pork bones and ribs to get rid of the scum, and pour away the water.

Add the bones, ribs, dried cuttlefish and shiitake mushrooms into the pot of boiling water. Simmer the broth on medium heat for about 3 hours.
Add in carrots, simmer for another 20 minutes. Add salt to taste and the broth is ready.

Garlic Mint Sauce
When the broth is almost ready, prepare the condiment. Finely chop the mint leaves with a knife. Using your hands, squeeze out any water from the chopped leaves.
Pound the garlic with a pestle and mortar.
Mix mint leaves, garlic and lime juice together.


Noodle Soup
While waiting for the broth, prepare the noodles of choice - wash and drain the yellow noodle and flat rice noodle. Soak the Vermicelli in water.
Boil water in a medium pot. Separately add the 3 vegetables (Chives, BeanSprout and Choy Sum) and blanch for 1 minute. Take them out and set aside.

Cut the Chives and Choy Sum into 2inches long.
In 4 serving bowls, put in the noodles and blanched vegetables, and scoop in the broth with the ribs.

Enjoy the Noodle Soup with Garlic Mint Soya Sauce and a dash of pepper.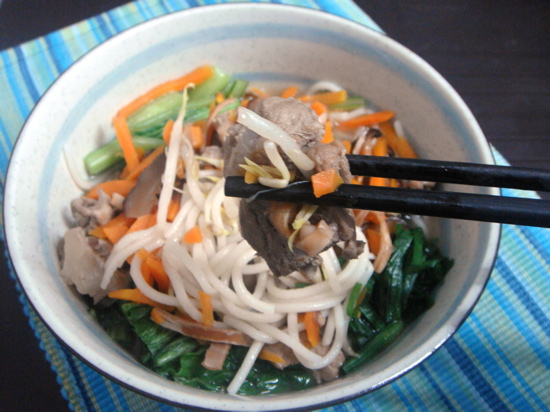 I love mine with soft bone ribs and thick vermicelli
Enjoy & Have An Awesome Weekend!