Delicious bittersweet Licorice Tea – remedy for sore throat, reducing phlegm and nourishing the respiratory system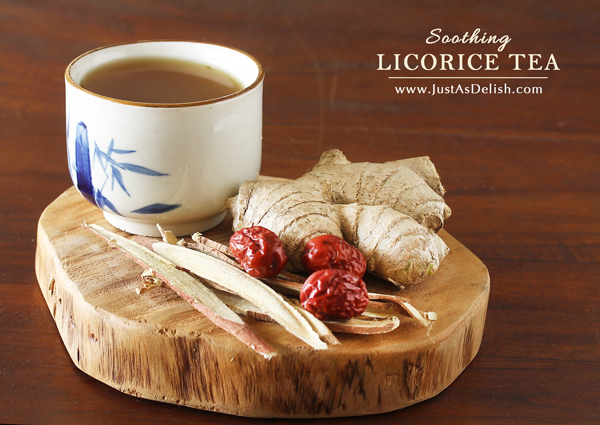 Hot weather and late nights caused me to wake up to a dry scratchy throat, a couple of times in the past few weeks. Coupled with a recovering cough and phlegm, it can be rather annoying. The common remedy for sore throat is gargling with salt water. But I find licorice tea works better for my sore throat and helps nourish the lungs. Drinking this simple herbal remedy was very hydrating (moistening in traditional chinese medicine terms) for me in this hot dry weather. My phlegm has reduced tremendously with just one brew. 
Not many people are aware that licorice (also known as liqourice, "gan chao" 甘草)  is an important and common herbal remedy in traditional Western medicine, Indian Ayurveda and Traditional Chinese Medicine (TCM). You are probably most familiar with it as a flavoring in foods, beverages, and tobacco. The root is used to make medicine. Among the benefits of licorice are to help loosen phlegm, reduce inflammation, improve sluggish digestion, relieve heatiness and support Qi.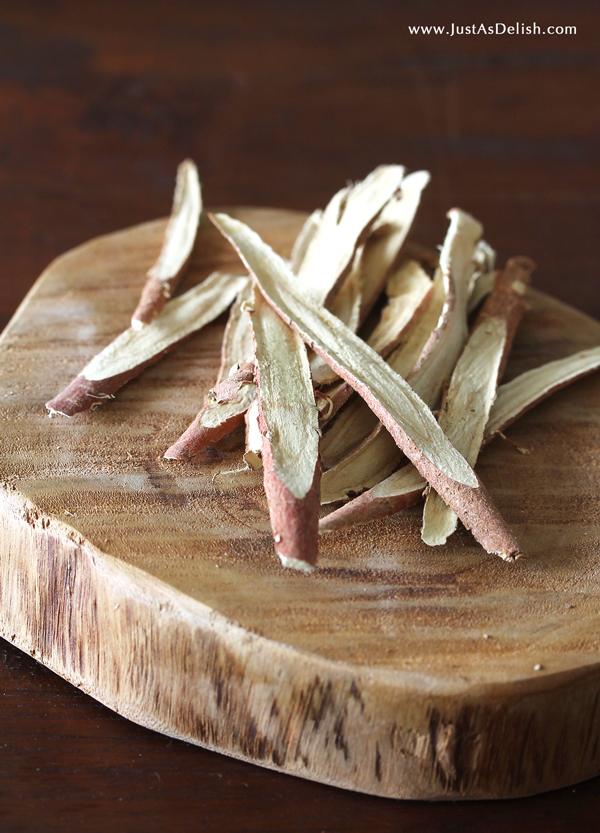 Just so we are on the same page, do not confuse the pure healing licorice with licorice candy and other confectioneries that contains very little, if any, licorice which is in fact flavoured by anise. The candies are laden with sugar and processed ingredients.
This brew is a time-honoured recipe which has a cooling energy; helps to reduce phlegm, and soothe a dry/sore throat. Not only is licorice almost universally believed to be one of nature's best medicines, licorice tea tastes delicious as it has a bittersweet flavor that does not require any further sweetener. The addition of Chinese red dates (jujube) give it a pleasant sweet flavour, you can, of course, eat them on its own. Not only to sweeten, red dates has high nutritional values, among the benefits being a qi tonic herb in TCM. If you like sweet beverages, but want to wean yourself off sugar, substitute a cup of licorice tea for a sugar-sweetened beverage or add a little licorice root to your favourite herbal blend.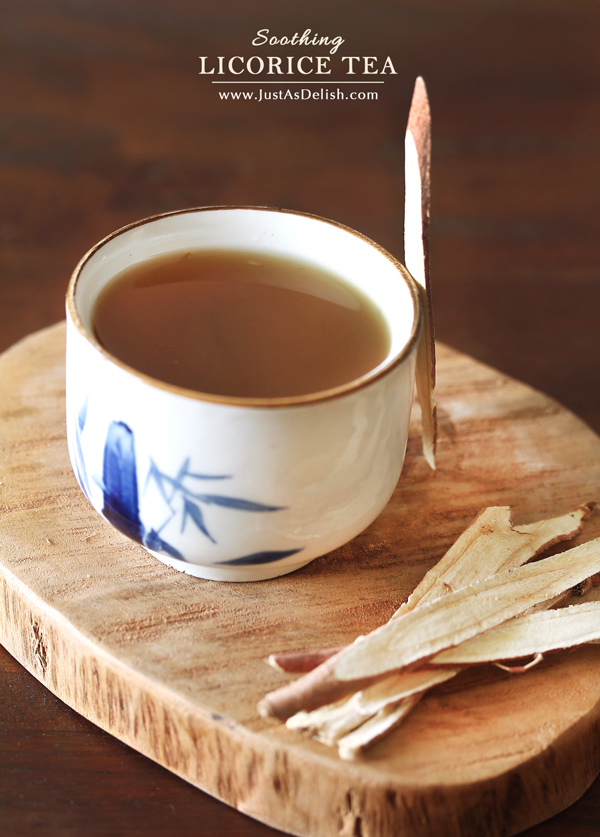 While licorice tea is available (in tea bags) in many health food stores, I would recommend purchasing in bulk or from chinese herbal shops to get the full benefit of the licorice root by simply boiling the root with ginger and red dates in a pot of water.
Though highly beneficial, health care practitioners do not recommend more than 3 cups of licorice tea a day.
Have you ever used licorice root?  If so, what ailments do you use it for?  Leave a comment and let us know!

Licorice Tea
Natural remedy for sore throat, reduce phlegm and nourish the lung
Recipe type:
Drinks / Remedy
Instructions
Crush the ginger with a cleaver or pestle and mortar
Place all ingredients in a small pot, bring to boil and reduce heat to simmer for 20 minutes.
Drain and serve warm with red dates.

Notes
If you are unable to find chinese dates, you can omit them.