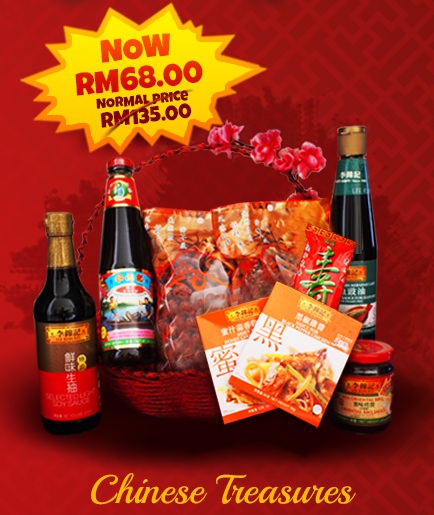 Today I am partnering with EverQuest to give away a Lee Kum Kee Chinese Treasures Hamper worth RM135.
The hamper includes:
One (1) Lee Kum Kee Premium Oyster Sauce
One (1) Lee Kum Kee Light Soy Sauce
One (1) Lee Kum Kee Seasoned Soy Sauce for Seafood
One (1) Lee Kum Kee Oriental BBQ Sauce
One (1) Lee Kum Kee Black Pepper Chicken sauce
One (1) Lee Kum Kee Honey Garlic Chicken Sauce
One (1) Dry Ingredients – Mushrooms, Longevity Noodles & Red Dates
The year end and beginning of the year is always a season of gathering and togetherness with your families and friends – with the celebration of Christmas, New Year and Chinese New Year. It is a time to spread your love through good food with good quality ingredients. A household name in Chinese cooking for generations, Lee Kum Kee has devoted 125 years in producing superior quality products. The noodles and mushrooms in the gift basket are ready to complement the sauces and to try the new recipe ideas in the enclosed recipe booklet. It's totally convenient for you to cook for your loved ones this festive season.
Check out my Braised Mushroom & Sea Cucumber with Broccoli recipe, adapted from Lee Kum Kee's recipe booklet.
Full Disclaimer: This giveaway is sponsored by EverQuest, the official sales representative for Lee Kum Kee Chinese New Year 2014 hampers. Just As Delish did not receive any compensation to host this giveaway.
The Rules: This giveaway is open to Everyone Living in Malaysia only. This giveaway closes on on Sunday, 22nd December 2013 at 11:59pm Malaysian time. 1 winner will be selected randomly by random.org and announced at the end of the post and will be contacted by email the following day.
To enter this giveaway, leave a comment on this post and tell me your favourite Chinese New Year dish.
For Extra Entries,
GOOD LUCK! 
There are 2 types of Lee Kum Kee Chinese New Year hamper available for sale. You can order them from EverQuest at hello@everquest.com.my or call 017 – 5169227. EverQuest is a training, marketing communication and PR agency. Log onto www.everquest.com.my for more info.
♦♦♦♦♦♦♦♦♦

Thank you for everyone's participation. The winner of the Lee Kum Kee giveaway is Grace! Congrats! We will contact you via email shortly.