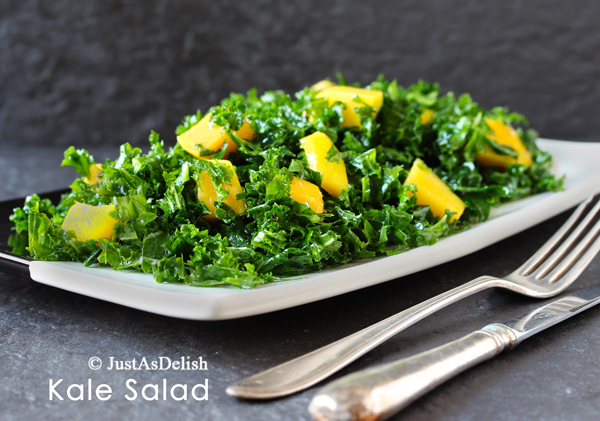 Move over Popeye, say hello to the Queen of Greens – Kale. In recent times, kale has become one of the most talked about vegetables, championed by chefs and food bloggers. Green smoothies with kale and kale chips recipes have popped up everywhere I click. Kale, sometimes known as curly kale, is from the Brassica family and is a nutritional powerful with high concentration of beta carotene, vitamin K, vitamin C, and rich in calcium.
After seeing kale sold at a highly exorbitant price in KL, I reminded myself to grab my chance to try kale on my Europe trip. On the first I arrived in Reading. I was with my friend's mother in law at Waitrose, and she asked me if there's anything I would like to try. I grabbed a bunch of kale, thinking of making green smoothies the next day (lucky me to be staying at my friend Angie's place with access to kitchen). Miscommunication ensued, the kale appeared stir fried chinese style for dinner. Angie was puzzled as to why I want to try kale because it's the most 'horrible' vegetable she has ever eaten and it's mostly used in stews. Even though the kale is tough like chinese kai lan, I happily finished that whole plate by myself.
Not giving up, I bought my 2nd bunch of kale when I went to London next, made green smoothies and bake them into kale chips at Lily's place. Despite it's hardy texture, kale blends well into smoothies. Lily and I were amazed at how the baked kale chips became crispy chips, just like potato chips.
Back in Netherlands before flying back to Malaysia, there's no fresh kale in sight at the market or supermarket. Known as boerenkool (farmer's cabbage) in Dutch, it is a very frequently used in a traditional winter dish called stamppot boerenkool, which is a mix of kale and stomped potatoes. Dutch prefer their boerenkool to be frozen in the field, as it tastes sweeter and more flavourful after being exposed to a frost. Read more about my Netherlands vacation here.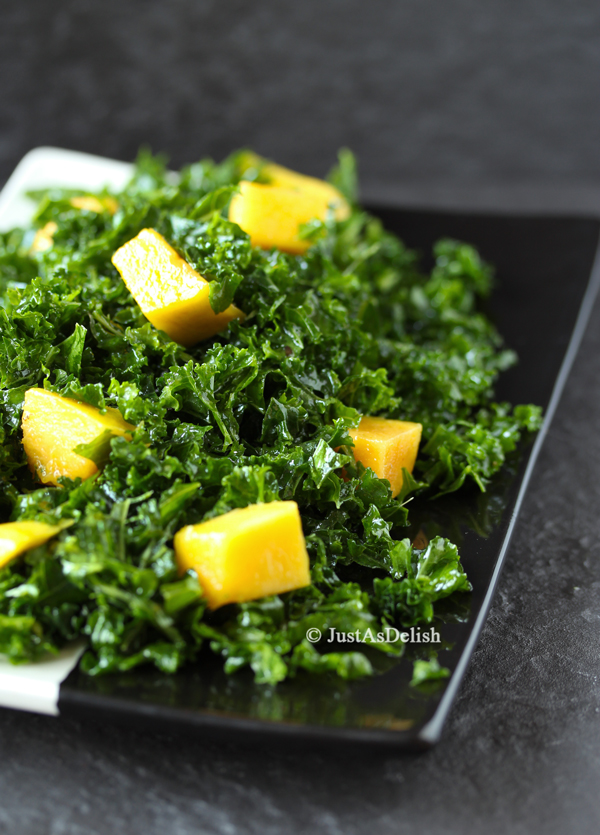 Packets of chopped fresh kale is all I found and I made Kale Salad. Tough chewy raw kale to be massaged gently. Another pleasant surprise sprung when I had my first taste of massaged raw kale. Love the clean, crisp, earthy flavours. It totally blew the mind of a few Dutch friends when they tasted the salad. Their usually frozen & stomped boerenkool tasted so good raw.
My adventure with kale does not end here. The flower seller at Amsterdam laughed when I asked him if boerenkool can grow in hot weather. I will have to to update him that I met someone last week, who has a garden full of blooming kale in KL. I'm super excited! Planting the seeds this weekend and wait for magic to happen. Will keep you posted on the progress.
Update 18th June 2014 – Check out the post "How To Grow Kale in the Tropics".

Kale Salad
Clean, crisp, earthy flavours of the massaged raw kale salad. Kale is a nutritional powerful with high concentration of beta carotene, vitamin K, vitamin C, and rich in calcium.
Ingredients
3 cups (about 200g) of thinly sliced Kale leaves (If using whole kale, use only the leaves)
1 medium Mango - diced (about 1 cup)
Juice of 1 Lemon
3 + 1 tablespoon Extra Virgin Olive Oil
Pinch of Salt
Freshly ground black pepper
Optional: Any nuts or seeds
Instructions
In a large bowl, add kale, half of lemon juice, 1 tablespoon oil and salt. Massage kale with your hands until the kale starts to soften and wilt, about 2 to 3 minutes.
In a small bowl, whisk remaining lemon juice with freshly ground black pepper and 3 tablespoon of oil while whisking until it emulsify (like a dressing form), and you like how it tastes.