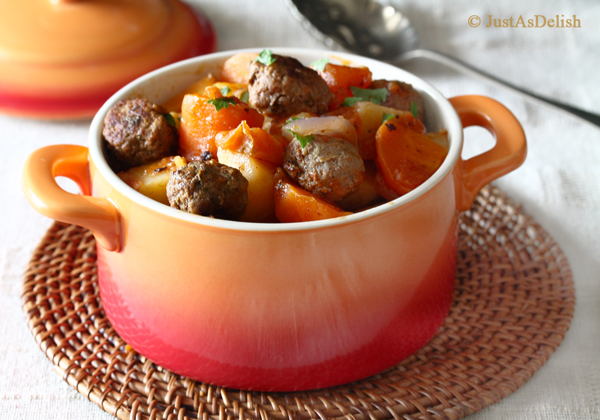 It has been raining non-stop 2 weeks ago. the monsoon season has started. I just love rainy days, watching the rain drops on the window or hearing the rain drops on the roof. so soothing and comforting.. just like stews.
To me, there's something comforting about stews even on hot days. I guess being brought up in a tropical country, we are used to having hot soups, porridge and stews anytime of the year.
This Lebanese Kafta Stew is simple recipe with all the ingredients that I usually have on hand. Kafta or Kofta is minced or ground meat—usually beef or lamb—mixed with spices and onions, rolled into different shapes – round or torpedo or on skewers, and grilled or sauteed. Lamb makes juicier kafta because of the fat content. I make mine with a mixed of beef and lamb. You can use store bought 7 spice mix or make your own at home. The spice mix is great as marinade on meat and vegetables too. It gives the dish a very earthy aromatic flavour.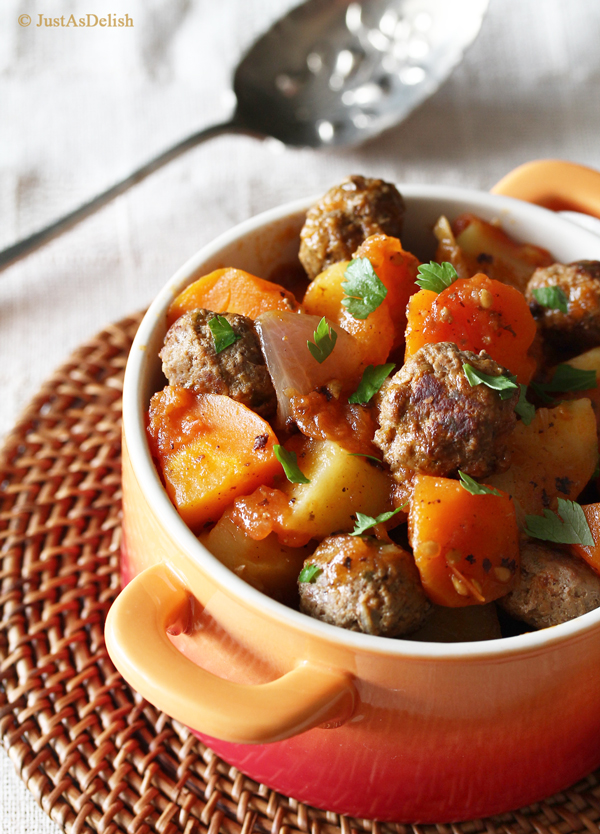 The rice pilaf is a traditional stew side dish but having the stew by itself is rather filing for me. I made a bigger batch of kafta and freeze them for quick weeknight meals served with some blanched vegetables.
I am submitting this post to Asian Food Fest: West Asia hosted by Shannon from Just As Delish.

Kafta Stew (Middle Eastern Meatball Stew)
Comforting Middle Eastern Meatball Stew
Ingredients
Kafta
200g Minced Lamb
200g Minced Beef
1 medium Onion - diced
1 bunch Parsley - finely chopped
1 tablespoon Olive Oil
¾ teaspoon Salt
1 teaspoon Lebanese 7 Spice mix
Freshly Ground Pepper to taste
Stew
200g Tomatoes - diced
4 medium Carrots - cut in chunks
4 medium Potatoes - cut in chunks
1 large Onion - cut in chunks
1 cup Water
2 tablespoon Olive Oil
Salt & Freshly ground pepper to taste
Lebanese 7 Spice Mix
½ teaspoon ground spice each of Nutmeg, Ginger, Allspice. Fenugreek, Cloves, Cinnamon, Black pepper
Instructions
Kafta
Place all ingredients in a bowl and mix well with your hands. Chill for at least 30 minutes, this will make shaping the balls easier. Shape all into same size balls and chill until ready to cook.
Stew
In a medium pot, heat oil and place the meatballs to sauté until browned on all sides. Remove and set aside. In the same pot, add carrots, potatoes and onions and sauté for a few minutes until they develop a skin. Add the diced tomatoes and stir around, making sure to remove all the yummy bits at the bottom of the pot. Add water, salt and pepper into the pot. Adjust taste to your liking before you add the kafta. After adding kafta, cover pot and simmer for 20-30 minutes or until the vegetables are tender when pricked with fork.