Is everyone more excited about the vibrant fresh produce in my previous post? There's more to the Inner Food Journey..
In 4 days, we made more than 40 raw recipes, enough for a newbie like me to have a whole month of daily raw dishes.. from Breakfast to Desserts, from Japanese sushi to Bombay Curry. What I love is that most of the recipes are easy to follow (even a child can do it, just need a lot of chopping) and related to our Asian diet. The dish that got everyone going back for more are Vegetable Lagsana and Chinese Lo Mein, however I would reserve Vegetable Lagsana only for special occasion (it's just too much work). 
When mentioned about dehydrator, my immediate thoughts was RAW cookies, pastries and pancakes that I kept seeing on raw food blogs. Actually these transition food is to use as a raw food introduction to our loved ones. The primary use of dehydrator is to preserve excess fresh produce to home-prepared dried tomatoes, dried herbs, coconut flakes and flours, spiced seeds and corn flakes. In fact, a dehydrator is not really necessary as we can do it the traditional way through air-drying and sun-drying, with enough sunlight in our tropical weather.
After 4 days of learning new food preparation methods & "playing" with various kitchen gadgets, I still prefer to keep it simple with just a knife and blender.
Here's another simple dish – Pomodoro Pasta. We made the zucchini spaghetti using a spirooli, or you would just use a grater to grate the zucchini lengthwise.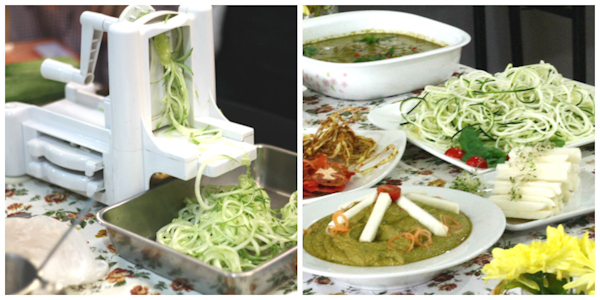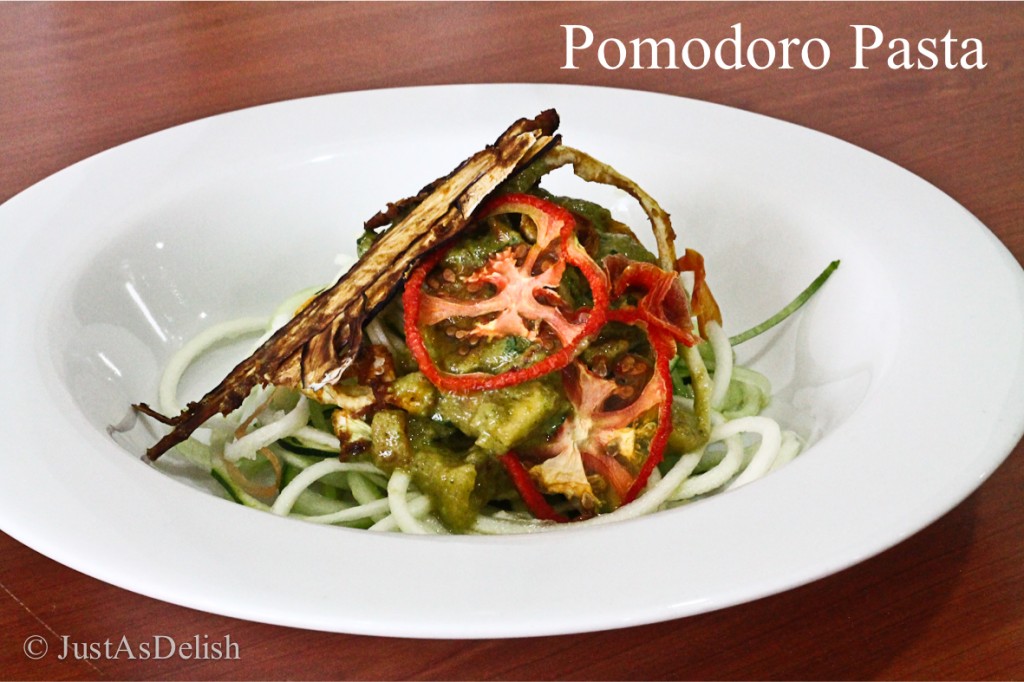 A sense of relief as the workshop ended, a new hope arises that a group of people are now more conscious about their food intake and spreading this beautiful new knowledge.
If you love this post, go to Daniw's Conscious Kitchen for more raw food recipes.

Raw Pomodoro Pasta
Raw Pomodoro Pasta
Ingredients
Pasta
Pomodoro Sauce
12 Tomatoes - deseeded and chopped into small pieces
½ cup Olive Oil
3 Garlic cloves - minced
1 medium Onion - salted while mincing then press out juices
½ tablespoon Garlic Powder
1 tablespoon onion powder
1 tablespoon Palm Sugar (Coconut sugar)
1 tablespoon Coconut aminos
½ tablespoon Apple Cider Vinegar
½ tablespoon Nutritional Yeast
1-2 teaspoon Salt
½ teaspoon Chili Flakes
1 cup Fresh Basil - thinly sliced
2 tablespoon psyllum husk
Garnish (Optional)
Nutritional Yeast
Olives
Dehydrated Tomatoes
Dehydrated Eggplant
Instructions
Pomodoro Pasta
Spiralize 3 big zucchini to make spaghetti (using a spirooli). Or you can grate the zucchini lengthwise.
Place zucchini on a plate, served with pomodoro sauce and garnish as desired.
Pomodora Sauce
Place all ingredients except psyllium husk into a bowl, stir with a spatula for a few minutes until the tomatoes release their juice
Blend half of the mix and add in psyllium husk add the end of blending.
Pour the blended sauce into the chunky mix bowl, and mix well. Let the mixture sit for 5-10minutes. If it's too liquid, add in 1-2 tablespoon psyllium husk.
Notes
The sauce should be a thick consistency that is not watery. (best eaten overnight after sitting for half a day so all the liquid gets absorbed)