Last month, I was fortunate to be asked to assist in the Journey to Inner Food Workshop, conducted by Daniw Arrazola (the co-founder of Bahay Kalipay – a healing & detox retreat center in Pahlawan, Philippines). From buying ingredients to sourcing for kitchen equipments, it has been an enriching journey. Never have I shopped for almost RM2,000 worth of fresh produce and ingredients!
With the initial thought that it's a food raw preparation workshop, I was in for a surprise. Before you give me the "sour face", give yourself the benefit of a doubt and read on..
"Based on science and on spirit, our body is a vessel for human experience. We must take care of it, as it holds our existence in the everyday world. And one of the quickest and most powerful way to spiritual, ecological, physiological and emotional harmony with the world is to subsist on foods that will heal us, simply because we partake of it in its natural raw and live states.
When we eat foods that are alive, we too come to life. It is that simple." – Daniw Arrazola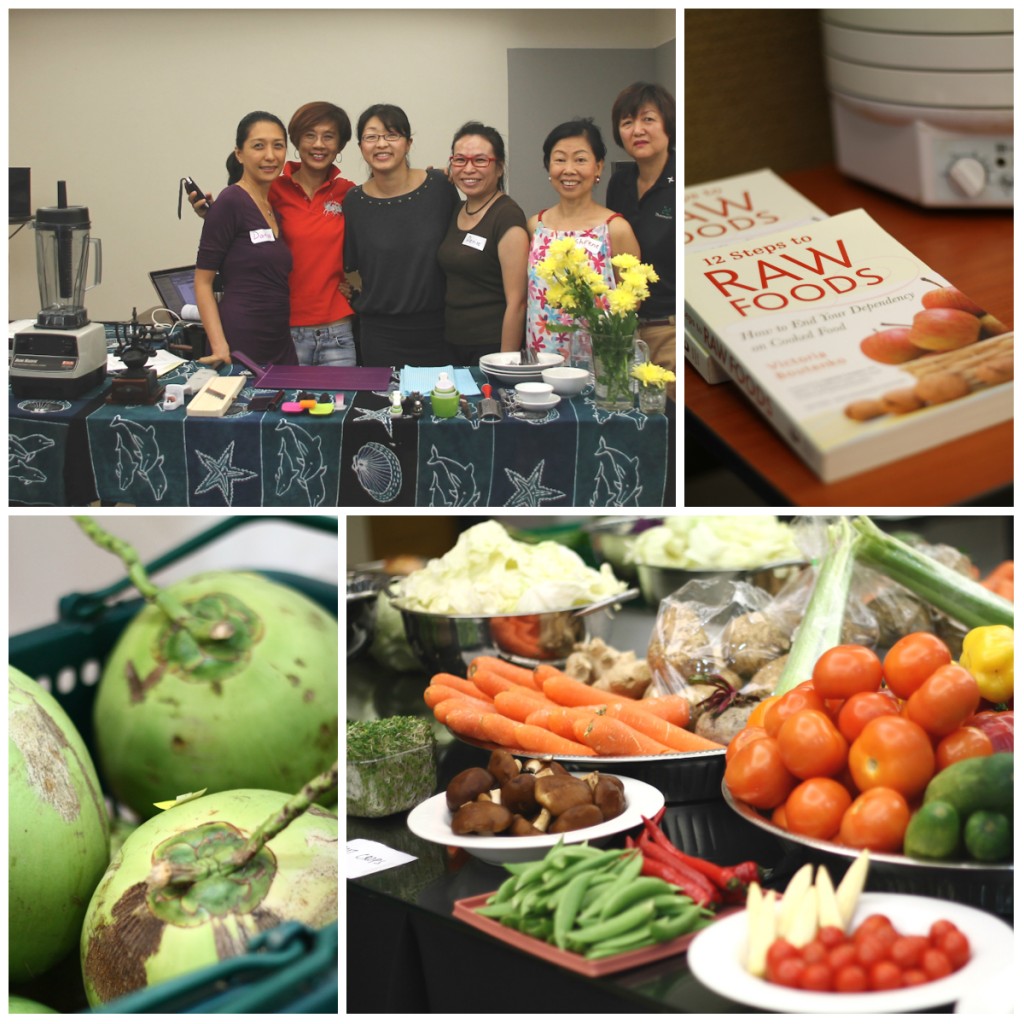 The beauty of this workshop is it's more than just eating raw food. The radiant colors of the fruits and vegetables brings such amazing energy into the room. As you touch each produce, remember that it infuses us with life force that heals. It never fails to heal even that simple negative thought that pops up into your mind.
Share your good vibes to the food, as your feeling and emotions add to the flavor of what you prepare. Your loving energy will be shared to each one who will get to taste your scrumptious dish. If you're feeling a bit sad, try to feel the life force of the produce and you'll be amazed at how negativity can be converted to light.
Why soak & sprout? Nuts, grains, beans and seeds are covered with enzyme inhibitors that prevent premature germination and store nutrients for plant growth. When it rains the nut, grain or seed gets wet and can then germinate to produce a plant. So we are mimicking nature when we soak our nuts, grains and seeds, to activate the seed and neutralise the inhibitors. After soaking, they have to used within 3 days, or dry them using a dehydrator. More about this amazing dehydrator gadget in Part 2.
Now every morning I wake up to a typical raw breakfast of Green Smoothies and Fresh Fruits or Chia Pudding. After 3 weeks, I feel more energised and my body feels strange if I don't get my green smoothie. I know what's in your mind now.. "How can we drink raw vegetables?" I also had the same thought and gave a sour face.. but surprisingly there's hardly any taste of the vegetables at all in the smoothie. Trust me, it's yummy & try it once!
Here's a Tropical Green Smoothie and Papaya Passionfruit breakfast for you to enjoy!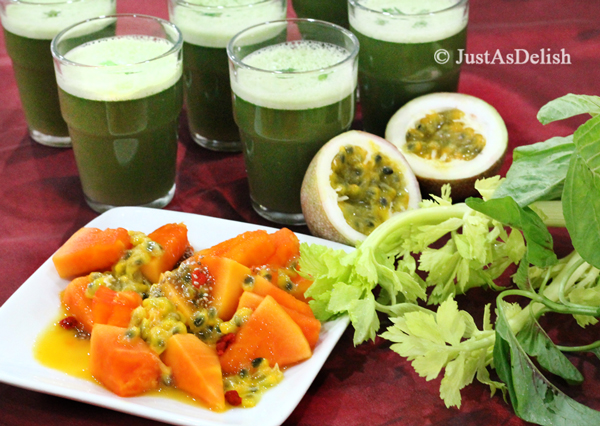 Read about Part 2 here

Tropical Green Smoothie & Papaya Passionfruit with Chia Seed
Raw Breakfast of Green Smoothie & Fresh Fruits
Ingredients
Tropical Green Smoothie
4 cups loose measurement of Green Leafy Vegetable (swiss chard / bochoy / lettuce / kale) - only the leaves
1 banana
1 mango - peeled and cut into chunks
2 cups Young Coconut water or plain water.
1 pc of medium size cucumber - cut into chunks
Papaya Passionfruit with Chia Seed
1 medium Papaya - cut into bite sizes
3-4 Passionfruit
a handful of Goji Berry
2-3 tablespoon of Chia Seed - soaked for 15 minutes
Instructions
Tropical Green Smoothie
Blend water/coconut water, cucumber first then add the fruits.
Slowly add the vegetables using only the pulse button until all are well mixed together. Note: If you're using high-speed-high-powered VITAMIX Blender you can put all the the ingredients without having to worry that your blender will overheat.
Papaya Passionfruit with Chia Seed
Serve cut Papaya with passionfruit, goji berry and soaked chia seed.
Notes
* You may change the green veggies depending on what is available in the market. If your smoothie turned out too strong, just add more fruits and/or coconut water. * Try using Bochoy, Kangkong, Lettuce, Spinach, Kale, Swiss Chard & Sweet Potato leaves. For fruits: Pineapple, Papaya, Soursop, Dragon Fruits, Mango, Jackfruit & Banana. * You can add a little of the green superfoods like Moringa, Basil or other herbs. * If you made for more than one consumption, don't worry, you'll be amazed how good it would taste when you put it in the freezer -- it's best to take it fresh but smoothies in the freezer can last up to three days. Store in a BPA free container or use glass mason jar.