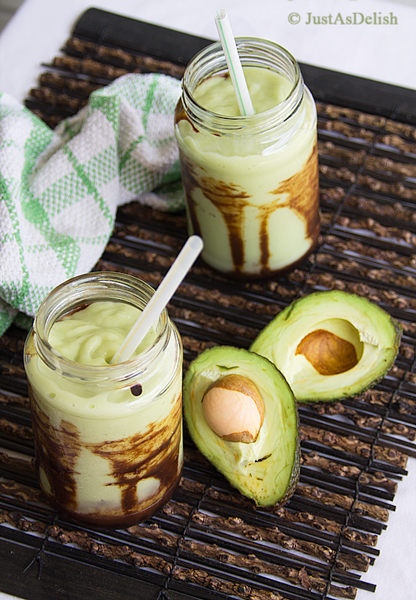 Cold and sweet. Rich and creamy. Slurped through a straw. My taste buds do double takes. How can this be avocado? Before I can figure out the answer, my glass is empty. Here at the famous Kafe Warisan in Bali with my galpals, I had my first unforgettable rich Avocado Shake served with chocolate syrup dripped on the side of the glass. The green landscape before me is of rice paddy fields, abundant bananas and falling coconuts. But avocados? Who invited them?
Throughout the entire trip, I was hunting Avocado Shakes at the beachside smoothie stands, cafes, over the rice paddies and across the sky-blue water. I stayed on another day while my galpals have left. With 2 hours to spare before heading to the airport, I took the rented scooter to hunt down my last rich, fatty and oily Avocado Shake. I left the beautiful island filled to the brim with the effects of yummy avocado shakes.
You have to give this a try. Seriously. At least once. And you might be transported to beautiful Bali.
Later I found that avocado is a common fruit in the Philippines, Indonesia & Vietnam. That got me wondering – these 3 neighbouring countries that has the same tropical climate and geographical features, why can't avocado be planted in Malaysia? Imported avocado are rather expensive here – 1 avocado cost the same price as a dish like fried rice! Hmm shall I start a campaign for avocado plantations? Any supporters?
This post is submitted to Your Best Recipe of July 2012 hosted by Spicie Foodie.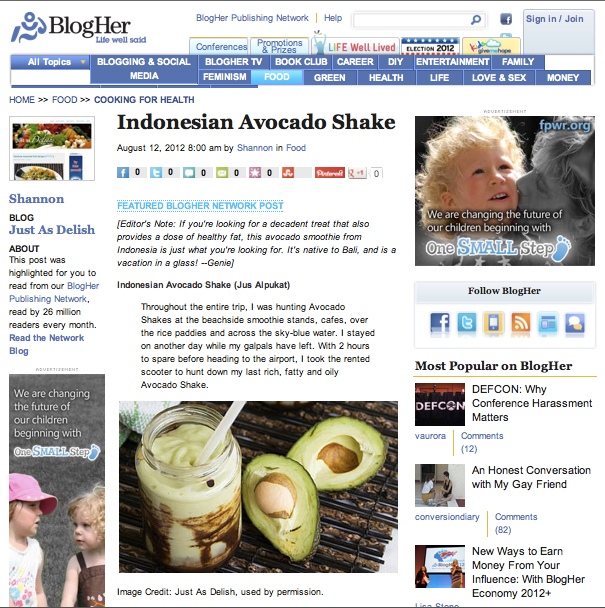 Updated 12 August 2012: This recipe was featured on Blogher.com
Indonesian Avocado Shake (Jus Alpukat)
Rich Avocado Shake served with chocolate syrup dripped on the side of the glass.
Ingredients
Avocado Shake
Chocolate Syrup (more than enough for 4 glasses)
Instructions
Avocado Shake
Cut the avocados in half, take out the seed and scoop the flesh into the blender.
Blend all ingredients, except chocolate syrup until smooth. Add more condensed milk to taste.
In the serving glasses, pour chocolate syrup on the side of the glass and let it drip down. Then pour in the avocado blend.


Chocolate Syrup
In a small pot, bring water and sugar to a boil and stir in cocoa, vanilla and salt until all of the solids have dissolved. Simmer until slightly thickened. Strain and cool to room temperature.
Pour into squeeze bottles. Squeeze into milk to make chocolate milk or serve on your favorite ice cream.