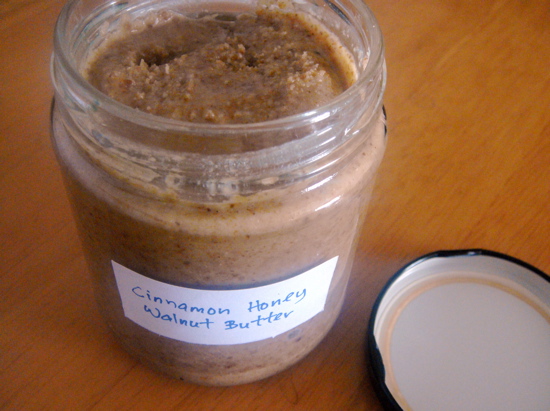 I made nut butter (salted almond butter) a month ago for the first time and it won't be the last time, I am totally hooked. This time, I tried walnut butter.
Growing up, the only nut butter I ever ate was peanut butter. In fact, I didn't know there was such a thing as nut butter. I didn't know that it was something a person at home could make. Didn't it just come in a jar? I was (still am) crazy about the chunky peanut butter but totally hated the one mix with grape jam.
When I told my friend I-Wei that she could easily make peanut butter, her eyes went wide open with a disbelief look on her face.. Same expression as mine when I first came across Almond Butter recipe on Chocolate & Zucchini. I couldn't believe it. I went "Oh My God! It's so simple?".
Do you know how much time it took to made homemade walnut butter?
Well, there was the soaking – that happened overnight, as I slept. There was the roasting – 15 minutes in the oven while I do some cleaning. There was the pulsing in the food processor, then adding of spices. All of 5 minutes. Active time to make honey-roasted cinnamon walnut butter? 8 minutes only.
Make some.
This is one of the basic recipes I am sharing: making things from scratch. The first basic recipe I posted was homemade yogurt. All the meals I create are from scratch but I mean making the ingredients I once thought magically appeared in a jar/can. Once I learned to make homemade jam, I can never buy it in a jar from the grocery store again. Like everything else we have made from scratch, it was far easier and more fun than I once thought. I want to know where my food comes from and feed my loved ones with simple good food. Making food from scratch is nothing but good.
HONEY-ROASTED WALNUT BUTTER
Honestly, writing a recipe for this feels a little silly. It's technique more than anything. Soak, toast, puree, and add some flavor. That's it. Also, once you have made this one, you can play with flavors and spices – cardammon, fennel, cacao nib, etc.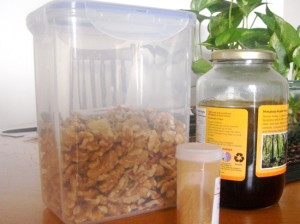 p.s. If you want to skip the soaking and toasting, you can do this with raw walnuts too. The taste is different — more raw — but still good.
2 cups walnuts
1/4 teaspoon salt
2 tablespoon honey
1 teaspoon cinnamon
Soaking the walnuts.
1. Soak walnuts with water in a large bowl and leave them overnight. This will remove some of the bitterness in the walnuts.
Toasting the walnuts.
1. Drain the water from the walnuts and let it dry for 10minutes.
2. Preheat the oven to 350°.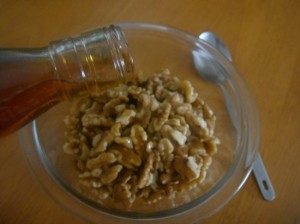 3. Add in 2 tablespoon honey and mix well until all walnuts is coated. Spread the walnuts out in a single layer on the baking tray. Toast the walnuts in oven about 15 minutes, be careful don't let walnuts turn dark.
4. Take the walnut butter out of the oven and allow them to cool entirely.


Making the walnut butter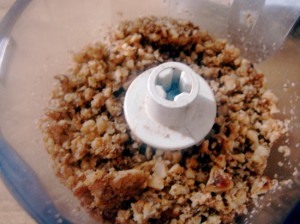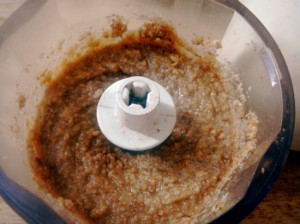 1. Put the toasted walnuts in the food processor. Run the processor until they become small chunks. If you like chunky nuts in your butter, put aside 1-2 tablespoon of the chunky nuts.
2. Add salt and cinnamon and pulse until it start to turn sticky. Taste the walnut paste to see if you want more salt, honey, or cinnamon.
Voila.. You have walnut butter. Put the walnut butter into a small jar and can last 2 weeks.
(I was trying out different setting with the camera, this photo look a bit rustic.. )

I love mine with chunky nuts.. Put aside 1-2 tablespoon of the chunky nuts when pulsing, then mix the chunky nuts with the finished butter.
I prefer to keep the jar at room temperature, it hardens a little once refrigerate. But this time, it only lasted a few days because I couldn't get enough of it. I was feeling hungry late last night, so I was eating plain walnut butter with a spoon while replying my emails. Without realizing I finished the half jar! Time to make more tomorrow..
Hmm.. what flavour should I try next?