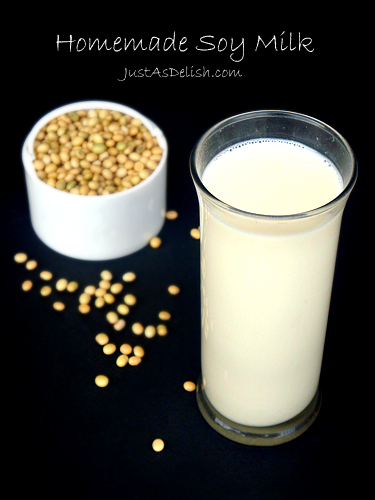 Soy Milk is very much part of a Malaysian's diet (or any where in South Asia). During childhood, I used to drink lots soy milk  and adding soy milk to tau fu fa (soy custard) brought from street stalls. There was even a mobile motorcycle stall coming to my neighbourhood, where we would just open our backyard door to get fresh soy milk and tau fu fa. Yes we were spoilt rotten. My mama used to tell me how soy milk was grinding manually using a stone grinder.. that to me was hard labour.
Then I moved to the big city, busy hectic work life lead me to the convenient way of store-bought processed soy milk. Soy Milk makers start springing up everywhere in past few years and I later found out it's actually quite easy to have homemade soy milk without the maker. 10 minutes of active time with just a blender and muslin cloth.
I am not here to advocate Soy and I know my man will not be very happy for me publishing this post. I have reduced my soy intake tremendously but I still do enjoy soy milk occasionally. I feel that it is prudent to eat all kind of foods – including soy – in moderation. Store-bought processed soy milk and other highly processed foods made with soy protein isolate and preservatives, are in my opinion, they're no better than soft drinks,and regular fast food fare. Why not try homemade soy milk when it can be so easily prepared?
After making soy milk, remember to keep the Okara (soybean pulp). My next posts will be 2 delicious Okara recipes – Seaweed Okara Cake (taste like fish cake!) and fluffy Carrot Okara Muffin.

Easy Homemade Soy Milk
Ingredients
150g Organic Soy Beans
1.5 liter Water
Sugar to taste (Brown or Rock Sugar)
Instructions
Soak the soybeans overnight. Rinse and drain well. (Remove soybean skin for gout sufferers)
Blend/puree soybeans with water until it become a smooth blend.

Pour the blended soybeans into a muslin cloth over a pot, and squeeze the milk out. Retain the okara (soybean pulp) for other cooking & baking.
Bring soy milk to a boil. Screw pine leaves (pandan leaves) can be added for extra fragrant taste. Simmer for about 5 minutes, stirring constantly to prevent a layer of skin from forming on the surface. If left alone, the milk might boil over.
Add sugar to taste. Serve warm or chilled.

What to do with Soy Milk besides drinking: