Woohoo! I'm doing my 1st ever guest post! A gazillion thanks to Ping for asking to me guest post on her fabulous blog Ping's Pickings. You might have remembered Ping's guest post here a while back with her delicious Balsamic Onions Quinoa Patties & Quinoa Salad.
As this is my 1st guest post, I was pretty nervous when she asked. Ping's Pickings is one of my favourite blogs and I'm very honoured to do so but I was undecided on which recipe to share because she's such a fabulous cook & baker. And I can attest to that – I'm lucky to have tasted her delicious food. Hmm.. what recipe for Ping?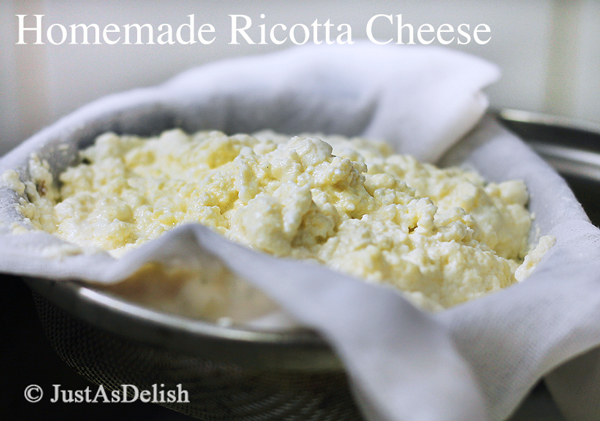 One of the things I enjoy (more like obsessed) is making food from scratch.. food that is sold in the jars/cans – like condensed milk, peanut butter, yogurt. If a factory can produce them, there should be a recipe for me to try at home. There's nothing more satisfying to me than making them fresh. So what's more apt than sharing a "made from scratch" recipe – Homemade Ricotta Cheese.
Ricotta is a soft Italian curd cheese, light and creamy with a slightly grainy texture and delicate flavour. Making fresh cheese is easier than you think.  If you have seen my Homemade Paneer (Indian Cottage Cheese) recipe, the Ricotta recipe is almost similar with it.
For the upcoming Christmas dinner parties & year end celebration, serve freshly made ricotta accompanied with some stewed fruit compote or poached fruits. Trust me, your guests will be very impressed.
Now head over to Ping's Pickings for the recipe.