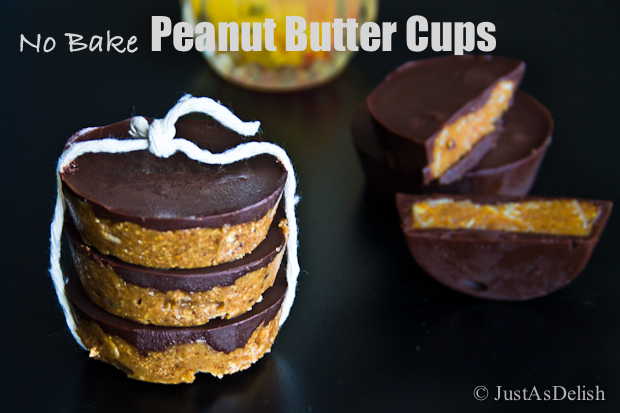 With all the unnecessary worry and stress the past weeks, I took some time off to be with the nature – frolicking in the river, lazing around doing nothing and finally managed to finish a book after many years! After a relaxing weekend, this girl still need her snacking habit fixed and came up with an inspiration of Homemade Peanut Butter Cups.
I've been eyeing many American food bloggers use peanut butter cups in their dessert recipes, it's like an American craze. I can't help but wonder what they taste like as I'm a huge fan of nut butters, especially peanut butter and walnut butter. Oh yum!
The more recipes I come across, I realised I do not need to be a rocket scientist to make my own peanut butter cups, especially the no bake version. Inspired by this No Bake Peanut Butter Bar recipe,  I substituted butter with coconut butter and make them in a muffin tray instead. And there I have it – addictive & low fat Homemade Peanut Butter Cups! and oh I make my own Peanut Butter.
Not fond of ultra sweet treats, I backed off the sugar and replace with a reduced portion of honey. As you have noticed, I made 2 variations of cups – one with chocolate covering the peanut butter filling and the other one just a layer of chocolate on top the peanut butter filling. And these are addictive and chocolate just put them over the top. Chocolate just makes everything better.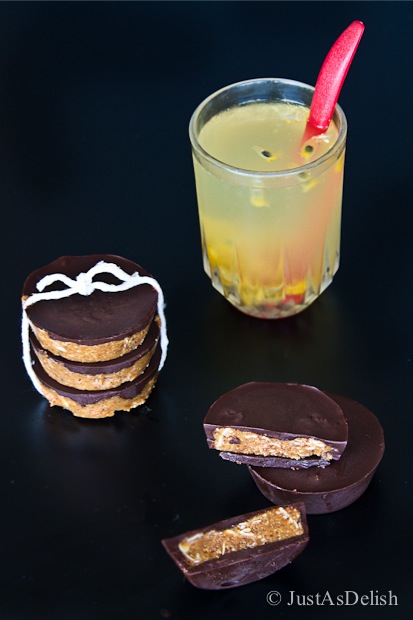 I have to gush a bit about my recent discovery of Coconut Oil. Besides it's massive health benefits, coconut oil is very heat-stable, which makes it suited to Asian cooking especially frying. The best is coconut oil solidifies when it is refrigerated, which makes it  a great substitutes for butter!
So these are low fat Peanut Butter Cups. These yummilicious snacks need to be kept refrigerated, the hot weather here does slightly soften the cups when taken out for more than 10 minutes. and oh a great idea for snacking portion control – use a mini muffin tray 🙂
Homemade Peanut Butter Cups
Addictive & low fat Homemade Peanut Butter Cups, a delicious healthy alternative sweet treat with coconut oil
Recipe type:
Sweet Treat & Snack
Ingredients
125ml Coconut Oil or Butter
2 tablespoon Honey
200g Creamy Peanut Butter
100g Rolled Oats (optional)
300g 70% Bittersweet Chocolate
Homemade Peanut Butter
500g Roasted Peanuts
2-3 tablespoon Honey
1-2 tablespoon Peanut Oil or any vegetable oil
Instructions
Combine all ingredients except chocolate in a pot over medium heat. Heat until completely melted and starting to bubble a little, stirring constantly. Remove from the heat. Set aside and let it cool.
Melt chocolate in a heat proof bowl over a pot of gently simmering water.
Spoon some melted chocolate to each muffin cups, then freeze for 5 minutes.
Meantime, take a tablespoon of the peanut butter mixture and roll into balls, then flatten then slightly.
Take out the tray from the freezer, place a peanut butter filling on each chocolate base. Spoon more chocolate to cover over the filling.
Refrigerate again for 1 hour, then they're ready to serve! Store in the refrigerator or freezer.


Homemade Peanut Butter
Put the roasted peanuts in the food processor and run the processor until it become small chunks.
Add honey and peanut oil (if needed), pulse until it start to turn sticky paste.
Store the peanut butter into a small jar and it can last 2 weeks.