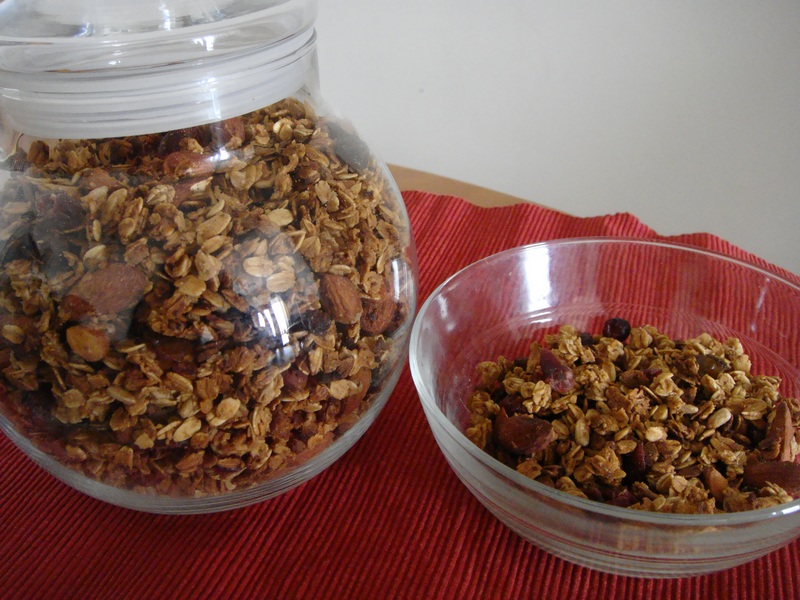 I was getting bored with my usual selection of breakfast – oatmeal, bread, or boiled eggs, steamed sweet potato.. I love cereals but the price sold at supermarket is getting way too high and it's not so fresh because of long shelf life.
When I found the recipe of Homemade Granola, I was super ecstatic. Not only it is healthy, the recipe is super easy that anyone can make it. I am someone who loves simple and fast recipes. The granola turns out the be very crunchy because of the honey in the mixture, just the way I like it. I made one batch with half the honey for my mama (she's on a special diet) and it's less crunchy.
I make these granola once a month, and it can be stored in airtight container up to 2 weeks. Besides breakfast, I also love it as a mid-day snack. As I am always on the go, keep in my car, office and even carry in my bag. I am someone who gets cranky when hungry, so snacking on granola keeps my tummy happy 🙂
Ingredients

5 cups (500g) rolled oats (not instant oats)

1 cup (150g) whole raw almonds

1 cup (150g) raw sunflower/pumpkin seeds

3 tablespoon sesame seeds

1 1/2 teaspoon ground cinnamon

1 teaspoon salt

5 tablespoon canola oil

3 tablespoon raw honey (do not use processed honey because it gets burnt easily)

1 cups dried fruits (apricot, raisin, or cranberry)
1. Preheat oven 320F/170C. Butter baking sheets on the baking trays. Can also do without baking sheets, just butter the baking tray. the mixture will stick a little on the tray.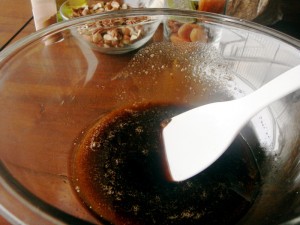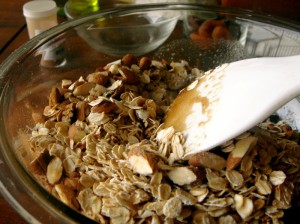 2. In a big bowl, mix oil and honey.
3. Add in dry ingredients (rolled oats, nuts, seeds, ground cinnamon & salt) and toss together until all dry ingredients is coated in liquid.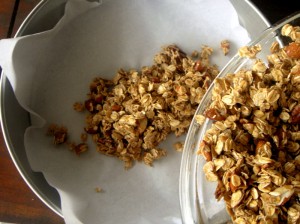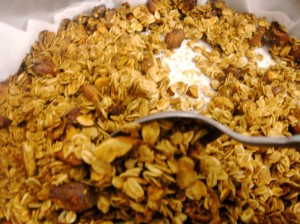 4. Divide granola evenly (about 1cm thick) onto baking sheets, bake for 20-30 minutes or until golden brown. If it's too thick, its difficult for the ingredient to cook evenly. Stir the granola every 10 minutes so it browns evenly.
5. Remove from oven and place on rack to cool
6. Once completely cool, add dried fruits & store in airtight container. Can store for 2-3 weeks.
Makes 10 cups
If you prefer less sweet, reduce honey. Serve with yogurt, milk or fresh fruits.
This is my favourite way of eating granola – with homemade yoghurt. Heavenly..
Will share the yoghurt recipe soon.