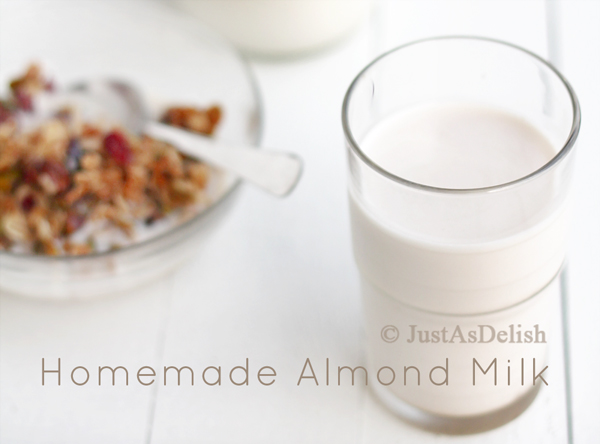 From the department of Eating Real Food By Making Food From Scratch — the same department that started the campaign with homemade sweetened condensed milk a year ago — comes this public service announcement: Making your own almond milk is very easy and cheap.
I find that if I have too much dairy products, it starts to bother me, so I keep it to a minimum and use alternative. I don't drink much milk, usually use them in baking/pancakes. 
I started making my own almond milk last year, it's cheaper than buying a carton (usually organic ones) from the store, especially if you can buy your almonds in bulk at baking supply shops or chinese herbal shop.  It only takes two ingredients and a few minutes. It not only saves me money, I don't have need the extra flavouring and preservatives in my milk.
Soak some almonds overnight, blend it up in the morning and I've got myself some fresh almond milk. Aren't plump juicy almonds better than hard dried almonds?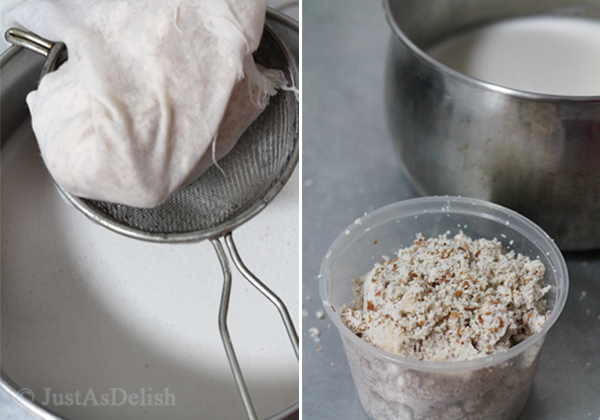 The bonus by product of almond milk is the almond pulp that remains after you've strained the milk. It would be foolish to toss it, dry it in the oven to turn them into almond meal/flour. You can fold it into oatmeal, homemade granola, smoothies, cookie or cake batter and crackers. Janice Mansfield of Real Food Made Easy add sugar to the dried almond pulp, finely grind them and make them into macarons. That's so brilliant!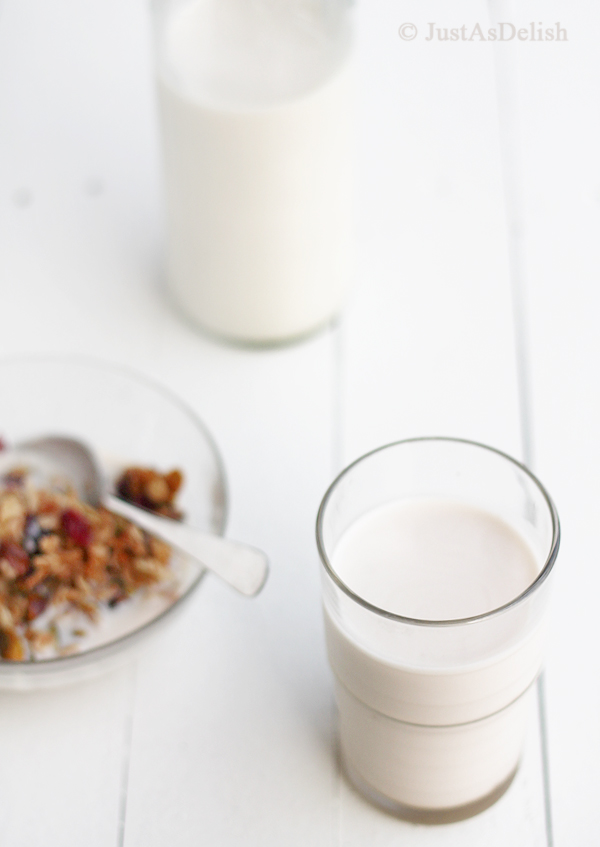 Now about the money one saves by doing this: I can buy 1kg of almond for RM25 at House of Ingredients. This amount allows me to make 6 liters of almond milk, which ends up costing RM4.15 per liter . By comparison, a carton of almond milk sold costs about RM12 per liter, in other words 3 times more than homemade version.
Homemade almond milk must be used within 3 days, compared to carton ones (with additives) can last more than a week, and you have a pretty strong incentive to make your own.

Homemade Almond Milk
Homemade Creamy Almond Milk
Ingredients
1 cup (120g) Almonds
3 cups (750ml) Drinking Water
Optional:
Honey / Dates to sweeten
Vanilla Essense
Cinnamon Powder
Instructions
Place almonds in a bowl with water covering over several inches. Soak overnight.
Drain and rinse almonds. In a high speed blender, blend almonds with water until the mixture become very smooth. Strain through cheese cloth, a fine strainer or a nut milk bag.
Store almondmilk in the refrigerator and use within 3 days. It will separate as it sits; stir very well before using.
Notes
The leftover almond pulp can be dehydrated and used for baking.