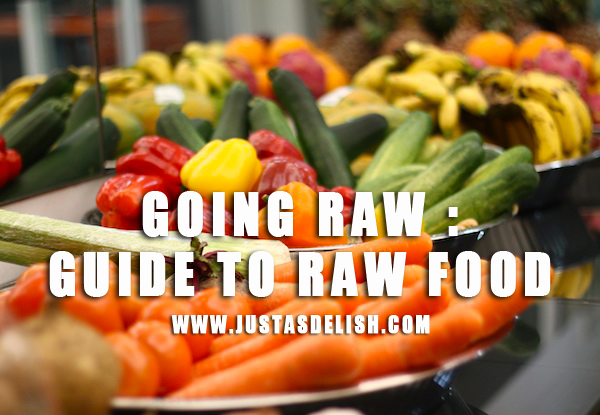 After attending Inner Food Workshop 2 years ago, I started incorporating Raw Food principles into my meals. I wrote "Going Raw" for !nourish magazine a year after that. 3 months later, Ash (the friend who introduced me to raw food) and I went to the Raw Food Detox Retreat run by our raw food guru Daniw. It was a week of bliss.
This year, I discovered my on-off digestion symptoms stopped after I reduced my raw vegetables intake. Aside from my personal symptoms, I choose to teach raw food preparation as the people surrounding me are not incorporating enough vegetables into their meals. The participants are often pleasantly surprised how delicious raw food recipes are. I continue to practice dehydrating and sprouting, which I found to be highly beneficial.
The following guide to raw food was published in !nourish magazine 2013 2nd issue.
GOING RAW
When my friend Ash came back from a retreat, she could not stop gushing about the raw food 'meals' that was served at the 1-week retreat. Even though she was served greens and fruits (and some days only coconuts the whole day), Ash never felt so well and full of energy that she chooses to eat raw food 50-70 percent of the time. I was skeptical as to how the body can sustain on just raw greens and fruits.
6 months later, Ash flew in the raw food chef at the retreat to conduct a 4-day raw food workshop. That was I discovered the pleasures and health benefits of raw food.
So what exactly is a raw food diet?
The general premise behind the current raw food movement is a diet consisting of uncooked, unprocessed vegetables, fruits, nuts and seeds. The raw whole-food diet can be delicious, varied and nutritionally balanced, the only limit is the cook's imagination.
Primarily, eating raw food is not new. Before the discovery of applying heat to food, it's exactly how our ancestors lived. Raw food followers believe that the living enzymes present in fresh food is necessary for healthy digestion and consuming foods in their most natural state will increase your health. High temperature cooking and other methods of processing and refining destroy the beneficial living enzymes in food.
A typical raw food shopping list consists of 75% fresh vegetables and fruits. Other staples include nuts, seeds, seaweed, beans, legumes, herbs and spices. Technically, it could also include any product that has been marinated, fermented, pickled, brined, sprouted and dried at low temperature (such as in oven or by the sun).
Eating raw is the easiest form of food preparation, all you need is some basic kitchen skills. But if eating blended green smoothies and raw vegetables everyday become boring for you, there's pizza, pancakes, 'cheesecake' and a variety of delicious recipes. These will however require slightly advance preparation methods as such dehydrating, sprouting, pickling or fermenting.
Some people, like Ash, who begin to eat raw may find they naturally consume less food yet have more energy. Perhaps others might resolve their minor health and weight issues. But the true measure of how a new way of eating is how it affects you and your health. After 2 weeks of incorporating 50% raw into my daily meals, my body started to have withdrawal symptoms. So I adjusted to just having my green smoothies on alternate days and it works well for me.
If you're a healthy adult who likes to prepare food but not necessarily cook and love your greens, incorporating some raw food might be for you. Slowly ease into the raw food lifestyle. Forcing your body to adapt to a way of living it is not ready for is not advisable. Start with 30 percent raw and go from there. True change on a sustainable level can take time, so don't rush it and keep listening to your body needs. Find the balance that works best with your lifestyle and consider it an evolving process.
Getting Started:
• Find great quality fresh produce. Organic produce is generally preferred by raw food advocates.
• Wash your produce by soaking them in cold water with ¼ cup (60ml) of apple cider vinegar. This will remove any parasites and other unwanted micro-organisms.
• Hands must always be clean. Wash as often as possible. A water spray with tea tree essential oil or water with lemon can be your instant hand sanitizer.
• Use a serving taste spoon all the time, not your fingers or your spatula.
• Keep a towel tucked into your apron pocket all the time for immediate wiping or drying of your hands.
• Your knife is your partner the whole time you're in the kitchen. Keep it sharp and clean.
• "CLEAN AS YOU GO" is an old wisdom and a good practice in the kitchen. Keep the raw kitchen clean and disinfected naturally all the time. Food is served fresh and without heating and we don't want it to be contaminated with soaps or other harsh cleaning agents.
———————
Intrigued? Here's some easy raw food recipes to get you started:
Zucchini Noodles with Sun-dried Tomato Pesto