Scrumptious good-for-you Good Morning Muffins loaded with zucchini, carrots, buckwheat, chia seed and hemp seed. Best wheat free, gluten free, dairy free muffins ever.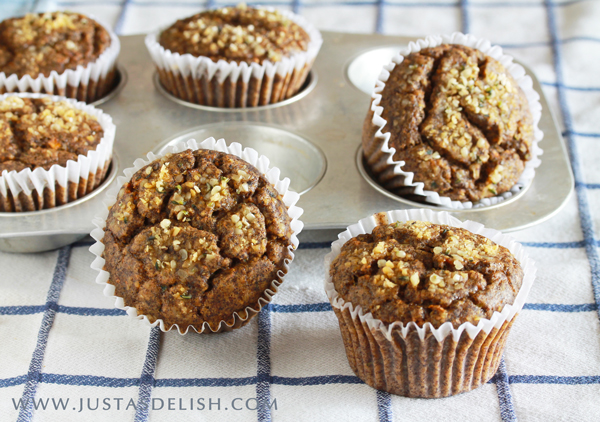 When I'm in the mood, I would have non-stop recipe creation sessions and ended up with tons of food to giveaway. Sometimes (unlucky) friends would find the flavours too funky. The damn good ones like these Good Morning Muffins get responses like: "Oh My, these are so good, when are you baking another batch again? You should sell these. "
Whenever I hear that, I then pictured my new life – wee morning hours, covered with flour and sweat in the baking room. Ermahgerd, don't remind me of the days I was selling handmade chocolates and granola bars. I've had my far share of long hours in the past, but this gal is just not made for making food in bulk. Gah, I would rather be living a simple life with my man, self sustainable living with a tiny cosy home, kids, dogs, chickens, ducks and farm patch. And to complete the picture, our home on a remote island with me blogging on the hammock (and his buddies would come for a round of Airsoft game in the wilderness).
Then I come back to reality and reconsider the whole plan. I strongly urge you to give this Good Morning Muffins recipe a go. I know it's not the prettiest looking muffins, but trust me, they are moist and super duper scrumptious! This recipe is a spin-off from tweaking Nadia Lim's Coconut Lemon Banana Loaf. While I love sweet muffins, it's a nice change to have some savoury ones. I threw in some zucchini, carrots and herbs.. and woah, the whole house smelled amazing! The flavours came together so well that I chowed down 2 straight from the oven.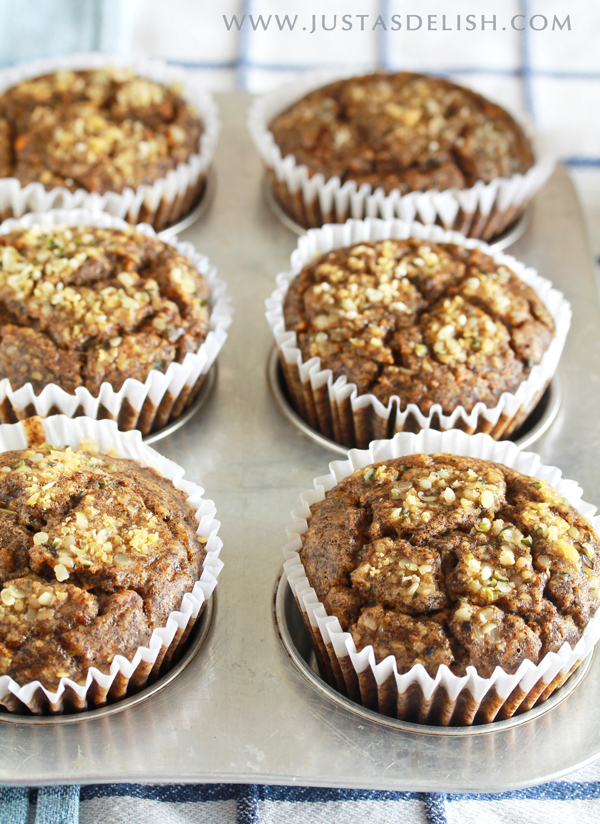 While you could also use whole wheat flour, go seek out buckwheat flour. It's my new obsession after having full buckwheat galette in Paris. These muffins are moist and loaded with healthy goodness. My tasters did not notice these are gluten free, without butter and loaded with veggies. Thankfully we Malaysians have a year round supply of zucchinis from the highlands, so make a batch this weekend.
So tell me readers, what's your dream life like?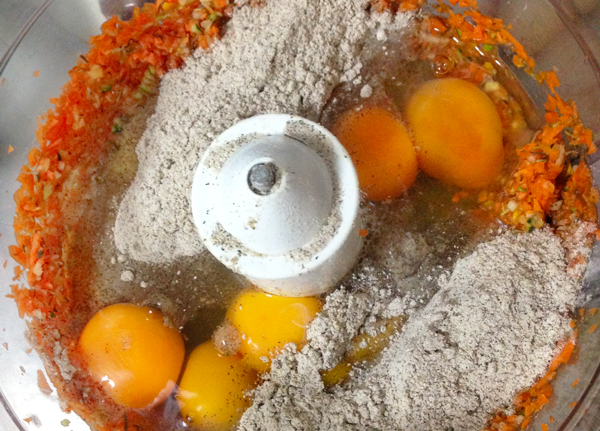 Note: Buckwheat flour are available at organic stores and selected supermarket's organic section in Kuala Lumpur. If you have a high speed blender like Vitamix or Thermomix, grind hulled buckwheat into fine powder.

Good Morning Muffins
Scrumptious Good Morning Muffins loaded with zucchini, carrots, buckwheat, chia seed and hemp seed
Author:
An Original Recipe by Just As Delish
Recipe type:
Breakfast / Snack
Ingredients
200g (7 oz) Zucchini - cut into big slices
160g (5.6 oz) Carrots- cut into big slices
146g (1 cup) Buckwheat Flour (or rice flour)
64g (1/2 cup) Arrowroot Starch (or tapioca flour / glutinous rice flour)
2 tablespoon Pixie Dust
1 teaspoon Baking Soda
½ teaspoon Salt
88g (1/2 cup) Extra Virgin Olive Oil
1 tablespoon Maple Syrup (or Honey)
4 medium Eggs
1 tablespoon Hemp Seeds
1 tablespoon Chia Seeds
1 teaspoon Dried Rosemary - minced
1 teaspoon Dried Thyme
sprinkle of Ground Oats & Hemp Seeds
Instructions
Pre-heat the oven to 170C (350F)
Use the food processor to finely chop the cut carrots. Then add in the zucchini to chop finely. Next add in the rest of the ingredients (except sprinkling ingredients) and mix well. If you do not have a food processor, finely grate the zucchini and carrot, and mix with the rest of ingredients in a big bowl by hand.

Pour them into muffin cups, sprinkle on ground oats and hemp seeds and bake for 30 minutes, until toothpick comes out clean. Once they done. cool them on the rack for 30minutes before devouring them (if you can wait).
Notes
* I use the food processor to finely chop the zucchini and carrots, and mix the rest of the ingredients. Alternatively you can finely grate the vegetables and mix the rest in a big bowl by hand.
* If you are using whole wheat flour, the weight will be the combination buckwheat flour and arrowroot starch. And you can omit the pixie dust.