Delightful and moist bejewelled Persimmon Bread-Cake. Hide it when you make it.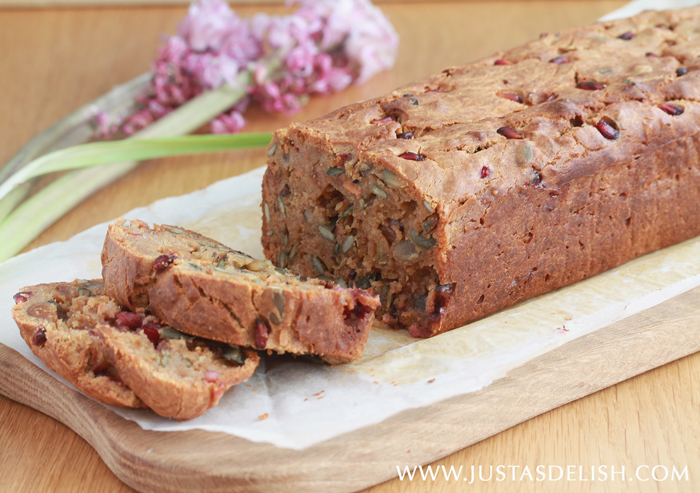 Persimmon. Sharon fruit. Kaki fruit. 柿子. I love thee.
When I was growing up, imported fruits were rare and precious as finances in my family were tight. The one I looked most forward to was persimmon, fresh or dried ones from China. Mama had since stopped buying the dried ones as she felt they might have added with some weird stuff. Most people I know enjoy the persimmon while it is still firm. Not me. I would reach for the ones that nobody wants – the ripest and the juiciest squishy soft ones. When fully ripe, it is as sweet as honey with heady pungent deep sugary aroma. One gentle bite into the ripe squishy fruit will result in ultra sweet flowing juices. Absolutely divine.. 
Some years into my working life, I started to indulge a bit more in imported fruits but I found them to be overpriced, and at times the flavours were rather bland. The range of imported produce in Kuala Lumpur have increased significantly in the last 10 the years. And persimmons were no exception, we see them a few times in a year from Israel (my favourite), China and South Korea.
Living in Europe makes me more aware about the seasonal produce when they are at their best. In Rotterdam, gluts of persimmons are only seen in the winter months of November – February, from Spain, Turkey, and Middle Eastern countries; mostly at the markets,  sometimes as cheap as 1euro for 1kg. But there is only so much persimmons one can munch on a day. The one recipe that caught my eye, among the handful of recipes I found online, is James Beard's Amazing Persimmon Bread recipe (from Beard on Bread) on David Lebovitz's blog.
Before moving into the recipe, a quick personal update:
– My body has warmed up to the winter and gotten used to the cold. As my brother in law said, after a few years, you won't notice the cold any more. Hah! Most probably I'll be too frozen to even notice 😀 I try to limit the time I spend outdoors, though I would usually end up getting distracted especially when I'm at the market.
– My book is chugging along well, almost 70% done. I will be spending the next 1 month buried in it to get it completed. Ganbatte Shannon!
– I was rather homesick when I saw relatives and friends sharing their Chinese New Year preparations. Making our home filled with DIY decor, with snack tray and steam boat dinner on reunion day, this help to preserve my Chinese traditions while creating new memories with my new family.    
– My edible balcony farm has produced the first two broccoli heads, they were tiny but were the sweetest broccoli I've ever tasted! A few new ones have already sprouted. I can't wait for spring to arrive to start sowing more plants.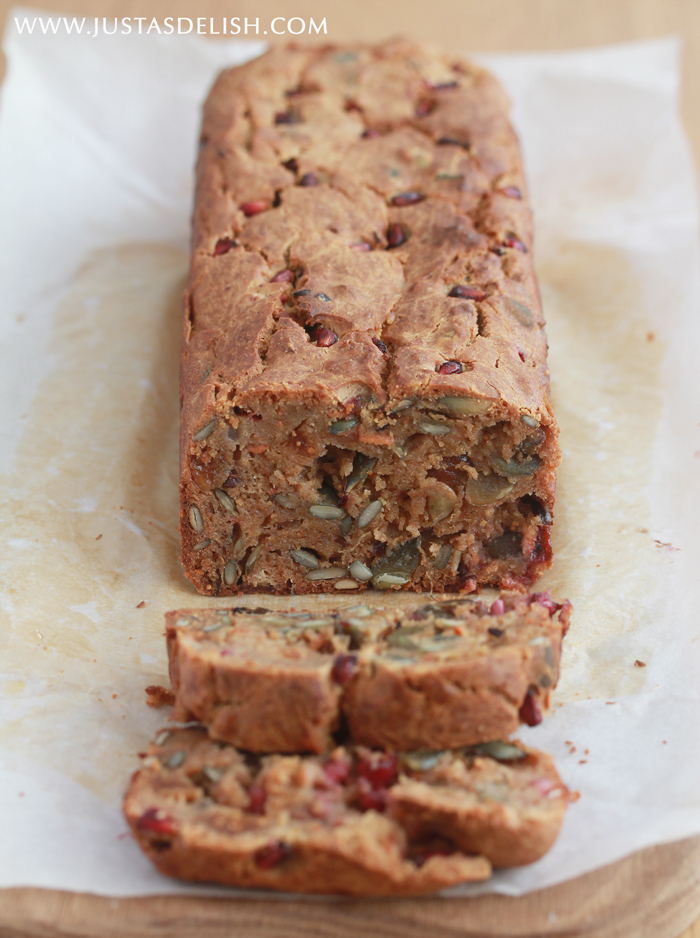 Now back to the amazing recipe. I followed the basis of the original recipe, with my gluten free flour mix, significantly reduced the sugar because the persimmons were super sweet, and swap out cognac with port (cos that's the only liquor we have at home, and it totally worked!). And I bejewelled the bread. My husband insisted it is a cake, not a bread "because it is fluffy and yummy" (his own words). He ate 4 pieces in a go. So bread-cake it is! While persimmon is still the season, grab some to make a loaf and freeze the extra puree for later.

Gluten Free Persimmon Bread-Cake
Delicious and moist bejewelled persimmon bread-cake (gluten free)
Author:
Adapted from James Beard's recipe as seen on David LeBovitz's blog
Recipe type:
Snack / Dessert
Ingredients
2 cups flour (I use gluten free mix of buckwheat, rice and tapioca flour, refer to amount below *)
2 teaspoon baking powder
½ teaspoon salt
2 tablespoon raw sugar
330g (1 cup) persimmon puree (from about 3 squishy soft persimmons pureed with skin in a food processor)
112ml (1/2 cup) melted butter (or swap with olive oil for dairy free option)
2 small eggs - lightly beaten
2 tablespoon Port (or cognac/whiskey) - Optional **
4 dried figs - chopped (or 2 tablespoon of any dried fruits)
½ cup pumpkin seeds (or preferred nuts - chopped)
2 tablespoon pomegranate seeds (optional)
Instructions
Preheat oven to 350ºF (180ºC) degrees. Brush the loaf pan (I use 25cm x 10 cm) with butter and line with baking paper.
Sift the first 5 dry ingredients in a large mixing bowl.
Add in melted butter, eggs, liquor, persimmon puree and stir well with a spatula. Then add in the nuts and raisins, and mix well.
Bake for 1 hour or until toothpick inserted into the center comes out clean. Cool on the rack before cutting. Store at room temperature for 2 days, and best to keep chill in the fridge. It can also be frozen.
Notes
* Gluten Free Flour Mix:
160g (1 cup) buckwheat flour
65g (1/2 cup) rice flour
65g (1/2 cup) tapioca flour
** a good non-liqour replacement would be pomegranate juice