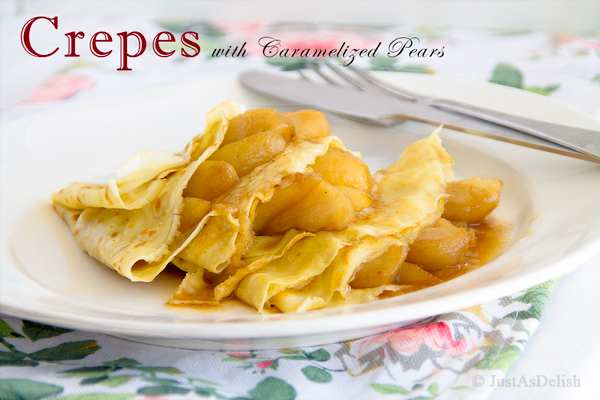 Past 2 weeks have been a little hectic and crazy for me. As shared on Facebook and Google+, chocolate have been keeping me very busy. Unexpected turns of event lead to new opportunities and I'm really excited about this new project. Here's a little sneak peak.
At the end of each day when I sit down to write a post, my brain just froze, eyes staring blank into the screen, hands on the keyboard – not moving. It's wonderful to get the words flowing again and I have for you my new favourite recipe – The Best Crepes recipe ever!  I've not met anyone who doesn't love crepes. God bless the frenchmen for creating crepes!
What caught my eye about this Gluten Free Crepes recipe is it uses rice flour instead of wheat flour. After discovering my body have some intolerance towards wheat a year ago, I've been on the look out for wheat replacement recipes. I was pleasantly surprised that this crepes turn out far better than other recipes using wheat flour! Soft and crispy, I can have these crepes every day..
Serve crepes with fresh fruits with yogurt or caramelise them like what I do here with pears. or my other more indulgent recipe – Strawberry Crepes with Whipped Cream Filling.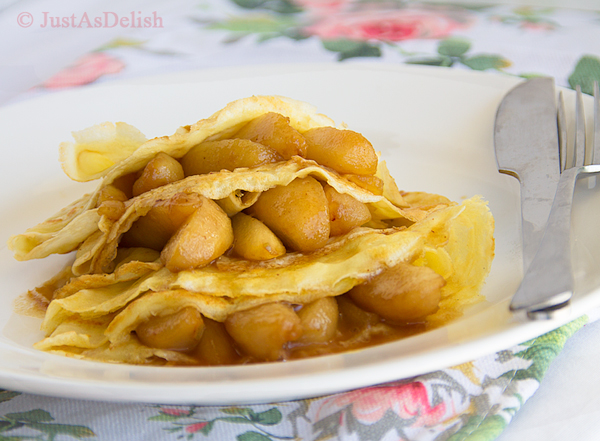 Gluten Free Crepes with Caramelised Pears
Ingredients
Crepes
70g Rice Flour
30g Tapioca Starch / Potato Starch
200ml Milk
2 tablespoon Honey
2 Eggs
50g Unsalted Butter - melted
pinch of Salt
Caramalised Pears
4 Large Ripe Pears - peeled and cut into slices (can replaced with apple or mango)
1 tablespoon Unsalted Butter
50ml Water
3 tablespoon Brown Sugar
¼ teaspoon Cinnamon Powder
2 tablespoon Liqueur (optional)
Instructions
Sift Rice Flour and starch into a big bowl. Add in the rest of ingredients and whisk with a fork until mixed.
Heat a frying pan over medium high heat with a bit of butter. Pour ¼ cup batter into the pan and swirl the pan so the batter evenly coats the pan. Cook until the top loses its gloss, which should only take a minute, then flip. The bottom should be golden.
Cook the other side for about 15 seconds and then slide out onto a plate.
Repeat with remaining batter. Constantly stir batter to prevent an accumulation of flour and starch in the bottom of your bowl.
Serve the crepes with the caramelised pears.

Boil the butter, water, liqueur, and sugar. Cook until the sugar is dissolved. Add the fruit, stirring occasionally and cook until the fruit is soft (about 5-10 minutes).