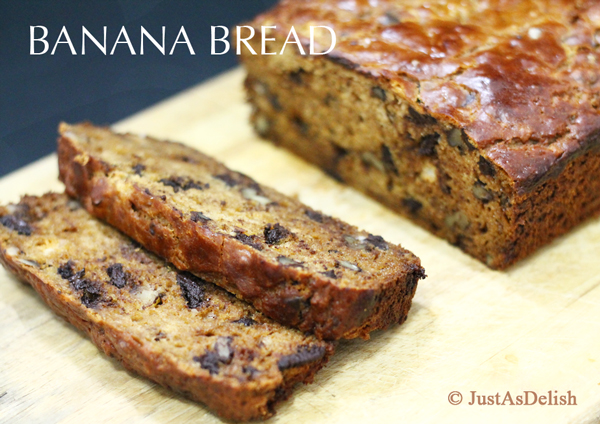 I haven't met anyone who doesn't love Banana Bread. Or anyone who doesn't love baked goods.
When my naturalpath prescribed me to follow my blood type diet, the hardest for me to accept is to let go WHEAT. Even though wheat based products are not in Asian's primary diet, I've grown to love bread and occasional cakes. Noodles, pasta & pizzas – I don't really miss them. But bread.. sigh.. there's something comforting about baked goods, especially fresh out from the oven.
Over the year, there are slight challenges with my new diet, but I mostly enjoy trying out new recipes & ingredients that never came into my diet before. Then I would crave for baked goods occasionally.
I noticed that when I get my cravings fulfilled, I'm very satisfied emotionally, and it's not to satisfy real hunger. When I look deeper into why I need comfort, it is usually associated with a certain memory. Once I understood the reasons, the cravings reduced. Interesting huh?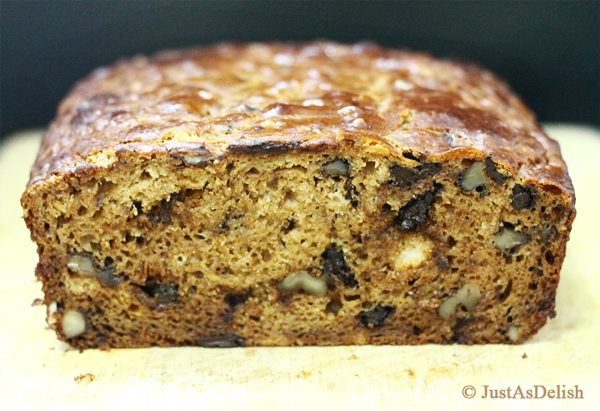 When I saw this easy Gluten Free Banana Bread with Dark Chocolate Chunks & Walnut from ChowDivine, I just have to experiment with the recipe. Who could resist it when the whole house smells like banana heaven?
Doesn't it look moist & delicious? The dark chocolate chunks just make it irresistible. This GF Banana Bread tastes so good that I don't even miss the real thing. Just like ChowDivine said, I had to wrap up half the loaf to stop myself from finishing it in a day.
Banana Bread with Dark Chocolate Chunks & Walnut
Easy & moist Gluten Free Banana Bread with Dark Chocolate Chunks and Walnuts
Recipe type:
Breakfast / Snack
Ingredients
2 cups Gluten Free Flour* (I used Chow Divine's blend of brown rice flour (1¼ cup), glutinous rice flour (1/2 cup), and tapioca flour (1/4 cup).
2 teaspoon Baking Powder
1 teaspoon Baking Soda
¼ teaspoon Ground Cinnamon
½ teaspoon Salt
¼ cup Sugar
¼ cup Agave Nectar (I use honey)
2 large Eggs - lightly beaten
⅓ cup Canola Oil
⅓ cup Applesauce (I did not use)
3 very ripe Bananas (I use 4 bananas)
1 teaspoon vanilla extract
½ – ⅔ cup Walnuts - toasted and chopped
½ cup Dark Chocolate (>70%) - chips or roughly chopped
Instructions
Preheat oven to 350 degrees. Prepare a loaf pan with parchment paper (I used a 8½″ x 6″ baking tray).
In a large bowl, sift or whisk together the dry ingredients, EXCEPT for the sugar: flour, baking powder, baking soda, cinnamon, and salt.
In another large bowl, add ripe bananas and mash well with a fork. Add sugar to the mashed bananas and mash the sugar into the bananas.
Add rest of the wet ingredients: agave nectar, eggs, canola oil, applesauce, and vanilla extract. Mix well.
Stir in the dry ingredients in 2 batches. Once the dry ingredients are incorporated, add the toasted nuts and dark chocolate chunks. Mix gently.
Pour the batter into a loaf pan. Fill only up to ½ of the pan.** Bake for 45 minutes to 1 hour, until a toothpick comes out clean. Cool for about 15 minutes in the pan. After 15 minutes, cool on a cooling rack. When cooled, but still slightly warm, wrap tightly in cling wrap. It's best if eaten a day after.