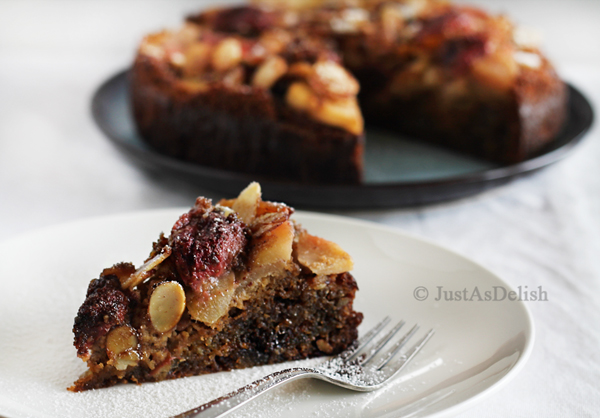 As mentioned in my previous post, the Nutriplus Pastry Competition and baking demos were held in conjunction with the launch of the cookbook Think Out Of the Shell Volume II . If you have not read about my experience in the Pastry Competition, do head over the post now (oh shameless self promo here)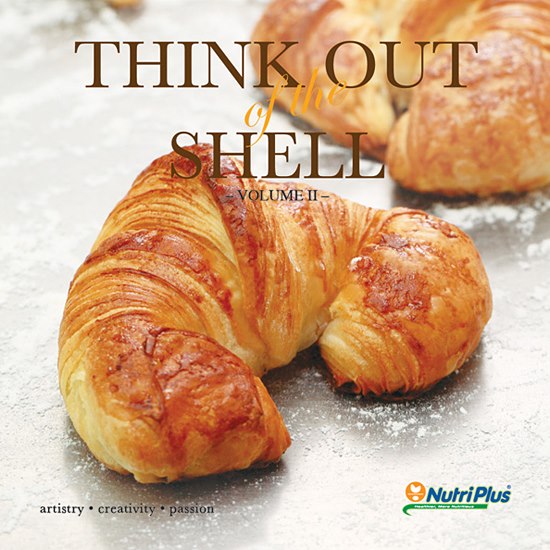 Think Out of the Shell, Volume II by NutriPlus was created to showcase the rise of patisserie in Malaysia. The book's tagline is simple, yet meaningful: Artistry. Creativity. Passion. The 10 chefs featured in this book have shown creativity in creating their art, fueling their efforts with passion and persistence.
During the launch of the cookbook, I was fortunate to have met these talented bakers, tasted their yummy bakes and attended 2 demo sessions. Nicole Goh of Babycakes Sweet Shoppe demystify the art of making macarons for me. Making macarons was appear daunting to me, and I've never thought I would attempt it. Nicole makes making macarons look so easy, like she can do it even in her sleep. Even though she have made thousands of them, sometimes it doesn't turn out right too. Every step has to be so precise. It's all about practicing, practicing, practicing.
The macaron shell that sprinkled with crushed rose buds smells so lovely  and the strawberry ganache is easy to pipe. The shell was crispy on the outside, chewy in the middle.  What a gorgeous sweet treat. One day, maybe one day..
The other demo I managed to attend was right after my competition. Chef Li Goh (was also one the judges during my competition) made a Gluten Free Apple Raspberry Cake. She just threw everything together with such ease within minutes that she has everyone at awe. There's something about her carefree free-spirited debonair that had me wanting more of the food she prepares. Everyone just gobbled down a small piece of the cake even though it was still hot from the oven. I've heard so many rave reviews about her cafe Haute Food Co and it's such sad news that she decided to close it down to have more time with her family.
Is it no surprise that the 1st recipe I decided try is the Chef Li Goh's gluten free cake? The recipe in the cookbook uses apple and redcurrant, with suggested variations of Pear & Raspberry, Peach and Blueberry, Apples with Walnuts or Banana with Dark Chocolate Chunks. Usually bakes with buckwheat & almond flour makes a dense & dry texture, but this cake is so moist and delicious! I immediately ate 2 slices for breakfast and 1 slice for dinner and the cake tastes even better the next day. In my next attempt, I will further reduce the amount of sugar and replace some butter with olive oil.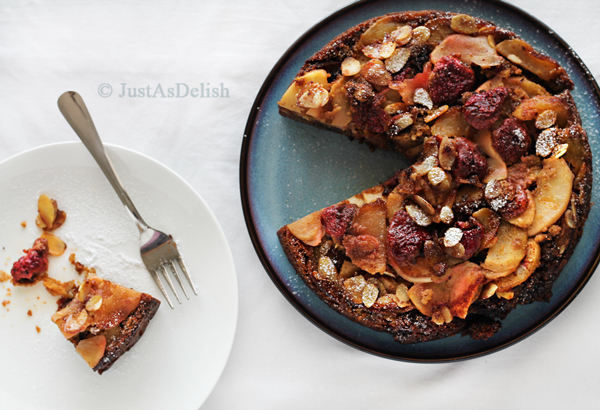 Quoting Chef Li Goh "Why couldn't we have dessert like this everyday if it's filled with goodness ingredients?"
Gluten Free Apple Strawberry Cake
Gluten Free Apple Strawberry Cake - with almond & buckwheat flour. Simple yet deliciously recipe that never fails to impress. taste even better the next day.
Author:
Li Goh of The Haute Food Co
Ingredients
250g Butter
200g Sugar (I used 150g brown sugar)
2 teaspoon vanilla paste / extract
4 eggs
180g Almond meal (ground almond)
60g Pecans - finely chopped (can substitute with almond/walnut)
30g Buckwheat Flour
½ teaspoon Salt
2 Large Green Apples - cored and thinly sliced
10 Strawberries - sliced half
2 handfuls Almond Flakes
2 teaspoon Sugar
½ teaspoon Cinnamon Powder
Instructions
Beat butter, sugar & vanilla paste together at medium speed. Slowly increase to high speed.
Add eggs, one at a time.
Mix in almond meal, pecans, buckwheat flour and salt by hand.
Prepare a 20cm round tin by greasing and lining the base and sides with parchment paper. (Do not skip this step or the cake may stick to the tin
Pour the batter into the cake tin, then lay green apple & strawberry slices on top of batter. Top with almond flakes and scatter the cinnamon sugar (combine sugar + cinnamon powder)
Bake in pre-heated oven at 180C until inserted cake needle comes out clean, about 50-60minutes.
Just As Delish is offering 3 lucky readers to go home with the cookbook worth RM70 each, courtesy of Nutriplus! Joining this Giveaway is easy. The more steps you complete, the more chances you'll get!
T&C:
Giveaway only Open to Residents of Malaysia
To participate, complete the steps in the Rafflescopter box below. It may take a while for Rafflescopter to load, so be patient.
All entries will be validated, so do not hit the "Enter" key if you haven't done the steps or you'll be disqualified!
Contest begins on 20 Nov 2012 & ends at 12.01pm on 27 Nov 2012.
Results will be announced within a week. 

No email notification will be sent

, so please look out for announcement here or in Facebook. Make sure you Follow This Blog Via Email (right-hand side of the blog) & have the announcement delivered right into your mailbox!
Winners will have 48 hrs to acknowledge their winnings in the comment box, or another winner will be selected. GOOD LUCK!
Think Out Of The Shell Volume II is available for sale at MPH Bookstores.