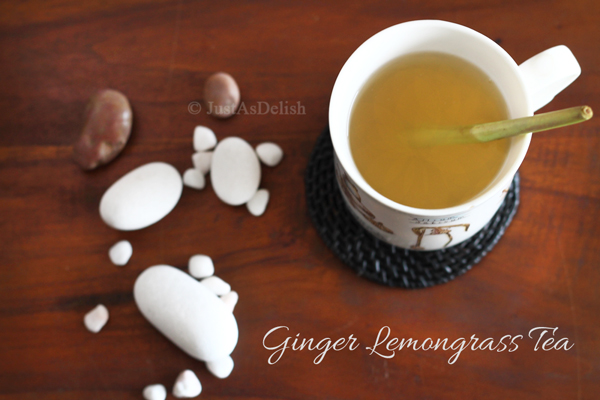 One thing I don't like about vacations is over indulging in food – which I tend to do a lot. and I'm feeling bloated after the short island getaway last weekend. And my immediate remedy – Ginger Lemongrass Tea.
Something special happens when the ginger and lemongrass flavours infused in hot water. Cleansing, calming, refreshing and gently stimulating, I find this tea is soothing in some way..  So if work stresses you out, have a mug of this around 3pm to refresh. or just anytime of the day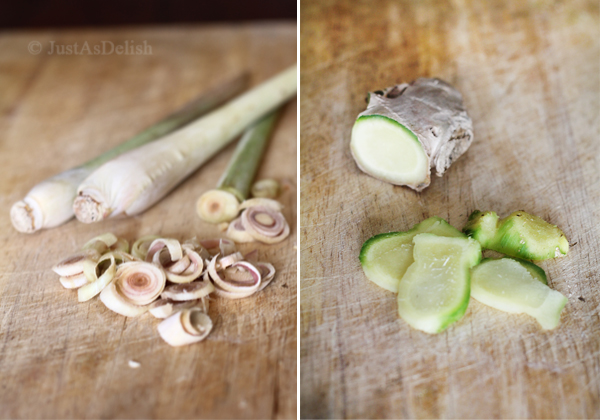 This herbal tea just take 5 minutes of your precious time. And more reasons to make this tea.. Lemongrass, a renown anti-fungal, and ginger, a powerful digestive, have the combined effect of creating a tea that is at once calming to the nerves and soothing to the digestive tract.

Ginger Lemongrass Tea
Ingredients
1 knob of fresh ginger - peeled and slightly crushed
3 cups of water
2 stalks of lemongrass - slightly crushed
Rock sugar or Honey to sweeten
Instructions
Add water, ginger, and lemongrass to a small pot, and bring it to a boil for about 2 minutes. Turn the heat off and let steep for 20 minutes.
Strain out lemongrass and ginger pieces. Add sweetener and serve hot.