With the festive season and many year-end parties coming up, I'm delighted to have another amazing dessert that would make a beautiful centerpiece. I'm so honoured to have Katherine Martinelli guest post with her gorgeous Gingerbread Cake with Chocolate Glaze.
Despite being an international travel and food writer and amazing photographer, Katherine is a very down to earth, sweet and helpful person. She has unconditionally shared her knowledge when I was stuck (my photography among other things). Katherine's website is one that I always get inspired – be it her travel adventures, recipes or photography. Give Katherine a buzz at her blog and you will know what I mean. To me, she has the best job in the world –  to be able to travel and taste food from all over the world. *It's also my dream to do that as well one day*

Now behold your eyes, you might have a gingerbread cake coma..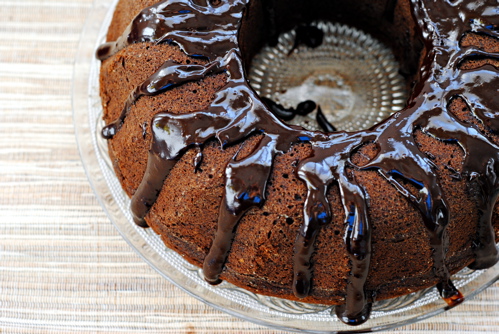 ♥♥♥♥♥♥♥♥♥♥♥♥♥♥♥
I was so thrilled when Shannon from the wonderful Malaysian food blog Just as Delish asked me to do a guest post for her. I adore her healthy, internationally inspired recipes for everything from Green Curry Chicken to Beef Tagine, and from ginger tea to homemade sweetened condensed milk. She specifically asked for an American Christmas recipe, since Malaysians do not typically celebrate the holiday. Unlike Thanksgiving, with its traditional menu of turkey and pumpkin pie, Christmas is a little more personal and each family has their own traditions, especially for the savory course. My family eats sausage and peppers and a filet mignon roast, but we're the only ones I know who do. Dessert, however, has more common flavors to draw on.
My mind immediately turned to gingerbread, the ultimate Christmas flavor and scent, at least in the US. Gingerbread houses and cookies are most traditional, but now you can find gingerbread lattes and candles, marshmallows and whoopee pies. I wanted to make something a little different, but still packed with the nostalgic flavor of the holidays. And since I find that Bundt cakes naturally look a little more festive than their plain counterparts, I cooked up a gingerbread Bundt cake that makes for a beautiful Christmas centerpiece.
I knew I wanted a pretty glaze as well and toyed with various flavor combinations in my head. Cranberry-orange? Lemon-sugar? Pumpkin-caramel? I settled on chocolate subtly scented with ginger. The glaze hardens slightly as it cools, adding a nice texture and making it easy to transport to holiday parties and potlucks. Feel free to play with the topping though, or opt for a simple sprinkling of powdered sugar, which would also be pretty and festive. Be careful not to over bake the cake as it dries out quickly. Homemade whipped cream or vanilla ice cream would also make an excellent accompaniment.
Merry Christmas!
Gingerbread Cake with Chocolate Glaze
Author:
Katherine Martinelli
Ingredients
Cake
3 cups all purpose flour
1 tablespoon baking soda
¾ teaspoons salt
1½ teaspoons cinnamon
2 teaspoons ground ginger
¼ teaspoon nutmeg
⅓ cup butter (about 5 tablespoons or 67 grams), slightly softened
¾  cup dark brown sugar
2 eggs
¾ cup vegetable oil
½ cup dark unsulphered molasses
½ teaspoon grated fresh ginger
¾ cup whole milk
Chocolate Glaze:
2½ ounces dark chocolate
¼ cup milk
½ teaspoon fresh grated ginger
Instructions
Preheat oven to 350F.
Oil and lightly flour a Bundt pan.
In a large bowl whisk together the flour, baking soda, salt, cinnamon, dry ginger, and nutmeg. Set aside.
In a separate bowl, beat the butter and sugar together until well combined, light and fluffy.
Add the eggs one at a time, stirring to mix well.
Stir in the oil, molasses, and fresh ginger.
Add the wet ingredients to the dry ingredients, mixing thoroughly with a wooden spoon to combine.
Add the milk and stir until there are no lumps.
Pour the batter into the prepared bundt pan. Smooth the top with a spatula.
Put in the oven and bake for 35 to 40 minutes, or until a toothpick comes out mostly clean (do not overbake).
Remove from the oven and allow to cool before flipping onto a plate.
Chocolate Glaze:
Put the chocolate, milk, and ginger in a small pot over medium heat.
Cook, stirring constantly, until combined and fully melted.
Drizzle over cooled gingerbread cake.