'Fresh with Anna Olson' is one of my favourite programme on Asian Food Channel. The show was filmed in her beautiful home in Canada's Niagara region and I love how the show showcases the incredibly fresh, seasonal ingredients that Anna gets direct from the farms. I'm very fortunate to be part of Anna Olson's live show during her Fresh Flavours tour. Thanks to Asian Food Channel and BERJAYA University College of Hospitality for bringing her to Malaysia.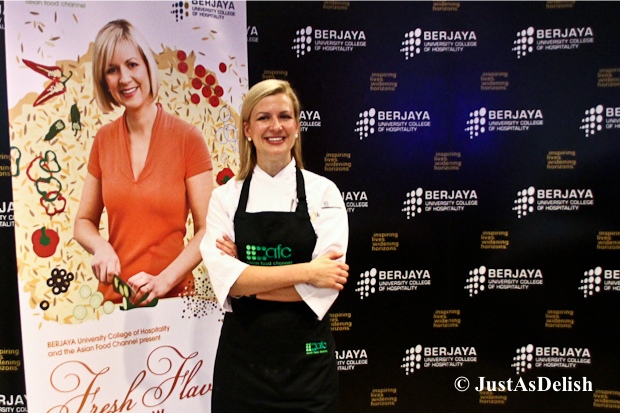 Anna Olson is a professionally trained pastry chef with over fifteen years of experience in the culinary field. Before realising cooking and baking was her true calling, Anna spent a few years in banking before deciding it was not her life long dream. Anna promptly enrolled herself into the culinary program at Johnson & Wales University in Denver and began her career as a pastry chef. It is inspiring to know that she has switched career to pursue her dream that brought her tremendous success. Anna's television shows – Bake with Anna Olson, Sugar and Fresh with Anna Olson, all airs on the Asian Food Channel.
It's captivating to hear Anna relate stories about the television shows production where every recipe were recorded 3 times. Watching her cooking demonstration is almost like being in the live audience. Anna's bubbly & down to earth personality is such a delight to watch. Not having tasted any Canadian food before, it's an honour to get a taste from my cooking inspiration. Anna also emphasized that Canadian cooking is all about using the freshest and seasonal produce.
The first recipe Anna demonstrated was a Canadian holiday classic – Tourtiere (pronounced as tor-tee-ay). It's a French Canadian meat pie that is served during Christmas and New Year. The recipe demonstrated is with minced beef with spices. It's interesting that the short crust pastry recipe uses lemon juice. According to Anna, the acidity of lemon or vinegar shorten the gluten in the flour and makes the crust flaky.
The filling indeed have a pungent all-spice flavour, however it does need some getting used to the drier filling as other type of meat pies I've tasted before has some gravy in the filling.
The 2nd recipe is a Pumpkin Creme Brulee Tart. You would most probably be wondering like me – Pumpkin in a dessert? At this time of the year in Canada, pumpkin is in abundance and it definite makes sense to use pumpkin in many recipes. Pate Sablee dough is used for the tart shell, it's a tender tart dough that also works well for cookies.
After the demonstration, I was too busy taking Anna's photos that I missed out the sample of mini creme brulee tarts. Not giving up, I asked the Berjaya UCH chef if I could have a taste from the demonstration ones on display. I waited patiently for the last media photographer to capture the shots of the food and indeed my wait paid off. I've fallen in love with pumpkin again..  the flavours blend very well together and it is absolutely delish!
Do you want the recipe? Here it is

Pumpkin Crème Brûlée Tart
Pumpkin Creme Brulee Tart with Pate Sablee Dough. Creamy creme brulee infused with pumpkin is a fall treat everyone will love.
Serves:
8 individual tarts
Ingredients
1 recipe Pate Sablee Dough - shaped into a log and chilled
6 ounces cream cheese, room temperature
¾ cup packed dark brown sugar
6 large egg yolks
¾ cup pure pumpkin purée
1 teaspoon finely grated fresh ginger
½ teaspoon ground cinnamon
3 tablespoons brandy
granulated sugar, for brûlée-ing
Pate Sablee (Tender Tart dough)
½ cup + 2 Tbsp unsalted butter, room temperature
½ cup + 2 Tbsp icing sugar, sifted
1 hard-boiled large egg yolk
1 large egg yolk
½ teaspoon vanilla extract
1¾ cups cake and pastry flour, sifted
¼ teaspoon salt
Instructions
Unwrap the chilled dough and slice it into 8 pieces. On a lightly floured work surface, roll out each piece into a circle that is just under ¼-inch thick and line eight ungreased 4-inch removable bottom fluted tart shells with each piece of pastry, pressing the dough into the shell and trimming away excess dough. Chill the tart shells for 30 minutes or until firm.
Preheat the oven to 325 F. Place the tart shells on a baking tray, dock the bottoms of each shell with a fork and bake them for about 18 minutes, until the edges begin to brown a little. Cool the shells before filling.
For the filling, combine the cream cheese and brown sugar using a blender or immersion blender. Add the egg yolks, pumpkin puree, ginger, cinnamon and brandy and blend until smooth. Pour this filling into the cooled tart shells and return to the 325 F oven to bake for about 16 minutes, until the filling has set around the edges, but still has a little jiggle in the centre. Cool that tarts to room temperature before chilling until set, at least 3 hours.
To serve, sprinkle the tops of each tart with a little sugar and use a butane kitchen torch to melt and caramelize the sugar. Serve immediately.
Pate Sablee (Tender Tart dough)
Beat the butter and icing sugar together until smooth.
Push the hard-boiled egg yolk through a sieve and stir the raw egg yolk and vanilla into it. Add this to the butter mixture and stir until blended.
Add the flour and salt to the butter mixture and stir until blended. Shape the dough into a disc (it will be very soft), wrap in plastic and chill until firm, about 2 hours.
Notes
Pate Sablee dough can be prepared and frozen for up to 3 months. Thaw in the fridge before using. These tarts can be baked and chilled up to a day in advance, but should be bruleed right before serving.
Special thanks to
MissyBlurKit
for connecting me to
Alice George Communication
& Lach for the invitation.