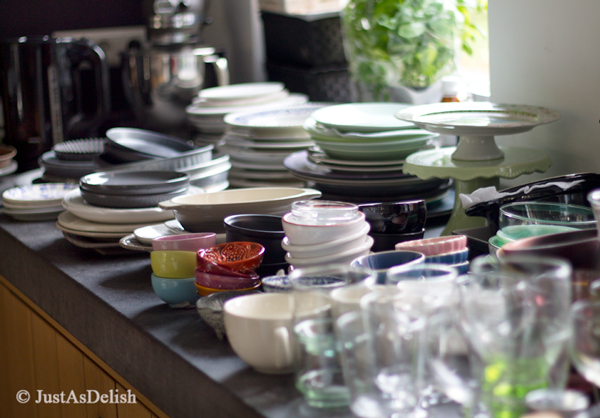 I've been a long fan of Simone van den Berg's blog & photography on Simone's Kitchen (previously known as Jungle Frog Cooking). Her beautiful images always tells a story, lifestyle photography that's casual and chic, with healthy recipes. It's definitely not the type of commercial food photography here in Malaysia, that is always taken close up and studio-like.
When I planned my trip to The Netherlands, I knew I had to join Simone's Food Photography Workshop. I'm ecstatic to find out Simone is conducting the workshop on the dates I'm in the country, unfortunately the workshop will be conducted in Dutch. Feeling defeated, I told Norbert that I was so disappointed that I've travelled so far, yet could not attend the workshop. I can't believe it when he suggested to be my translator and Simone agreed. You should have seen me jumping up and down in joy.
When I entered the venue of the workshop, I couldn't take my eyes off the rows and rows of kitchen ware, props, fabrics, serving boards, culteries for us to play with. While Simone talks about photography, the person that creates the other magic is food stylist Alex Schijf.
What's a food photography workshop without food? The scrumptious lunch prepared by Alex is absolutely lovely – spinach quiche, zucchini soup (love it), lots of bread & cheese (no Dutch meal is complete without cheese). But we were not there just for the food. I was too occupied the entire day only to realize after the workshop is over that I've only capture a few photos on the workshop process.
Watching Simone taking the photos so effortlessly is so inspiring. A few clicks here & there, and she's done. While I was struggling to find the right angle with almost 50 shots (ok, not that many). I have a long way to go. At the meantime, lots of practice is needed. I've known a long time ago many bloggers advise to use tripod for photography. But I always find it cumbersome to adjust the height & angle. Lazy me finds it much easier to shoot freehand. At last, I understand the practicality & need of using tripod. This year's Christmas wishlist – Manfrotto tripod.
Mastering the technical aspect of photography is half of it. Styling comes into play to set the mood and the message within seconds you lay eyes on the photo. Even though props are important, it doesn't mean just adding an extra plate, cutlery or napkin will enhance the photo. Sometimes it does the opposite. It's about what story you want to weave around the food.
There's 8 of us – 4 bloggers, one in food service & the rest are food photography enthusiasts. We worked in group of 2 to style and photograph 3 dishes.
The photo above is one of the dishes we worked on. On the left is my team's styling. Alex pointed out that the napkin fold, whipped cream & jam in front is distracting the main subject – the scones. On the right, Alex changed the 2 condiment saucers into one saucer, placed it at the back & the spoon shifted to the front. It now looks more appetizing & inviting.
So did my skills improve? Judge for yourself in the coming months. At least I'm now more confident with my skills. Definitely need to keep practicing to find my own voice & style. For you who are a little piqued, there's plenty of photography and styling tutorials at Simone's Kitchen. Head other there and start practicing.
Curious about what I did in The Netherlands? Read about my trip here.