Mildly sweet & nutty Fenugreek Tea – a traditional remedy that helps from digestion to blood chemical imbalance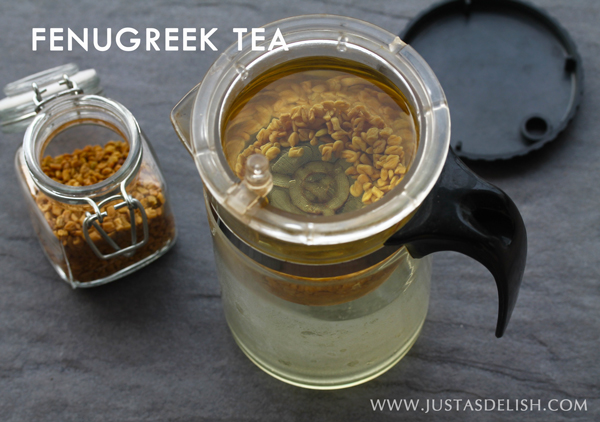 A recent conversation on G+ started with Dane Finely about replacing one of the daily cups of coffee with drinking tea. Dane's post was a gentle reminder that coffee is a bit acidic, a tad dehydrating, and has enough caffeine that it can impact your adrenal glands in a way that might not be ideal. I responded it's a good thing that both coffee and tea over-stimulates me, thus resulting in me stopping tea; even green tea consumption. Taking any type of tea after noon time will turn me into insomniac that night. A sip of coffee is all I can take, more will cause my body to have weird sensations, heart palpitation and of course become insomniac. 
So it has been herbal tea for a long while. Dane asked for my favourite blend. For a moment, my mind went blank. Couldn't think of any as I don't usually buy herbal teas. Freshly made barley, licorice, ginger or lemongrass tea is usually what I make when I want some kind of warm drink because the ingredients are readily available where I live. Just boil in a pot of water. They are great because they are natural remedies too. But of course these are not instant tea infusion.
One instant infusion that I love is fenugreek tea. The first time I had fenugreek tea a year ago, I was instantly drawn to the sweet nutty taste infused with black tea. I've only used fenugreek in Indian curries, but never tasted it individually. I've also heard from my breastfeeding friends about using fenugreek to increase milk production.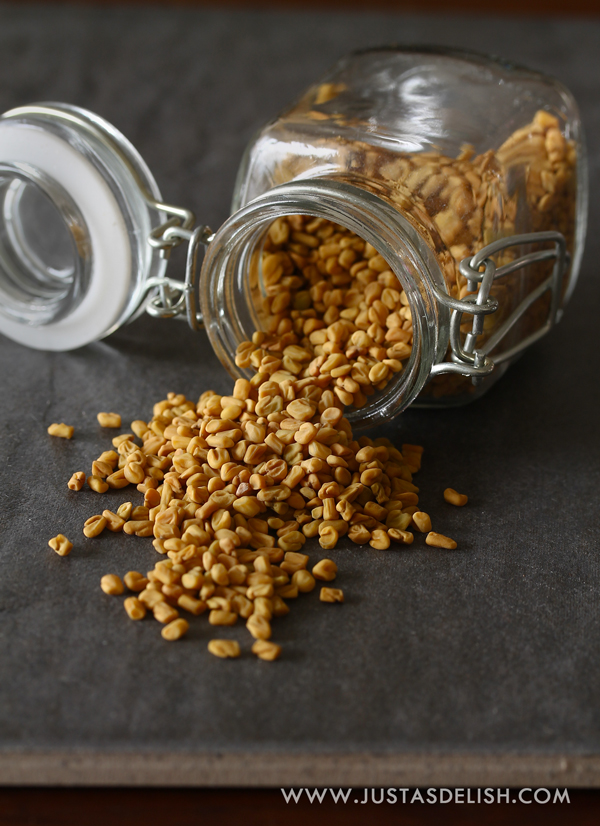 Normally, I'll just steep 1 teaspoon of fenugreek with a cup of water. You can also steep it together with tea leaves or other spices. But do try just fenugreek by itself to get the taste of the mildly sweet nuttiness that I've grown very fond of.  Besides increasing milk production, treatments of many ailments throughout the ages are common, from digestion to blood chemical imbalance. Fenugreek is one of spices I frequently use for my stomach & digestion problems. A group of Mama's friends are boiling fenugreek together with water to drink daily, after having found studies showing fenugreek may help lower blood sugar levels in people with diabetes. However boiling the fenugreek releases its bitterness, which I don't like. I'll stick to just steeping it.
Fenugreek seed is commonly sold at Indian/Asian/Middle Eastern stores, or can be bought online through Amazon.
With an extensive list of potential benefits, it might be worth adding this beneficial tea to your list of tea choices.
Source: http://nccam.nih.gov/health/fenugreek

Fenugreek Tea
Mildly sweet & nutty Fenugreek Tea - a traditional remedy that helps from digestion to blood chemical imbalance
Ingredients
1 teaspoon of Fenugreek
1 cup of boiling Water
Optional
tea leaves
spices like fennel and anise seed
sweetener
Instructions
Place fenugreek into a teapot, or steeping glass. Pour the desired amount of boiled water over the fenugreek. Cover and steep the seeds for at least three minutes. Strain and drink warm.
The fenugreek seeds can be reused for a 2nd serving.