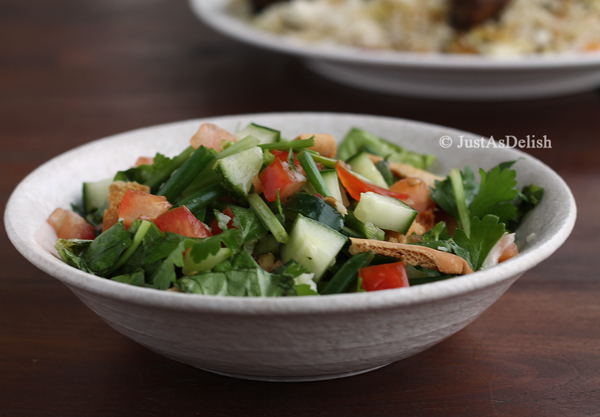 Often a part of mezze spreads in Middle Eastern and Arabic countries, fattoush is a simple bread salad made with fresh vegetables and toasted pita bread. It was created as a way to use up stale Arabic bread and seasonal vegetables. Fattoush is a great example of the arabic or middle eastern cuisine, a lot of fresh vegetables, colors and flavors and definitely no shortage on bright flavors and spices.
Unlike the infamous tabouleh salad, which is a finely chopped herb based salad, fattoush salad is rustic with coarsely chopped greens. The ingredients that make up a fattoush salad will depend on region, season, household and just plain preference. However, the fundamental ingredients are lettuce, radish, tomato, cucumber, onion, sumac, mint, and toasted Arabic bread. You can use whatever vegetables and greens you have available but it is the dressing and the addition of bread is what transforms your every day salad into an extra ordinary fattoush.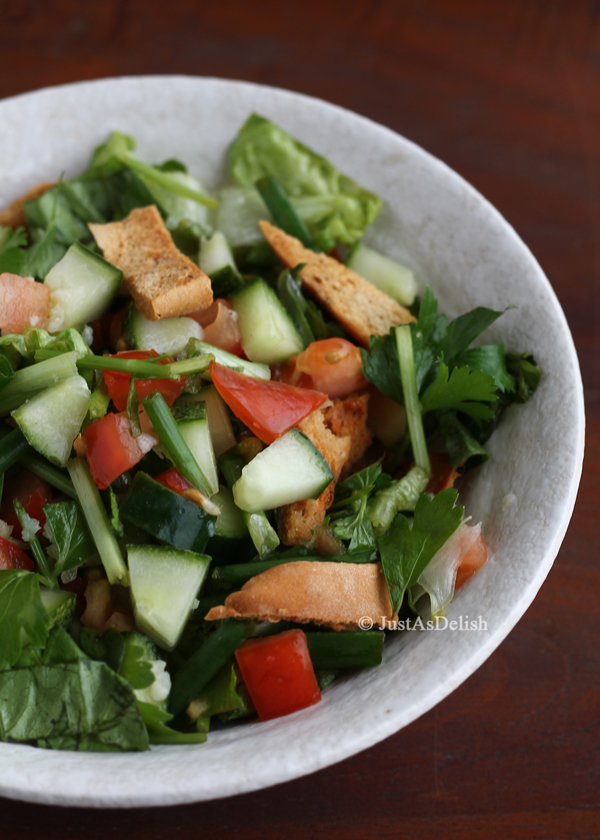 The secret – the sharp flavour of the sumac in the dressing that really takes the whole experience to an entirely new explosive level. Sumac is a tangy, deep red or burgundy spice derived from the dried berries of the non-poisonous sumac bush. It is used along with lemon or in place of lemon to add a tart, lemony taste to salads, meats, fried eggs, dips as well as added to other spices like in Zaa'tar. Some recipes calls for a drizzle of pomegranate molasses to the dressing, which I can't resist, to give it more depth and an extra layer of flavor. You can find sumac and pomegranate molasses in Middle-Eastern specialty stores. 2 well stocked grocers in Klang Valley are Suria Wholesale at Jalan TAR and  Al Tayseer at Ampang. Or make your own pomegranate molasses with this recipe.
I am submitting this post to Asian Food Fest: West Asia hosted by Shannon from Just As Delish.

Fattoush (Bread Salad)
Middle Eastern bread salad with explosive flavours
Ingredients
1 head of Romain Lettuce - roughly chopped
6-7 Mint Leaves - chopped
3 medium Tomatoes - quartered and then halved again
1 medium Cucumber - chopped
1-2 spring onions - chopped
a handful parsley - chopped
1 Pita Bread / Arabic bread
Dressing
1 tablespoon Sumac
1 tablespoon Pomegranate Molasses
3 tablespoon Olive Oil
juice of half of Lemon
Salt & Pepper to taste
Instructions
Sprinkle some olive oil and sumac on the bread and toast in oven (400F) or toaster oven for 3-4 mins until light brown.
Place all the chopped salad items in a large bowl.
Mix the dressing ingredients in a smaller bowl and add to the salad bowl. Toss well with the salad.
Break up the toasted bread with your hands, into bite sized pieces over the bowl and serve immediately.