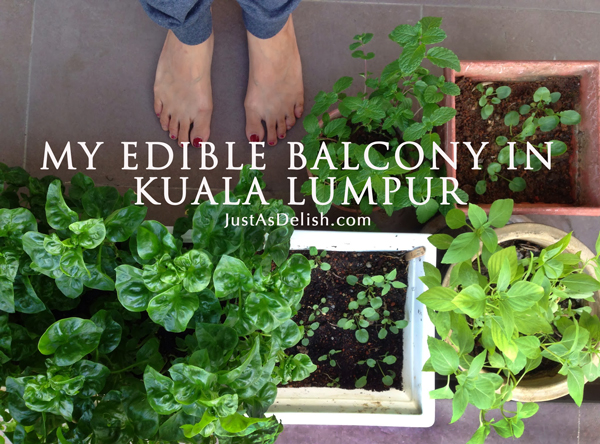 I was never good with plants, especially flowering plants. I had no idea how to take care of the potted plants my parents brought to my apartment balcony years ago. The plants were there to beautify the big space. For 8 years, I never had any interest or bothered to learn how to take care of them. I was lazy to even water the plants. I did more bad to the plants (even cactus) than nurturing them.
It was when I started to enjoy cooking that had me curious about planting some herbs that would be useful when I just need 1-2 sprigs instead of buying a big bunch. And I had many empty pots lying around. Everything that you read here is from my own personal experiments in creating my edible balcony garden. I felt it's easier to share here about my experience after some readers asked me when I post photos of my plants. Just like how I've always experimented with my recipes, gardening edible plants turn into an experiment that gave me immense joy. They became my "pets". It's not so much about getting harvest from plants, they were not enough to feed me proper meals. It's more about learning and the joy of seeing food sprout from seed & kitchen scraps. I squeal with delight when I see them sprout. Unfortunately, I still have not found much appreciation for other plants. I'm so biased…
I have a fairly huge balcony space that's facing north, with indirect sunlight. When I first start, I did not know what I was doing. I just read up from websites, watch Youtube videos and asked a lot of questions.
My friend Tracy gave me some flowers from her sweet basil plant in July 2012 and that started my edible garden. I was able to harvest after 2 months, so the feeling of being able to trace my produce to my bowl was a bit overwhelming for me. It started growing wildly after a friend advised to keep it under sunlight but some measly bugs & aphids started attacking it.  Next, I planted mint, thai basil and kaduk (wild betelnut leave) by sticking the stems into soil after i used up the leaves. These are pretty hardy & easy plants however, my kaduk, too, was attacked by measly bugs.
The proudest moment was when my cherry tomato plants started to fruit. I planted them from seeds without knowing anything about tomato plants. Learning from Norbert along the way, making corrections, observing closely and talking to them. Yes,I love talking to them 🙂  If you observe nature closely, you will learn a lot of wisdom. I found they love sun and lots of water, learning it through the hard way. I even found a babysitter for my plants when I was off to Europe for a month. Considering the plants had gone through drought, stunted growth, and measly bugs attacks; they produced pretty decent harvests. After a hard day of work, the pretty red jewels just perked me up immediately.
Then I experimented with turmeric, ginger, potato, green onion, and bokchoy. My latest pride is my kale plants. When I bought the seeds during my Netherlands trip, the seller laughed when I told him I want to grow them in tropical weather of 32C. Kale (boerenkool) is a winter dish there, and it tastes better when the plant gets frostbite. I'm proud to say that my 2 kale plants are very growing well and steadily in containers. I have given 3 other kale seedling to my friend's yard, they will grow even faster on the ground.
More photos of my plants here and below is a little tour of my balcony taken in March 2014. Currently my balcony is pretty bare, only some herbs, sprouts and kale left. I'm doing some composting with the soil, to nourish back the soil nutrients, letting the soil rest for 2 months before I start again.
[youtube=http://www.youtube.com/watch?v=EMfAfPwSKP4&w=480&h=360]
After a busy day, gardening helps me to de stress. I don't wear gloves when gardening. Touching the sacred earth not only help boost our immune system, it ground our body from all the electrical charge we have accumulated in our modern lifestyle. So start gardening or play with soil.
After 2 years, there's still much to learn. I can say I know a little better now about the plants I've grown. I know what to do and what not to do if I want to grow them again. Next on my list are more herbs and leafy greens.
Look out for the next post Itching to get started? Read my 5 tips on How To Start an Edible Garden in The Apartment and How to Grow Kale in The Tropics.
Do you grow any edible plants? Any tips to share?