Banana Bread Muffins (Gluten Free & Dairy Free)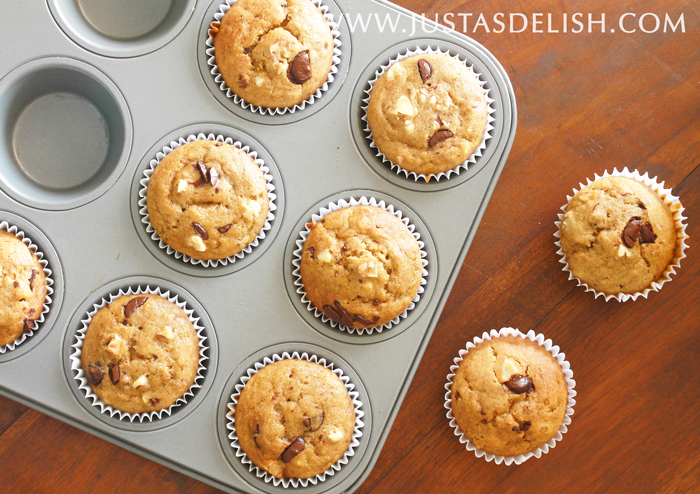 2 cups Flour (I use gluten free blend of 1 cup sorghum flour, ½ cup brown rice flour and ½ cup tapioca flour.
1.5 teaspoon Baking Powder
½ teaspoon Baking Soda
¼ teaspoon Ground Cinnamon
½ teaspoon Salt
3 tablespoon Coconut Sugar
2 medium Eggs
60ml (¼ cup) Olive Oil
3 medium very ripe Bananas (about 380g with skin)
½ cup Macadamia Nuts - chopped
½ cup Dark Chocolate (60%) - chips or roughly chopped
Preheat oven to 175C/350F.
In a large bowl, whisk together flour, baking powder, baking soda, cinnamon, and salt.
In another large bowl, add sugar and bananas, and mash with fork.
Add the rest of the wet ingredients: honey, eggs and oil. Mix well.
Stir in the dry ingredients and mix well. Add the nuts and dark chocolate chunks, and fold into the batter.
Fill the batter into muffin liner, up to ¾ of the liner. Bake for 30 minutes, check if they are ready with a toothpick. Cool for about 15 minutes in the pan. After 15 minutes, leave them on a cooling rack.
These muffins can be easily frozen, reheat them in the oven for 10 minutes to enjoy.
Recipe by at https://justasdelish.com/?p=15651