No Bake Coconut Cranberry Seed Bar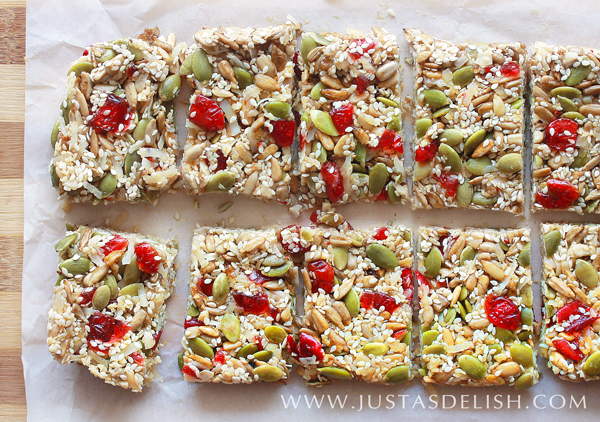 120g (4.2oz) Pumpkin & Sunflower Seeds
10g (0.3oz) White Sesame
20g (0.7oz) Dried Cranberries - roughly chopped
10g (0.3oz) Unsweetened Shredded Coconut
3 tablespoon Honey (preferably mild flavoured runny honey) *
10g (about 1 tablespoon) Butter (or coconut oil) - I use ghee
Heat up butter and honey in a small pot, to met the butter and let it bubble up for 2 minutes on low heat. Turn off the heat.
Add in the rest of the ingredients - seeds, coconut and chopped cranberries. Mix well, make sure all ingredients are coated with the honey butter syrup.
Line a 22cmx12cm (9"x5") container** with non-stick baking paper. Pour the mixture into the container and press it down tight evenly with the back of a spoon, or preferably the same size container.
Let it cool down for a few minutes and pop into the fridge for 20 minutes to set.
After it is set, cut into 12 bars and store in an airtight container jar (preferably in the fridge in you live in a tropical climate country like me). These can last for 2 weeks – as if they'll last that long!
* Milder flavoured honey is prefered so it doesn't overpower the other ingredients. Usually the whiter honey have milder flavour
** a 22cmx12cm (9"x5") container gives me 1cm thick of 12 bars. You can use any tray or containers that gives an area of approximately 264sq cm or 45sq inch.
Recipe by at https://justasdelish.com/?p=15115