Durian Pancake is a very popular dessert in Southeast Asian countries – Indonesia, Malaysia and Singapore (and also in Hong Kong). Most durian lovers will fall in love with this pancake on the first bite, just like me. Durian – coined as The King of Fruits by most Asians, whilst some people totally can't stand the smell of it. It's one of the food where you either love it or hate it 😀  
I don't know why it's called pancake while the shape is similar to crêpe that is filled and folded like an envelope or pillow. It's easy to make, if you know how to make pancake or crepes, you can make this yummy dessert. The important thing is how to get a thin and good crepe! I searched around, and used this recipe that was said to be from a chef from a restaurant in a 5 star hotel. The recipe and instructions were not clear, so my first batter was too runny and the pancake tore when flipping over. After adding more flour, the batter improved but the pancake was a little thick. Not satisfied with the outcome, I tweaked the recipe and made a successful second batch with thin pancakes, the texture almost similar to the ones I've tried before.
This is my interpretation of an Asian inspired plated dessert of Durian Pancake with Almond Praline & Gula Melaka (Palm Sugar) Caramel Sauce, for the Aspiring Bakers #23: Desserts on a plate (September 2012) hosted by Swee San of The Sweet Spot. What is a plated dessert, you might ask. Ideally plated dessert consists of a main dessert, with at least 3 other components on a plate. It sounded intimidating at first, but after breaking down the individual components and preparing them in advance, it's very doable.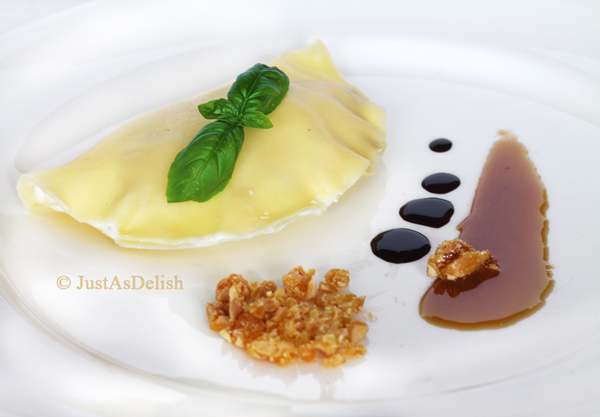 For the Gula Melaka (Palm Sugar) Caramel Sauce, I followed the tips laid down & step by step photos by David Lebovitz on making the perfect caramel and within minutes I had my caramel sauce. Deep amber, thick, salted caramel sauce. The best. Ever.
My Almond Praline has an Asian twist too, by using Gula Melaka instead of white sugar. The same gula melaka caramel method was used and toasted almonds were added at the end. Once cooled, break the praline into shards, or crushed and added to ice-cream, sprinkle over desserts or just enjoy as a candy. To make the plate look more pretty, I decorated with some homemade chocolate sauce.
What do you think of my first attempt at plating dessert?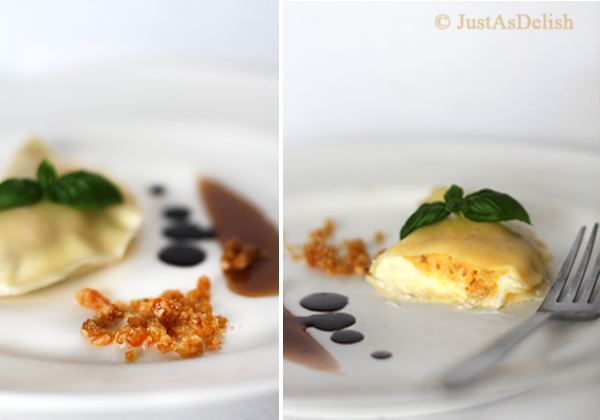 Durian Pancake with Almond Praline & Gula Melaka Caramel Sauce
an Asian inspired plated dessert of Durian Pancake with Almond Praline & Gula Melaka (Palm Sugar) Caramel Sauce. A popular dessert in South East Asia, Durian Pancake is a type of crepe filled with durian & cream
Ingredients
Pancake Filling
300gm Durian Paste
300ml Fresh Cream
Pancake
125gm Flour
30g Sugar (I omited because of the plated caramel & chocolate sauce)
25g Egg Yolk (about 1 large Egg Yolk)
150g Eggs (about 3 large Eggs)
250g Milk or Water
7g Butter - melted
 (I used Olive Oil)
Note: For gluten free version of the pancake, I used 80g rice flour and 30g tapioca flour
Almond Praline with Gula Melaka
100g Gula Melaka (Palm Sugar) - crushed or grated
2 tablespoon Water
100g Almond Strips
Gula Melaka Caramel Sauce
100g Gula Melaka (Palm Sugar) - crushed
50g Coconut milk
20g Butter
½ teaspoon Seasalt
Chocolate Sauce
Instructions
Pancake Filling
Remove durian flesh from seed and use a fork to mash the flesh in a bowl. Keep chilled in the fridge.
Whip the fresh cream to stiff peak and keep chilled in the fridge.
Pancake
Mix sugar and flour into a mixing bowl. Add in the egg yolk and mix well.
 Add in fresh milk in 3 parts, combining all ingredients together.
 Lastly, add in the melted butter.
Heat up 20cm non-stick pan on very low fire. Scoop 40gm of pancake batter into the pan, swirl it to ensure that the pancake is smooth, thin and even.
 Pan fry the pancake one minute on both sides.
 Remove pancake from pan and lay it out flat on big plate / chopping board to let it cool down. Continue with the rest of pancake.
To assemble the pancake, scoop 1 tablespoon of fresh cream onto a pancake, followed by a tablespoon of durian paste.
 Fold the pancake into half a moon.
 Trim the sides with a table knife and you have a durian pancake ready. Chill the ready pancake for at least 10 minutes before serving.
To plate the dessert, decorate and garnish with almond praline, gula melaka caramel and chocolate sauce.


Almond Praline with Gula Melaka
Lightly grease a baking tray.
Heat the sugar and water in a heavy based pot over moderate heat.
Once the caramel starts browning at the edges, slowly stir until the entire mixture turns liquid and golden. Remove from heat.
Stir the almonds in quickly with a bit of salt, then pour the mixture on the lightly-greased baking sheet.
Once cool, break praline into shards and crush. Praline can be folded into ice cream, scatter over desserts, or enjoy as candy. Keep in air tight container for up to 2 weeks.
Gula Melaka Caramel Sauce
Add the sugar in a thick bottomed pot and cook it till it melts. Keep swirling the pan so that the sugar can cook evenly.
Once the sugar has reached a deep brown colour, take it off the heat and add butter. Stir until it's completely melted into the sugar.
Next, add in the coconut milk and salt and whisk in until you have a consistent sauce.
Serve it on a cake, in a cake, over ice-cream, tarts, crumbles, pancakes, brownies, waffles, toast, granola. Store in refrigerator for up to 2 weeks.