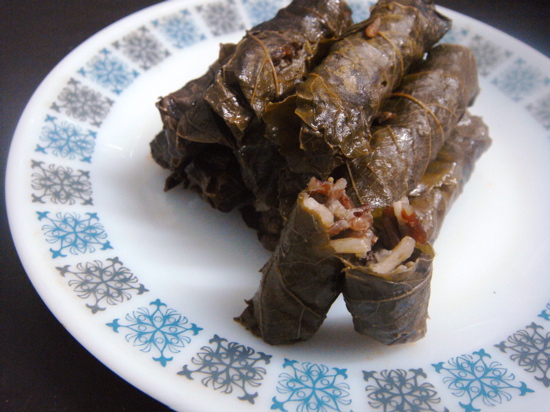 Last week has been a really crazy week, too many things happened at the last moment that I ended up with 100 hour work week. On top of that, my mama made an unplanned visit to KL for 10 days, where she dominates my kitchen – she has her set of rules in the kitchen, so I'd rather stay out when she's cooking. Of course I get to eat her delicious cooking, it's just I don't get to cook..  Finally back to a slow peaceful day, I able to continue with my posting..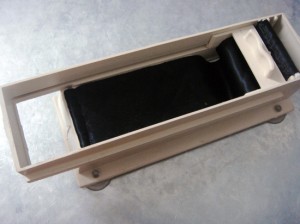 When my business partner came back from Syria 3 weeks ago, he brought back lots fresh fruits & nuts (on my requests) and many interesting kitchen gadgets. One of the gadgets is the Dolma Machine, which he so excitedly demonstrate how it works. Other than the Dolma Machine being an ingenious invention, I think he is trying to hint that I should cook dolma more often for him.
Dolma is a very common Middle Eastern dish, it is grape leaves stuffed with rice, usually served as appetizer / a side dish. Dolma is from the Turkish verb dolmak, 'to be stuffed', while in Arabic, it's known as Warak Inab. Different country/region have a slight variation in their recipe and Iraqi Dolma uses vegetables (eggplant, bell peppers, potato) to stuff the rice that is served as a main dish. With the new Dolma Machine and fresh grape leaves (vine leaves), I tried cooking Dolma on my own, to check out how easy is this nifty gadget.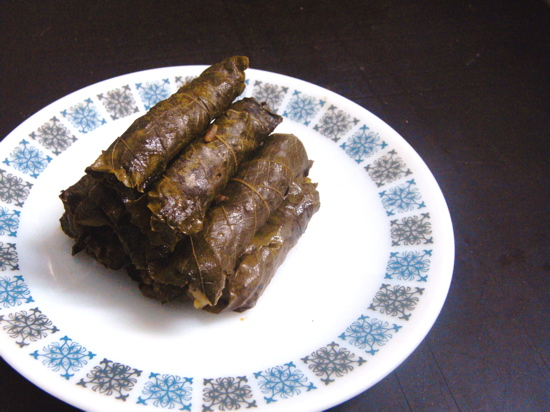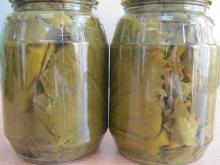 As fresh grape leaves are not commonly available, you can buy jarred grape leaves in Middle Eastern stores. Jarred grape leaves are very salty from the brine solution, so remember to soak the grape leaves before using.

DOLMA (STUFFED GRAPE LEAVES) 
1 jar (16 oz) grape leaves
200g minced beef
1 cup uncooked white rice
1/2 cup fresh parsley, finely chopped
1 teaspoon black pepper
1/2 teaspoon salt
2 tablespoons lemon juice
1/2 cup tomato sauce
—
Preparation:
1. Soak grape leaves in cold water for 2-3 hours. Jarred grape leaves are very salty from the brine solution. Rinse and drain in a colander. Set aside.
Rolling the Grape Leaves:
(Here comes the tricky part: Rolling the leaves with the mixture. It's easy once you get the hang of it. Do not wrap too tight as you have to leave a little room for the rice to expand. As you roll them, you are going to place in a circular arrangement in your dutch oven or large saucepan.)


3. Remove stem from leave and place a grape leaf shiny side down. Place about 1 teaspoons of mixture in the middle. Fold in the sides and roll upward. Think of rolling a burrito, only smaller. (If the leave is too small, you can stack 2 together to make it bigger and easier to wrap.)
How to Properly Place Them in The Pot: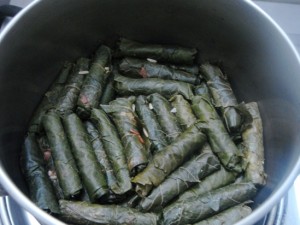 4. In a saucepan or pot, place them side by side tightly in circular layers.
5. Mix tomato sauce with some water in a bowl, pour over leaves. Add more water until it cover just above all leaves.
6. Put a heatproof plate/weight on top of the last layer of stuffed grape leaves. This ensure that the leaves to do not move around during cooking. (I did not find a suitable size plate before I put all the leaves into the pot, so I end up putting 3 porcelain bowls to weight it down)
7. Cook on low heat for 30 minutes until the rice is done. Remove vine leaves from pot and serve.
.
Below is how the amazing dolma machine works! I only made 2 hand rolled dolma, the rest is rolled by using the machine.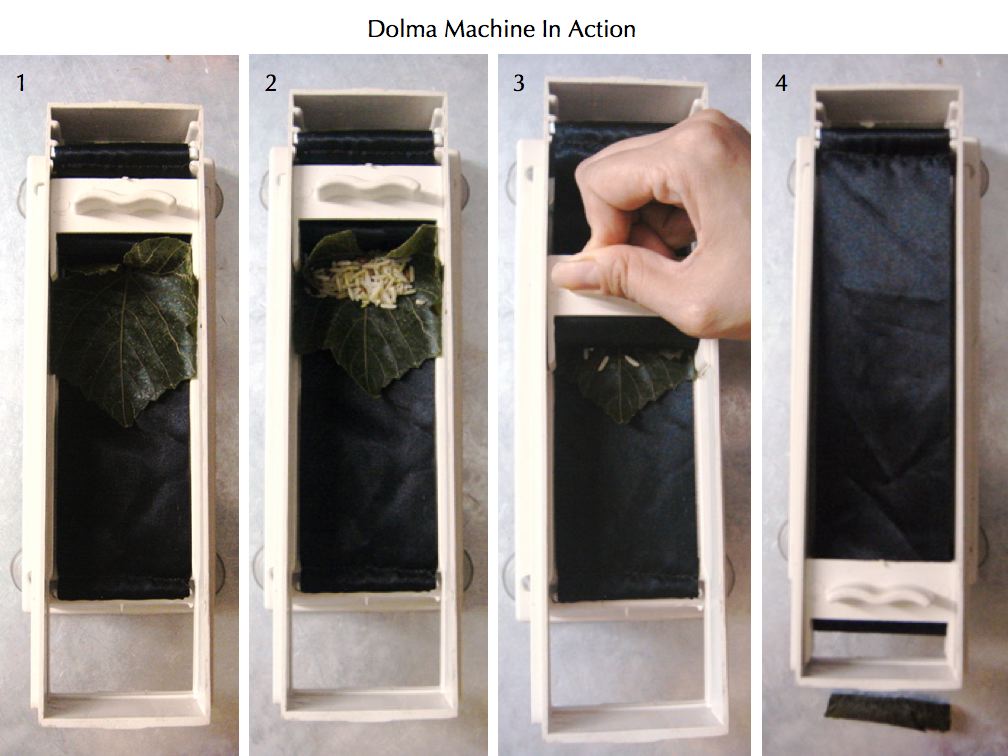 Put a leave into the machine, add 1 teaspoon of rice mixture, push the moving part down (like swiping a credit card) and voila – the dolma is nicely wrapped! A jar of leaves took me about 15 minutes to wrap the machine, I'm definitely going to make more dolmas in future.