I always crave for sweet things.. chocolate, ice-cream, cakes, desserts.. I even like my water with honey & apple cider vinegar 🙂 And true enough, my dearest always say I am sweet enough for a bite!
So today I decide to try something a bit guilt free.. Cranberry muffin using yoghurt & olive oil.. just the sound of it makes it healthy and it tastes good too! It so happens I have cranberries, so I use this fruit. You can replace with any dried fruits you like – raisins, dates or blueberries.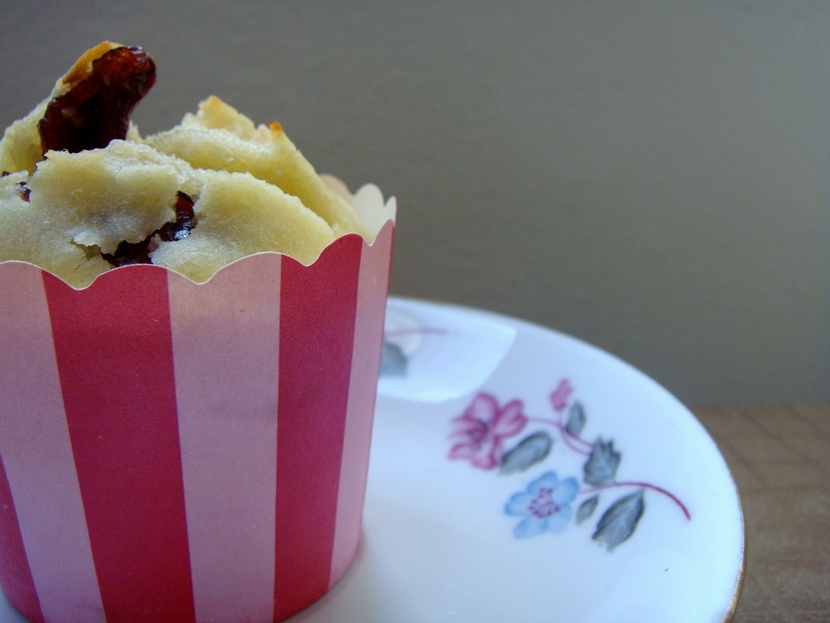 Making homemade yoghurt is extremely easy, have you make yours yet from my previous recipe? Try make your own yoghurt as the ones sold at the stores are loaded with sugar even though it's stated as "Low Fat".  The friendly culture in the yoghurt can do wonders, and it has nutritional benefits beyond those of milk.
This muffin recipe is quick and easy to put together. Like most muffin batters, dry ingredients are placed in one bowl, wet ingredients in another. Mix the two together and you are done. Here I am using pink & red muffin liner (isn't it pretty), which is harder compared to paper liner, and can stand on its own without the support of a muffin tray.
When you pull these muffins from the oven their golden brown crust is delightfully crisp while inside they are moist and tender and bursting with cranberries.
1 cup plain yoghurt
1 large egg, beaten
1/4 cup olive oil
1/2 tsp pure vanilla extract
2 cups flour
1/2 cup raw sugar
1 teaspoon baking powder
1/2 teaspoon baking soda
1/4 teaspoon salt
1 1/4 cup dried cranberries
1. Pre-heat oven to 375℉ / 190℃. Line muffin tray with paper liners.
2. With an electric/hand mixer, whisk together yoghurt, egg, oil and vanilla extract in a bowl for 2 minutes
3. In another bowl, sift flour, sugar, baking powder, baking soda & salt. Take 1 teaspoon of dry ingredients mix & toss with the cranberries
4. With a rubber spatula, fold wet ingredients into dry ingredients & stir only until ingredients are combined. Gently stir in the cranberries. Do not over mix the batter or tough muffins will result.
5. Evenly fill liners with batter with 2 spoons, until 2/3 full. Place tray in oven & bake for 15-20 minutes until toothpick inserted in the center of the muffin comes out clean. Transfer to a wire rack & let cool for about 5 minutes before removing from tray.
Makes 12 muffins.
Just in time for my tea party 🙂