I'm tickled pink to have a Valerie Ceder of FoodExpressed to guest post today. With the festive season coming up, what's more apt than to have Val post on a traditional British dessert – the Bakewell Tart.
What first caught my eyes at FoodExpressed is the kitchen gadgets section. With the limited kitchen gadgets available here, I can only gawk and drool over at the gadgets in other countries. I totally agree with Val that food & recipes is not the only thing that foodies are obsessed with! Another thing me and Val have in common is we look for recipes than can be done in half the time.. Do pop over to FoodExpressed and send Val some love.
Now over to you, Val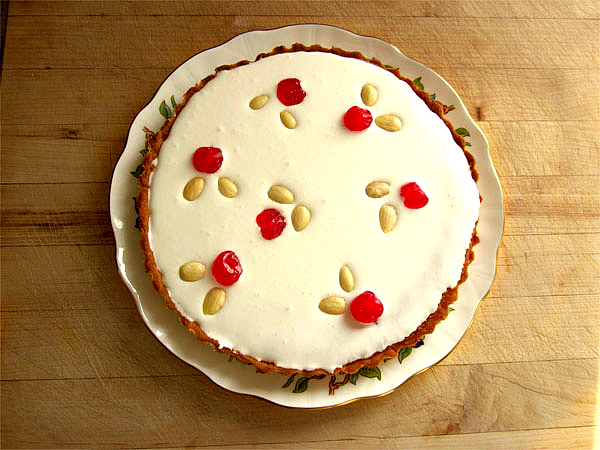 ♥♥♥♥♥
Season's greetings to you all and especially to Shannon for so kindly inviting me to guest post. I'm always inspired by the Just As Delish posts to be more aware of what I'm eating and to comprehend how powerful foods can be in healing us. When the festive season comes along I do however believe in a dessert table of treats. This traditional British dessert gets a festive make-over and adds another dimension to the holiday meal. I hope you enjoy it.
There's a certain level of pressure that seems to surround us on the run-up to Christmas to outdo ourselves. Thoughts of cooking extravagant, never-attempted-before recipes, exquisite desserts, and lets not forget the growing list of assorted cookies to hand out to the masses. For many of us, all of these expectations are far from realistic and as the days pass by with Christmas looming ever nearer, along comes panic to wash away the hope.
I admit it, I'm one of those people who dream all these things and then only get going when it's too late. Do you feel the same? Have you barely made it through your list of expectations?
It's not too late, you know? We can still do it. I'm game if you are? What it all boils down to is organisation. It's dreadful but true. Here are 3 essential tips to ensure that next week our daydreams become reality:
Set aside time – Sit and jot down when is best to make what. I plan to make use of the weekend to get most things done.
Choose the right recipes – be sure to go for familiar methods and approachable recipes
Don't leave anything for the last day – Time always catches me out and rushing a recipe only brings on disaster.
I've discovered that writing lists, realistic lists, of what needs to be done each day actually results in everything getting accomplished and me feeling rather smug. You may even find yourself enjoying this last week before the festivities begin.
One thing I have managed to cross off my list is this Bakewell tart. When my sister suggested trying out Nigella's Cranberry Bakewell Tart I was slightly reticent about it. It was the frosting that made me take a step back. It's just not very me to start icing cakes or tarts. What made me see beyond the icing was the frangipane (almond) filling lined with raspberry jam. As I got the ingredients together and prepared the sweet pastry, I began to really fall for this traditional British charmer. I even took a fancy to Nigella's subtle transformation of the Bakewell into a festive Bakewell Tart where it is dressed up with a seasonal cranberry jam, a exquisite orange frangipane filling and a thick layer of snow white icing on top. It works tremendously well at maintaining its lovable features and makes a welcome addition to the dessert table.
So, however you end up celebrating the holiday season do make sure to throw aside those unnecessary expectations and make sure to have a jolly good time instead.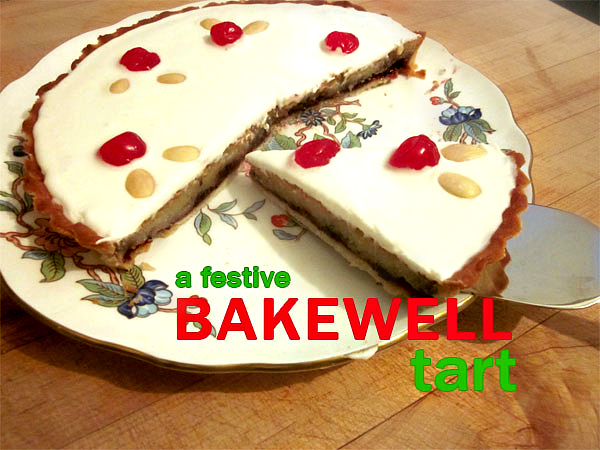 This traditional British Bakewell Tart gets a festive makeover where it is dressed up with a seasonal cranberry jam, a exquisite orange frangipane filling and a thick layer of snow white icing on top
Author:
Nigella Lawson's book "Feast"
Ingredients
For the pastry
175g plain flour
30g ground almonds
50g icing sugar
125g butter, cold and diced
1 egg, beaten
pinch salt
1-3 TBSP ice cold water
For the filling
125g butter
125g sugar
3 eggs
zest and juice of 1 clementine
125g ground almonds
300g cranberry jam (you can replace with another jam, preferably a berry jam)
250g instant royal icing (or use the recipe below)
decorative gold stars (or fresh cranberries / glace cherries and sliced almonds)
For the frosting
300g icing sugar
3 TBSP water / juice from clementine
Instructions
For the pastry
Put the flour, ground almonds and icing sugar in the food processor and pulse a few times. Add the diced butter and pulse until the mixture resembles oatmeal. This can alternatively be done by hand or using a stand mixer.

Beat together the beaten egg, salt and 1 tablespoon of ice cold water in a small bowl. Slowly drizzle it down the funnel of the food processor as it is running to bind the dough. Add more iced water if the pastry hasn't come together. The pastry will feel very soft and pliable.

Shape into a disc and wrap in clingfilm. Place in the fridge for 30 minutes.

For the filling
Pre-heat the oven to 160C/325F/Gas 3
Melt the butter and then leave to cool slightly. Beat together the sugar, eggs and zest and then add the melted butter. Stir in the ground almonds.

Roll out the disc of pastry to fit a 26cm deep fluted tart tin (or use a round cake tin) with a removable base. Prick the pastry with a fork and then blind bake for 15 minutes. Remove the baking weights (I use raw beans, you can use rice too) and bake in the oven for a further 10 minutes at 175C/350F/Gas 4. The tart will be a golden biscuit colour. Remove from oven and allow to cool for 10 minutes.

Spread on the jam and then pour the almond filling on top. Bake in the oven for 45 minutes. The filling will rise but once it is out of the oven it wall fall back to create an even surface. Leave the tart to cool completely before frosting.

For the frosting
In a small bowl, mix together the icing sugar and 3 tbsp water to make a fairly thick icing. When the tart is cold, spoon the icing on top, spreading evenly. Decorate with glacé cherries and flaked almonds and leave to set.

Notes
This Bakewell tart freezes well when wrapped up, (minus the icing). If you make it this weekend. On the other hand it can be rustled up quickly if you choose to make it the day before.
Related articles