Simple made-ahead confit tomatoes and roasted capsicum can easily elevate your meals. Make some today.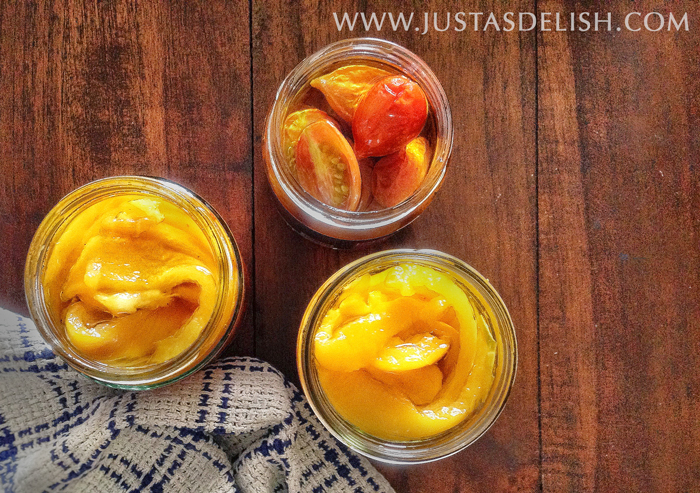 Both confit tomatoes and roasted capsicum (bell peppers) are really easy made-ahead recipes that can be stored for a couple of days, lovely for all kinds of dishes (as side dish, garnish, crostini/pizza topping, in salads, toss into pasta, and as a base for sauce or dips). I love how both these two recipes can easily elevate my meal.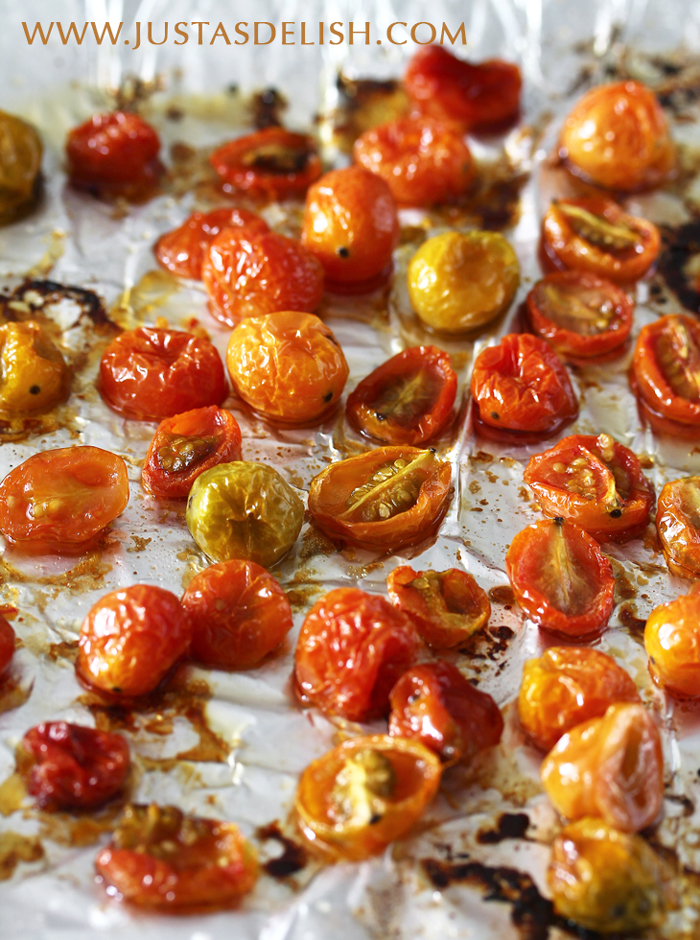 When I get some cherry tomatoes that aren't at their peak yet (quite often in Kuala Lumpur), I love to confit them. I love this easy energy saving technique I learned from Chef Janice Mansfield – 15 minutes on 150C (300F), then switch off the heat and let them cook in the residual heat for 6-8 hours. Sometimes I cook a batch before I go to sleep, and leave them in the oven residual heat overnight. They are lovely and soft but retain their shape, and the flavour intensifies. Hence, slow cooking the tomatoes in oil brings out the intensity of the flavours, then mix with confit garlic cloves, place in the jar in the fridge for about 8 hours to let the flavours mingle.
Roasted capsicums (bell peppers) are tender, smoky, and delicious. They add flavor and texture to a variety of dishes and sauces. Once you know how easy the process is, you'll never spend the money on those jarred roasted capsicum (in my opinion they cost a bomb!). Store the capsicum in a glass jar and cover them with olive oil, it can keep for a week in the fridge. My friend Tracy Poon-Peverali of Pittolo Private Kitchen would freeze small jars of the roasted capsicum, and defrost a jar whenever she need them. I use the same trick and freezes my confit tomatoes too.
While there are still abundant summer bounty of tomatoes and capsicum, use these 2 incredibly easy methods to preserve them for whole year round enjoyment. Make some today.
More recipes ideas:
Roasted Capsicum and Eggplant Chutney (What Katie Ate)
Tapas Roasted Peppers (The Italian Kiwi)
Confit Tomato Pasta (Kitchen Konfidence)
Roasted Capsicum Hummus (Cook Republic)
Flaked Seabass, Confit Tomatoes and Fennel Salad

Confit Tomatoes
Ingredients
3-4 cups Cherry Tomatoes (preferably those that aren't at their peak)
½ head Garlic - skin removed and mashed
½ cup Olive Oil
½ teaspoon Sea salt
Instructions
Preheat oven to 150C (300F).
Toss cherry tomatoes and garlic in a bowl with olive oil and salt. Spread out on a sheet pan so they are in a single layer.
Cook for 15 minutes, then turn off the oven and let cook with the residual heat 6-8 hours.
Remove from the oven and store in jar with the oil the tomatoes were roasted in. Chill in the fridge overnight.
Note: Recipe can easily be doubled or made with a larger quantity.
Roasted Capsicum (Roasted Peppers)
Author:
Tracy Poon-Peverali
Recipe type:
Appetiser, Side
Ingredients
6 Red and Yellow Capsicum (Bellpeppers) - preferably all are about the same size
2 tablespoon olive oil
Instructions
Heat oven to 250C (450F). Place the capsicums on a foil-lined tray. Roast until the skin are slightly darkened and loosens, about 15 minutes. Remove the ones that are already softened into a big bowl, put back the ones that are still firm into the oven for another 5-10 minutes.
Cover the bowl containing the softened capsicum with a cloth to steam the peppers for 15 mins until cool enough to handle. Remove the stems carefully over a small bowl, pour out the juice in the capsicum into bowl for later juice. Remove the seeds, peel off the skin and cut or tear into strips.
It can be used immediately mix with the juice or store in jar with the reserve juice and olive oil, it can be kept in the fridge for a week. The jar can be frozen for 3 months. Defrost in the fridge overnight before you need it and use as normal.