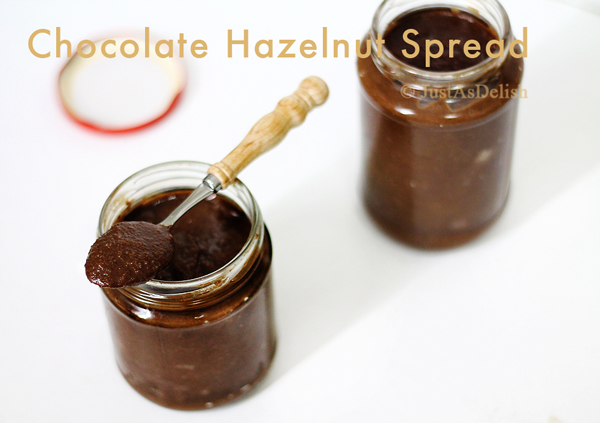 Everyone loves Nutella, especially my sister CM. She would eat nutella by the spoonfuls.. so I thought why don't I make a homemade healthier version for her with real good quality ingredients. (I think by now some of you know how obsessed I am about making things from scratch). Well, it's basically chocolate + hazelnut spread, the recipe I found online is similar to any nut butter recipe. I've made Almond Butter & Honey Roasted Walnut Butter. And with my new Kenwood food processor, it shouldn't be a big deal.. or so I thought
First I need to roast the hazelnut. Not wanting to switch on my oven, I dry-roast them on pan and I totally regretted not buying blanched hazelnuts (took me ages just to remove the skin). Next pulse them in the food processor until they become smooth & creamy like liquid. (What liquid? After 30 minutes, it was still a thick paste). Add in melted chocolate & condensed milk, pulse till well mixed.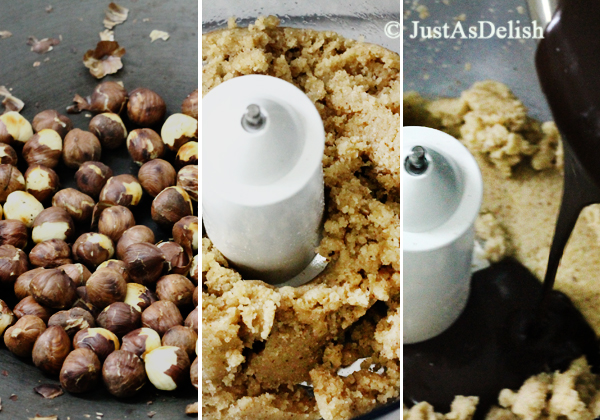 I would have to say I didn't quite succeed because CM took only 1 teaspoon. Not spoonfuls.
And I'm left with 2 jars of my Nutella wannabe. I could use them on toast (but I have wheat allergy) or crepes or oat scramble.
Or use them as filling in a mille crepe (crepe cake) for my uncle's 60th birthday.
As my uncle is 60, a healthier (smaller portion & less cream) cake would make sense. To me, anyway.
The result: a very short 20 layer mille crepe that was a tad too dry because I greatly reduced the cream in the filling. I ended bringing home half of the cake, that was my breakfast over the next few days..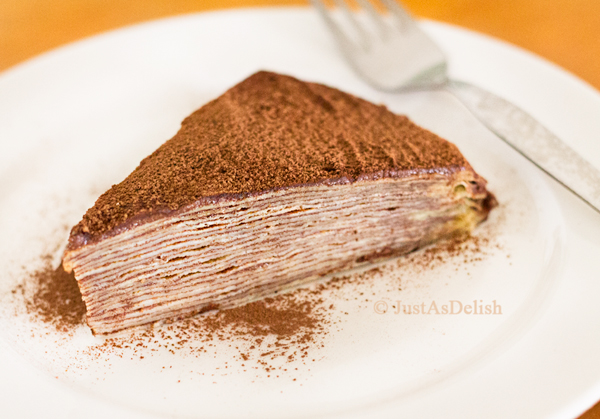 That was another one of my creative experiment gone wrong.  But oh well, that's where I learnt what not to do in future and I will not give up my experiments!
At the mean time, if you would like to try thick Chocolate Hazelnut Spread, here's the recipe:

Chocolate Hazelnut Spread (Homemade Nutella)
Chocolate Hazelnut Spread (Homemade Nutella) for toast, pancake, cake fillings, smeared on a cupcake as a quick frosting, stirred into warm milk to make hot chocolate, spooned over ice cream, swirled into brownie batter, or spread on croissants.
Ingredients
70g Hazelnuts - Roasted & blanched
180g Sweetened Condensed Milk (I only use 100g)
85g Dark chocolate - roughly chopped
3 tablespoon Honey
Instructions
Toast the hazelnuts in the oven at 350F for 3-4minutes. Or can dry roast on pan.
Add the cooled, toasted hazelnuts to the processor bowl, pulse for 2-3 minutes and you will have very finely ground hazelnuts. Scrape down the sides and the blade and process until there are no lumps remaining. Keep processing until it become a thick paste. You can try processing until it become creamy liquid (which didn't happen for me).
Using stovetop double boiler, melt chocolate, condensed milk, and honey in a bowl. Or you can melt using microwave for 20sec pulse.
Add the warm chocolate mix to the food processor bowl and mix well.