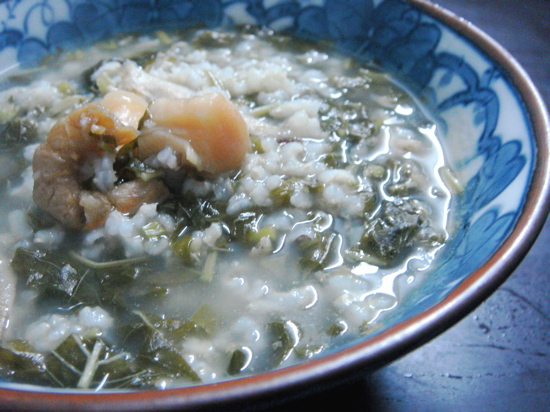 Spinach Porridge/Congee is one of my favourite porridge to cook. It's a change from the usual meat/seafood porridge. I learnt this recipe from my friend's grandma back in the schooling days, love it from the first taste.
Rice Porridge is a very common chinese dish, it can be served for breakfast, lunch or dinner! For me, porridge is a comforting dish for rainy days, lazy days or one of those tiring days when I don't feel like cooking.
Chinese spinach is also known as amaranth leaves, yeen choy (cantonese), xian cai 苋菜 (mandarin). It is different from water spinach. The leaves may be light green with a roundish shape or dark green with deep red veins in the centre. There is a variety with dark green leaves, narrow with pointed tips.
To prepare the spinach for this porridge, cut off the roots before washing thoroughly as there's soil in the roots. Cut the leaves & stem thinly, about 0.5cm. The short stems will turn soft faster during cooking.
CHINESE SPINACH PORRIDGE
Serves:2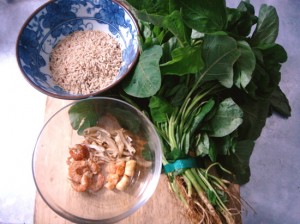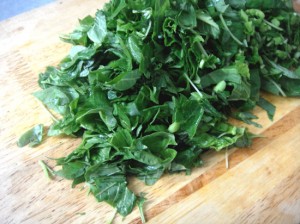 A bunch of Chinese spinach (chopped small)
1 cup Rice
200g chicken slices
20g dried shrimp / dried scallop / dried anchovies
5 cups of water or more
1. Cook rice and dried shrimp with water in a medium pot on medium fire. Place lid half close, as the water will boil over. When water starts to boil, switch to fire low and cook for 20mins or until rice becomes soft and split a little.
2. Add chicken and spinach and bring to boil. Let it cook for another 10 minutes or until spinach is soft.
3. Serve with a dash of ground pepper & sesame oil.