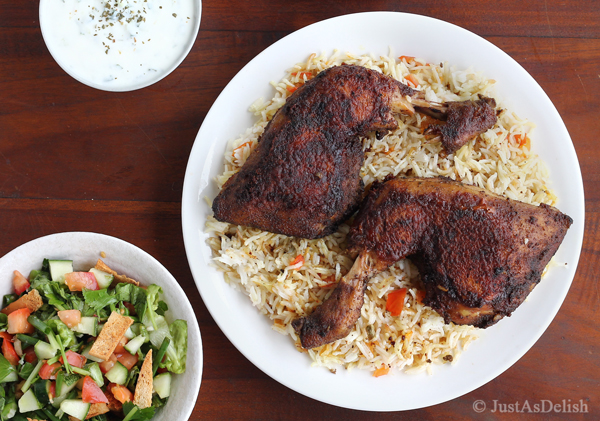 Every time I had an outing with my Arab friends, no matter which part of KL we are, we will end up having our meals at Half Moon restaurant at Serdang, that serves amazing Yemeni dishes.They just refuse to go to other Middle Eastern restaurant. In their opinion, Half Moon serves the best Middle Eastern food in town. Period. Yes, I have to agree. Best and cheap. But can't say much their customer service though. And we almost order the same rice dishes – Mandy, Haneth or Kabsa and their amazing must have flat bread. I will always steal a bite or two of the bread. If I'm not wheat intolerant, I could have easily finish the massive flatbread myself.
Once again, I tried recreating the delicious rice dishes at home. This recipe is a Saudi style Chicken Mandy. I didn't realise it's different from Half Moon's Chicken Mandy until after I've finished cooking. Silly me. Though different, this recipe is definitely a keeper. One of the key technique is to use the chicken skin's natural fat to cook in with the spices, therefore no oil is needed. Be careful not to burn the skin like I did. Flavourful spiced crispy skin with juicy tender meat.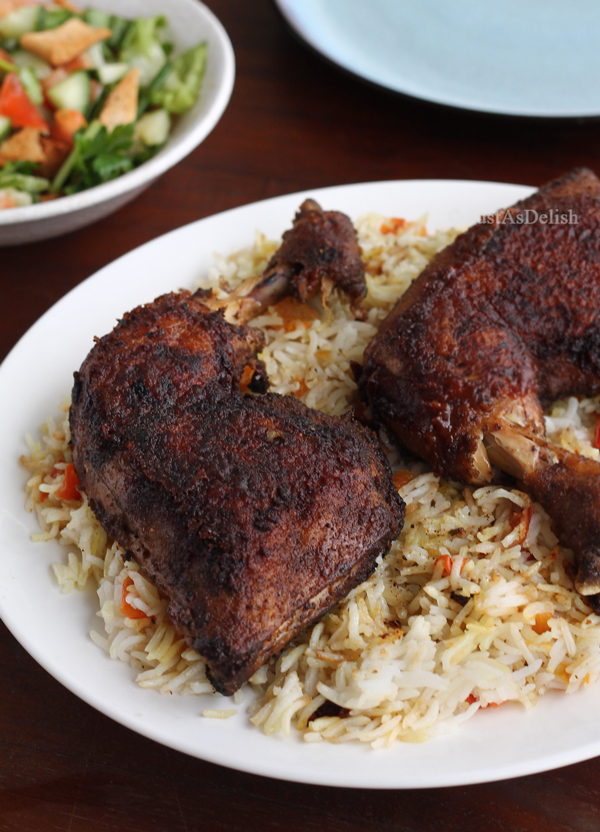 Traditionally Chicken Mandy is cooked and smoked inside a tandoor, an underground clay oven filled with hot charcoal wood. To smoke food at home in Saudi, they place a small bowl of burning charcoal into the pot of food or oven. It's a neat technique. Here is the video how I did it. My apologies for not taking the step by step photos this time.
Like most Middle Eastern rice dishes, it's a massive plate of fragrant tomato rice with meat piled on top, served at the center of the table, communal eating, shared among everyone. Just like communal eating in Chinese community, except we don't share rice. Serve chicken mandy with mezze like fattoush and yogurt cucumber salad.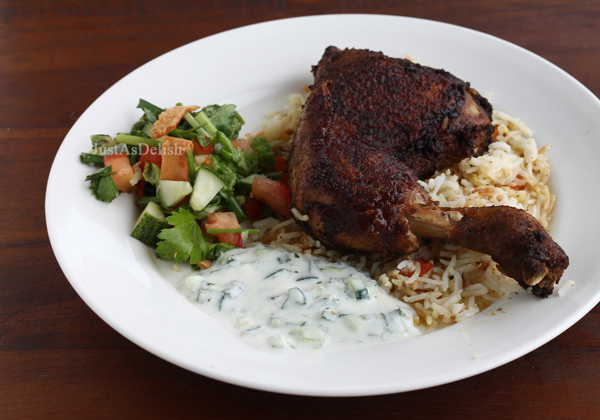 The search for Half Moon's Chicken Mandy recipe continues..
I am submitting this post to Asian Food Fest: West Asia hosted by Shannon from Just As Delish.

Chicken Mandy
Ingredients
2 Chicken Thigh
2 teaspoon Mandy Spice Mix
1 teaspoon Salt
Rice
½ cup Basmati Rice
1 teaspoon Butter
1 Tomato - diced
2 cardamon pods
Salt and Pepper to taste
1 cup Water
Mandy Spice Mix
2 tablespoon Cardamon Pods
2 tablespoon Clove
2 teaspoon Black Pepper
1 teaspoon Ground Galangal (or ½ teaspoon Ground ginger)
2 Bay Leaves
Smoking
1 tablespoon Butter - melted
small Charcoal
Ramekin/Small Heat Proof Bowl - wrapped with foil.
Instructions
Grind all the ingredients of the spice mix in a coffee or spice grinder until powder form.
Wash chicken and pat dry with paper towel. Rub chicken with spice mix and refrigerate for at least 3 hours.
When ready to cook, heat up a non-stick pan on medium heat. Place chicken on the pan and cook uncovered for 20 minutes. Turn and cook the other side for another 20 minutes until tender and brown.
While waiting for chicken to cook, heat up a small pot. Add butter, cardamom, salt, tomato and rice. Saute for 2 minutes then add water. Bring to full boil, then reduce heat to low and cover. Cook for about 15minutes until water is fully absorbed and rice is cooked. Be careful not to burn the rice. Keep the lid on to let the heat further steam the rice.
After the chicken has been cooked, remove the chicken to a plate. Pour the cooked rice into the pan that was used to cook the chicken. Make a gap in the middle to place the ramekin/bowl with butter and place the chicken around the bowl.
Light up charcoal on the stove for 2 minutes and quickly place it into the butter filled ramekin and quickly cover the pan. Allow to smoke for 15 minutes.
Serve with other mezze.